How we Spend our Money – Breakdown of our Annual Expenses 2018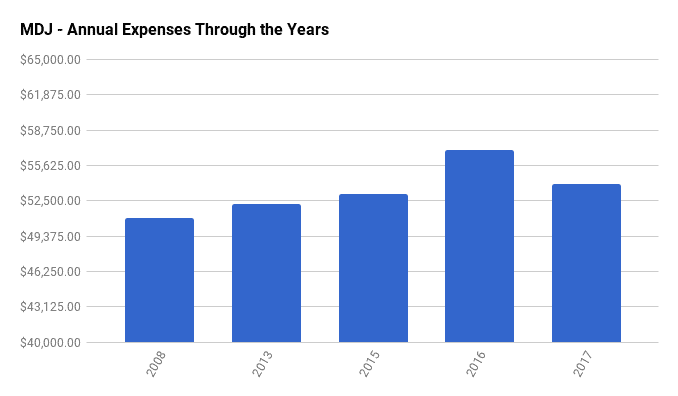 Back in 2008, I wrote my initial post about our monthly expenses.  It's always interesting going back in time to see what the circumstances were.  Back then, the update was compiled just before we had our first child, and we had a mortgage on our principal residence (a new build).  Our annual recurring outlay was around $50k (not including RRSP, savings, capital expenses etc).
Five years later in 2013, I wrote an updated post with quite a different life story.  By that point, we had two young children and we managed to pay off our mortgage a few years prior.  Even though the mortgage payments were eliminated, the kids tied up the extra cash flow and more!  At that time, child care/pre-school costs were high at around $12,000 per year (spouse working part-time).  Our total annual recurring expenses back then were around $52k (not including RRSP, RESP, TFSA contributions etc).
Fast forward to 2015 and my oldest child is in grade school and my youngest in pre-school about to start kindergarten in the fall.  Although one child is out of daycare/pre-school, there are still summer camps and activities that really add up.  We managed to keep costs fairly low spending about $53k for the year.
On to 2016 –  Pre-school costs only consume half of the school year, the other half year is covered through kindergarten.  However, children activities in 2016 really kicked it up a couple notches which resulted in a few more swipes of the credit card (starting to see burn marks!).  The increased activities offset any savings we received from reduced pre-school fees.  I'm all for the kids going out and enjoying activities, but what I didn't anticipate was that it would result in lifestyle inflation and our highest reported annual spending thus far.
2017 was really a transition year for childcare costs where we didn't need any (besides summer sports camp) (cha-ching!), but the activities still maintained at a high level and then some.  I suspect that this current year may get a little pricier in terms of activities as my son has yet to really ramp up  – time will tell.
In the last budget update, I mentioned we purchased a 7-seater SUV to help in carpooling situations.
With a high number of activities and neighbors/friends going to the same location, we discovered that we were limited in carpooling opportunities (car seats take up a lot of space!).  After much discussion and debate, this frugal blogger reluctantly upgraded to a seven-seater SUV.  The details of the purchase are for another post, but we managed to buy a high-quality three-year-old SUV for about half retail price (with cash so no financing charges).  While we got a good deal on the purchase and a very fair trade-in value, it was no surprise that the large SUV increased our annual recurring expenses.  Specifically, gas and insurance.  I'm hoping though that as the kids grow out of car seats, that going back to a mid-size car/SUV (or maybe an electric vehicle) would suit any carpooling situation.
I will admit that the big SUV has been useful this past year, but with fewer car seats required, I can see a regular car/SUV being just fine within the next couple of years.  The scary thing is that driving the 7-seater feels "normal" even while it guzzles 16L/100km (city) in the winter (it hurt me to type that).  The bright side is that we drive relatively few kilometers annually with that vehicle.
How do we track our budget?  We funnel our spending through a credit card (where possible), then connect the credit card to mint.com to organize transactions into categories where I pulled most of the numbers below.
Here are the numbers:
Housing Expenses: $10,040 (vs. $9,867)

Mortgage: $0
Property tax: $3,700 (vs $3,700)
Maintenance: $2,000 (vs. $2,500)
Utilities: $2,640 (vs. $2,600)
Home Supplies: $1,700 (vs. $1,067)
Car Expenses (2 vehicles): $4,235 (vs. $4,041)

Car payments: $0
Gasoline: $2,618 (vs. $2,372)
Maintenance: $1,292 (vs. $1,345)
Registration: $325
Home Essentials: $1,505 (vs $1,509)

TV/Internet/Landline phone: $1,505 (vs. $1,509)
Cell phones: $0 (work provided cell phone)
Food and Booze: $13,009 (vs. $13,000)

Groceries: $11,526 (vs. $11,500)
Entertainment/Eating Out: $1,483 (vs. $1,500)
Insurance: $6,080 (vs. $5,780)

Children: $7,600 (vs. $11,500)

Preschool: $3,500
Activities/summer camp:  $7,600 (vs. $8,000)
Spending: $5,500 (vs. $5,100)

Shopping/clothing/hair/gym/misc: $5,500
Other Expenses: $ 6,063 (vs. $6,200)

Charity: $2,300 (vs. $2,400)
Gifts: $2,163 (vs. $2,300)
Health care (prescriptions, eyecare, dentist): $1,600 (vs $1,500)
Total Annual Expense: $54,032 (vs. $56,997)
Finally, a decrease in expenses year over year!  Most costs were fairly consistent compared to last year with the exception of cutting out $3,500 in pre-school costs.  It's reassuring to see that over severals years we can keep our annual recurring expenses relatively in-check and still live a very comfortable lifestyle.
Keeping an eye on our expenses (while increasing both active and passive income) over the long term and paying off debt has really allowed us to supercharge our ability to invest over the years.  Being confident that we can keep our expenses in the $50k to $60k range means that I can potentially use passive income to subsidize our expenses while working part-time to make up the difference.  But since I tend to lean on the conservative side, I will continue working full time for now (more on this in my next quarterly financial freedom update).
While the ideal situation would have all of our costs included in the $54k annual number, unfortunately, that is not true.  It does not include a family vacation (we went to Florida in 2017), large capital expenses, or savings via TFSA, RRSP, RESP (all maxed out).  So realistically, our annual expenses are much higher.
So what does your budget look like compared to mine?