Best Utility Stocks in Canada 2023
There is a reason why so many of Canada's best utility stocks are also on our overall list of best dividend stocks in Canada: They are natural oligopolies/monopolies, meaning that can pass along increasing costs almost instantly, and have really solid yields for income-seeking investors.
This combination makes them a natural fit for Canadian investors looking for inflation hedge stocks.
Some people consider Canadian utility stocks "boring" compared to high volatility "get rich/poor quick" worlds of crypto currency or meme stalks. While it's true that utility stocks won't help you much if you're looking for a gambling adrenaline rush, consistently producing low-risk profit margins is plenty exciting for me!
While regulation prevents Canadian utility stocks from ever seeing explosive growth rates, it also creates an environment where Canadian dividend kings like Fortis and Canadian Utilities can consistently capture secure profit margins and raise their dividends for over 40 straight years!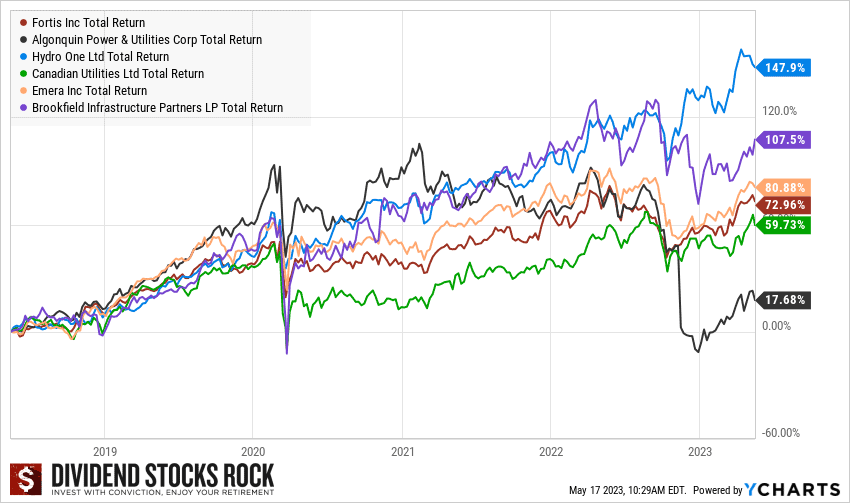 Mike Heroux from Dividend Stocks Rock has a lot of success separating the outperforming utilities from the more mediocre field. (This shouldn't come as a big surprise since all of the best Canadian utility stocks are also super popular with dividend investors.) Mike's selection process revolves around his dividend triangle of dividend growth, earnings per share, and overall company revenues.
Top 6 TSX Utilities Stocks For 2023
1) Algonquin Power and Utilities (AQN)
Price: $19.94
P/E: 38.68
Dividend Yield: 4.27%
If you read our Dogs of TSX and best Canadian renewable stocks articles earlier this year, you'll know what big fans we are of this company. Listed on both the Toronto Stock Exchange and the New York Stock Exchange, this Oakville, Ontario based company straddles the line between a clean energy stock and a utility stock.
It's tough to beat the growth prospects of well-managed renewable assets combined with the reliable cash flow of an old school electricity/gas utility.
That said, Algonquin needs to continue to show that it can manage its acquisitions and "green-the-fleet" strategy in places like Kentucky – keeping efficiency and profitability foremost as it borrows large sums of money and/or dilutes shares in order to gain capital. So far so good for this dividend stalwart.
2) Brookfield Infrastructure Partners (BIP.UN)
Price: $84.33
P/E: 24.73
Dividend Yield: 4.11%
Whenever investors around the world discuss utility or infrastructure stocks these days, the Brookfield family of shares quickly enters the conversation. Brookfield Infrastructure Partners (BIP.UN) is such a diversified utility giant (both by sector and geography) that it could almost be considered a Utility ETF!
The list of what Brookfield doesn't own, might be shorter than what it does. Assets include everything from 2,000km+ of electricity transmission lines, to 19,000km+ of natural gas pipelines, to 32,000km+ of railways, and a growing amount of fibre/data center digital infrastructure as well!
For example, the company recently announced that it was purchasing 50% of an electrical smart meter producer out of Australia and New Zealand.
Because Brookfield is so large, it simply has access to economies of scale that no other Canadian utilities stock can match. That said, some have speculated that due to the same diversity, it will be difficult for the company to focus and creative competitive advantage in any given area going forward.
Personally, I'm willing to bet that competitive edge isn't all that important in such a regulated sector. With a dividend growth policy that seeks to grow payouts by 5-9% each year, Brookfield is a no brainer when consider safe and diversified stocks for the long term.
3) Canadian Utilities (CU)
Price: $39.94
P/E: 32.42
Dividend Yield: 4.52%
Canadian Utilities will soon become Canada's first dividend aristocrat. Given its history of rewarding patient shareholders, combined with a current strong dividend yield of 4.52% By consistently emphasizing operational excellence, Canadian Utilities has proven itself as much as any company in the Great White North!
Anchored by 70+ years in Western Canada, CU has successfully expanded operations to much of the rest of Canada, Australia, Mexico, and Puerto Rico.
It's current P/E ratio is relatively high, and we're semi-worried about the drag rising interest rates may have on the capital-intensive world of utilities investment – but CU has consistently proven that quality is worth paying for. We're willing to let them continue to be proven right – until they're not!
4) Fortis (FTS)
Price: $64.59
P/E: 24.73
Dividend Yield: 3.31%
Fortis Inc. has long been a favourite of Canadian utility stock investors. It has simply built consistent value after forming in 1987. One of Newfoundland's biggest companies, Fortis has expanded from its humble roots and acquired several companies enroute to passing along an ever-growing income stream to please shareholders.
Notable acquisitions include Aquila, Terasen Gas, Belize Electricity Limited, CH Energy Group, UNS Energy, and ITC Holdings Corp.
It turns out that delivering electricity and natural gas throughout North America and the Caribbean is a really solid way to make sure that you get paid on time. People need to keep the lights and heat on! Tough to pass up the long-term success of this efficient dividend payer, but the current price tag is a tough high in an ideal world.
5) Emera (EMA)
Price: $64.53
P/E: 32.64
Dividend Yield: 4.11%
While Emera has begun to diversify into renewable energy assets, the vast majority of its assets are still in the generation and transmission of electricity and natural gas. The company is geographically organized with six main divisions: New Mexico & Florida, Energy, Caribbean, Maine, Nova Scotia, and "Corporate & Other".
Emera certainly has the solid dividend history required to get on to this best Canadian utilities stocks list, but from my perspective there is a little more risk & reward involved with this stock.
As they phase out coal power and invest in renewables, Emera is quickly going to become a bet on Florida, as the bulk of new capital spending plans are taking place there – while the state booms with new residents and companies. That might seem like a risk-free bet – if it wasn't for climate change and increasingly destructive weather patterns.
Personally I'm a stay away for now. That doesn't mean Emera isn't a really solid company, it simply means there are just options I like better on this list. It is often referred to as a less stable Fortis.
6) Hydro One (H)
Price: $35.43
P/E: 22.04
Dividend Yield: 3.01%
As one of the largest electrical utilities in North America, Hydro One is essentially a low-risk "electricity" bond at this point. As long as more and more people continue to move to Ontario and pay their electricity bills, this company will have a secure semi-monopoly on increasing cash flows.
Started in 2015, strong regulation puts a relatively low ceiling on how profitable Hydro One can ultimately become, but its targeted payout ratio of 70-80% gives income-loving investors a solid long-term dividend stream to depend on.
What is a Utility Stock?
Many companies straddle the line between being classified as a utility stock and an energy stock. This is due to the fact that utility stocks generally refer to some production of energy (from renewables, natural gas, coal, oil, etc), but the bulk of corporate activity is focused on the delivery of that energy to commercial and residential buyers.
Because of how capital-intensive the world of utilities is (especially in Canada) and just how important energy delivery is, governments often allow many utilities to essentially function as monopolies in a specific area in return for a highly regulated business environment.
This is why the risk of Canadian utilities stocks is generally considered to be quite low, but also why there is very little chance for massive profits at some point (despite the monopoly status).
The Best Canadian Utilities ETF
Many investors who are looking for quick diversification of Canadian utilities stocks are best served by simply finding top Canadian Utilities ETF and not worrying about the quarter-to-quarter movements of individual companies.
The battle for Best Canadian Utilities ETF really boils down to two contenders:
1) iShares S&P/TSX Capped Utilities Index ETF (XUT)
2) BMO Equal Weight Utilities Index ETF (ZUT)
The two Canadian utilities ETFs have much more in common than not. You'll find all six of Canadian utilities stocks above featuring prominently in both for example. They also have virtually identical MERs right around .60%.
Where they differ is in how they "cap" or weight ther holdings. XUT has decided to allocate unit share based on market capitalization (like most broad ETFs). This means that biggest companies make up a huge percentage of the fund. Whereas ZUT has decided that they ill be an "equal weight" ETF – thus ensuring that 14 companies have very similar weighting. This results in smaller companies (which tend to be more niche electricity generators).
What this has resulted in is a small outperformance of ZUT over the past couple of years as the smaller companies have grown at a quicker rate – BUT – XUT currently having a much more attractive dividend yield of 4.3% compared to ZUT's 3.3%. Personally, if I'm investing in a Canadian utilities ETF it's for yield and safety – not growth – so that leads me to give a decisive edge to XUT.
A couple of Interesting options for non-Canadian utilities ETFs include Harvest Equal Weight Global Utilities Income ETF (HUTL) and iShares Global Utilities ETF (JXI).
Investing In Canadian Utilities Stocks FAQ
Should I Buy Utility Stocks in 2023?
We wrote in our 2023 Dogs of the TSX article that we thought that Canadian utility stocks were a good investment in a time of inflation and specifically that we liked Algonquin (AQN).
The stock is subsequently up over 20% for the year already! There may be other more profitable opportunities in hindsight, but right now our investment hypothesis continues to be to own companies that have solid durable competitive advance, and that can pass along price increases relatively quickly. That sounds a lot like Canadian utility stocks to me!
If you prefer the bigger companies, we believe that Canadian Utilities (CU) currently has the slimmest of advantages over Fortis due to their price and yield. Fortis has just been the standard answer for so long when it comes to a "safe Canadian stock for 2023" that we think it might be slightly overpriced relative to Canadian Utilities. That said, both companies are excellent long-term operators.
I've Completed My Million Dollar Journey. Let Me Guide You Through Yours!
Sign up below to get a copy of our free eBook: Can I Retire Yet?