Investing in Canadian bank stocks, as well as Canadian insurance companies, has always served Canadians well. Canadian banks in particular enjoy a very solid oligopoly (the incredibly high barriers to entries prevent any new market entries) and hence face very little competition.
Much like the banks, just a few insurance providers dominate the space. Considering the fact both sectors were hit hard in the stock market correction of March and April, and have not yet fully recovered, there might be some very good value in the finance sector still.
The list below was created with the help of Dividend Stocks Rock (DSR). This subscription based service provides me with up to date stock picks and in-depth market analysis. Even if you don't feel like you would benefit from a paid subscription, i highly recommend subscribing to their FREE newsletter! Read my full Dividend Stocks Rock review, or sign up using the button below:
---
Canadian Bank Stocks: An Introduction
As you may know the Canadian banking sector is dominated by 'The Big 6'. The names include Royal Bank of Canada (RY), TD Bank (TD), Scotiabank (BSN), BMO (BMO), CIBC (CM) and a regional bank – National Bank (NA).
The top insurers that make it into the Canadian Financial index are Sun Life (SU), Manulife (MFC) and Intact Financial (IFC). The conglomerate Brookfield Asset Management also makes it into iShares Capped Financial Index ETF (XFN).
From inception of January of 2002 to the end of August 2020, the Canadian financial stocks have offered a very solid market beat: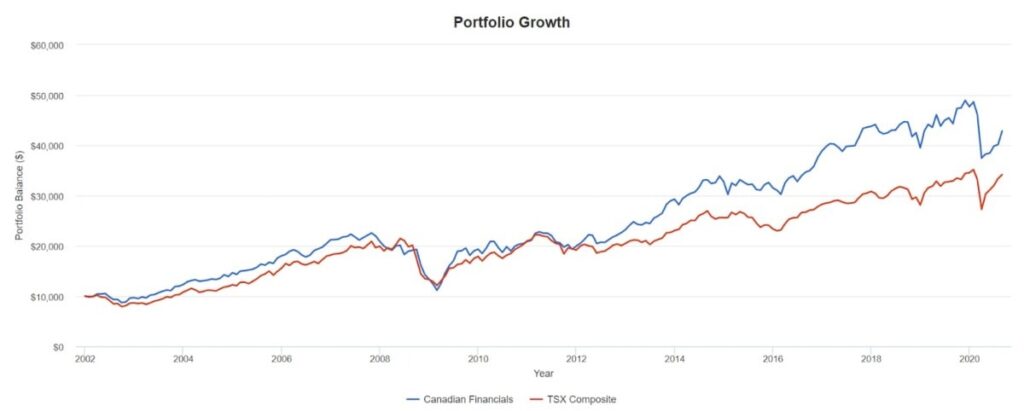 Recommended reading: Our favourite Canadian bank stocks also included in our list Top Canadian Dividend Growth Stocks for 2021.
---
The Canadians Banks Offered a Bigger Beat
The Canadian bank stocks have been even more profitable for investors. They have been the main driver of that outperformance.

And these days the Canadian banks are cheap. When yields have been in this area, the returns have been quite spectacular. At the average current yield of 4.5% the Canadian banks have gone on to return over 17% over the following year.
---
Here's the returns over the following 12 months from various dividend yield levels.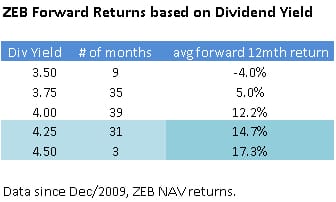 Of course this is a good time to remind you that past performance does not guarantee future returns.
---
And on price to book value, the big Canadian banks are looking cheap. We see them near a 10-year low into August of 2020.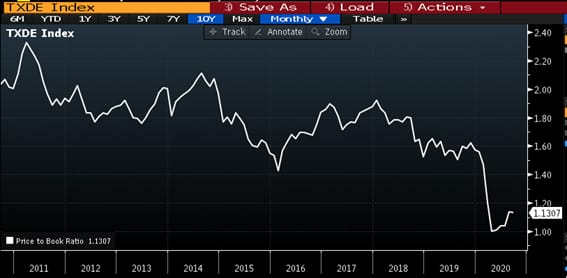 ---
Why So Cheap?
Of course the banks are cheap due to the risks from the pandemic. So many businesses are facing incredible hurdles. So many sectors and business lines have been impaired.
With the stay at home and work at home measures in place, the service industry has been ravaged. Restaurants and bars, hospitality, travel and entertainment businesses are operating at greatly reduced capacity. Retail malls and office REITs are under pressure. The energy sector faces another period of low oil prices. The banks will be impacted by bankruptcies and bad loans, and generally, less economic activity.
Of course the banks face risk by way of the consumer with high unemployment and the potential of mortgage defaults. The risks are present and accounted for, and that's why the Canadian bank stock prices have taken a big hit.
Unique to Canadian bank stocks however, is the risk that sustained lower interest rates hold. For many companies, low interest rates is music to the ears. The ability to borrow money at incredibly low rates means that companies can invest in more productive infrastructure or sign a major acquisition deal. With the Bank of Canada discussing "Micro-cuts" in January of 2021, it appears that those low interest rates are here for a while. For banks however, these low rates put significant pressure on the spread between what they take savings in at, and what they loan money out at. This can lead to overall depressed profit margins.
The thing to remember is that these risks are present and accounted for, and that's why the Canadian bank stock prices have taken a big hit. The question then becomes, what is there long-term value, and are we looking at an excellent buying opportunity?
---
Canadian Bank Dividends
I was able to get my hands on an extensive RBC analyst report on the big Canadian banks.
Some observations from that paper –
"Dividend payout ratios have been in the range of 40% to 50% of earnings in recent "normal" years. Dividend growth was very strong from 2000 to 2007, with a growth rate of 15% per year on average, but dividend increases were rare from 2008 to 2010. All of the eight publicly traded banks resumed dividend increases at the end of the 2008–2009 recession. In March 2020, OSFI announced dividend increases and share buybacks to be halted for Canadian banks for the time being."
So for now, the dividends are held. But again, they are quite juicy, and that potential for dividend growth is more than enticing.
Here are the current yields for the Canadian banks as of writing.
---
Bank Stock Dividend Yields 2021
Royal Bank – 4.00%
TD Bank – 4.2%
Scotiabank – 5.19%
BMO– 4.34%
CIBC – 5.26%
National Bank – 3.86%
The greater the risk (as the market sees it) the greater the yield. Those stock prices have been hit the hardest for the out-of-favour stocks. On the flip side, the more the stock price goes down, the greater the current yield available (assuming there are no dividend cuts – which I've heard no "gossip" of).
In the recent earnings season Royal Bank and National delivered the most solid performance. The banks actually managed to increase revenues despite being in the middle of a pandemic – and yet the stock prices don't really reflect this reality.
Buy Dividend Stocks Using the Best No Fee Discount Brokers
At MDJ, we constantly review and compare discount brokers with a particular focus on FREE Canadian ETFs and STOCK purchases, so you can rebalance your portfolio without paying an extra. Read about the most popular brokers like Qtrade and Questrade as well as robo-advisors like Wealthsimple and learn how to maximize your savings!
As it stands now, our top pick for investing in Canadian ETFs is Qtrade. Not only are they the best Canadian broker overall, but they also allow for both buying AND selling of ETFs without paying any commission. So if you are looking for an easy and cheap way to invest in Canadian banks, i suggest doing it through Qtrade.
I've Completed My Million Dollar Journey. Let Me Guide You Through Yours!
Sign up below to get a copy of our free eBook: Can I Retire Yet?