Dividend Stocks Rock Review
Investment Track Record

Price

Layout and ease of use

Fresh Data and Information
DSR Review Summary:
DSR has continued to publicly post impressive results in all market conditions. Dividend Stocks Rock arms its clients with powerful tools and constantly-updated sources of information.
Dividend growth investing isn't for everyone, but after understanding some basic principles, DSR makes executing a dividend-growth strategy accessible to most Canadian investors. If you're looking to build a portfolio that focuses on throwing off an ever-increasing stream of dividends, this is the service for you.
Pros
Great value for money, especially with MDJ's unique promo
Your portfolio is reviewed by the DSR team each quarter
Very accessible stock report cards that are constantly updated
A proven track record with fantastic long term results
Cons
No mobile app
Requires more DIY knowledge than robo advisor investing
Investing on your own is not an easy task.
From mutual funds to robo advisors and individual stocks, there are a wide range of strategies, information services and trading platforms to choose from.
It can quickly become overwhelming.
This is where the simplicity of dividend investing really shines.
I started investing in mutual funds when I was 16-year-old. Since then, I evolved into a mix of ETFs and dividend growth investing strategies. This was the beginning of a long investing journey where I learned a great deal about the stock market and personal finance. Back then, information resources were limited. The best option was Yahoo! Finance stock screeners to research companies!
Today, investors face a completely different problem: information overload. Youtube investing channels, podcasts, financial news sites, and free investing blogs (like yours truly) are legion. Your research will often result in an overwhelming amount of information to digest. You may then get stuck in the paralysis by analysis syndrome.
While I read much online from various sources such as various websites and dividend newsletters. My absolute favourite is Dividend Stocks Rock (DSR), created by Mike Heroux, a former private banker who now works online and enjoys a location-independent lifestyle.
What I like most about Mike is his straight-to-the-point approach. This enables me to cut through the noise and focus on what really matters: my portfolio and my growing stack of dividend payments.
What is Dividend Stocks Rock?
Dividend Stocks Rock was created by Mike Heroux in 2013. This started as a "side-line" stemming from Mike's passion about dividend growth investing. It rapidly grew into a complete platform for DIY investors who are looking for a "hiking buddy" while investing in dividend stocks.
Mike's goal is to help people invest with more conviction, get rid of their buy/sell dilemmas and doubts about the market and make sure they position themselves to enjoy their retirement.
How Does it Work?
When you login to the DSR website for the first time, you are immediately directed to their dashboard where Mike explains his investment process. There is a combination of written explanation and videos to teach you how to use DSR to its fullest extent. Here's an example:

DSR offers a straight-forward process containing three steps:
#1 Rethink your portfolio
Once you subscribe to DSR, you will be invited to review your portfolio and make comparisons with DSR portfolio models. You can either decide to mimic one of their portfolios (which is good if you are just starting to invest) or simply bring some modifications to your established portfolio.
Dividend Stocks Rock presents a specific point of view on each sector. They believe nobody should invest more than 20% of their money in any single sector. The more you add past that 20% level, the more volatile your portfolio may be.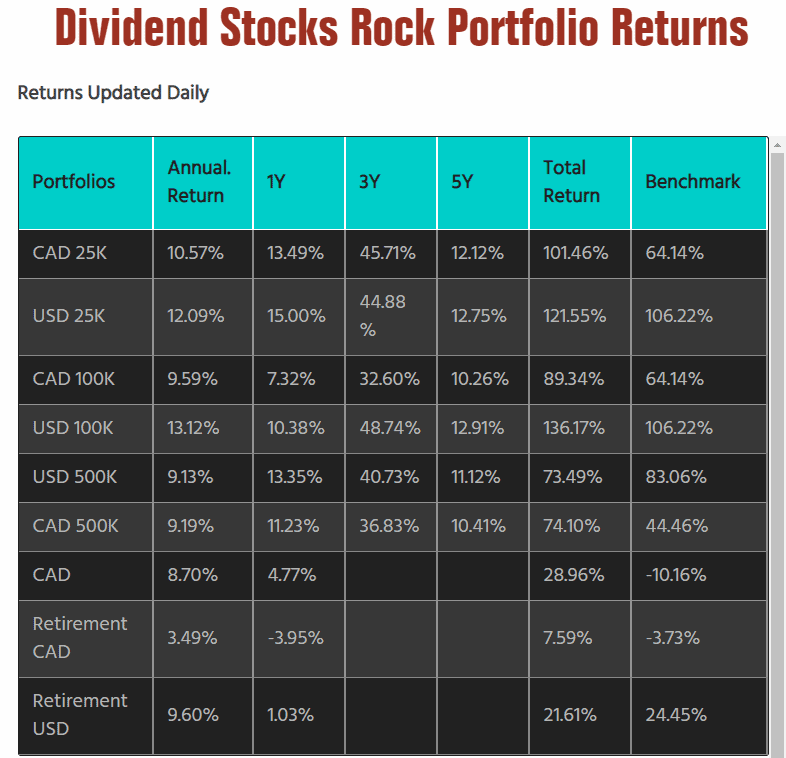 DSR has 9 portfolio models covering both Canadian and U.S. markets. They have solutions for growth and income seeking (retirees) investors too! Most importantly, most of their portfolio models (7 out of 9) have beaten their respective benchmarks since inception (2013-2014).

Source: Dividend Stocks Rocks (portfolio returns as of September 17th, 2020).
Now is always the right time to change your sector allocation. DSR Portfolio Models will help you get the work done!
#2 Buy the right assets
Once you have picked the portfolio style you wish to follow, it's time to hunt for the stocks to populate your portfolio. You will often lack the time to review the entire dividend stocks universe. You can let DSR take care of the hard work for you.
I like to use their impressive stock library with full analyses on over 400 dividend paying stocks. What I like most about this element of the DSR service is that Mike and his team keep the size of their stock library limited to a narrow number of stocks. This helps your research by only looking at the best of breed for each sector.
DSR covers both Canadian and U.S. dividend paying stocks!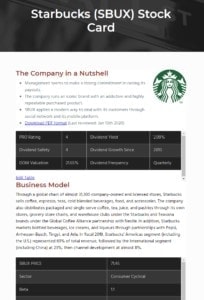 If you suffer from paralysis by analysis, their analyses will make it easy for you to make decisions. They provide an easy to understand stock rating system (from 1 to 5) along with a dividend safety score (1 to 5 as well). Their analysis is spot-on, and their ratings tend to beat the market. Using both ratings to filter the list will help you pick the best of stocks for each sector within minutes.

Each stock card is published on their website with current metrics. Their analysis includes a summary of the business model, the DSR investment thesis, potential risks and dividend perspective. You have access to all general metrics along with a focus on dividend data.
You can also download the analysis in a pdf format. Their easy-to-read stock cards are printed in two pages and includes all the important metrics. The best part of the service is that you can request any dividend paying stocks to be analyzed by the DSR team! They call it "stock card on demand".
#3 Manage your portfolio throughout market cycles
The market throws us curve balls all the time. Financial crises, oil busts, and ofcourse, the recent pandemic – all add to the noise in the market.
At DSR, they not only care deeply about investing and the investing process, but they also care deeply about their members! DSR weekly newsletters cover everything you need to know and provide you with clear, actionable intelligence on opportunities and threats in real time.
During times of crisis, DSR has offered private webinars to assist their over 2,000 subscribers to stay the course. I've attended many of these webinars and I really like how Mike stays around often for over 60 minutes to be sure to answer all his subscribers' questions. Those private webinars have become so popular that it's now become a monthly thing!
More than two dozen Million Dollar Journey readers emailed me over the last year to tell me that Mike's free webinars had helped steer them through all of the market turmoil in 2020. While other investors were waiting with their questions unanswered (and panic ensued), Mike was able to answer subscribers' questions in real time.
When we'd send out the webinar replays, hundreds of people would download them each time. The investment returns that DSR clients enjoyed as a result of those webinars alone will pay for the next decade of their subscription costs.
Another Powerful Tool
I bet you are having a hard time keeping track of all the information about your stocks. Between market news, volatility, and quarterly earnings, it's easy to get swamped by a tsunami of papers to read.
How can you make good decisions when you are overwhelmed with data? This often translates into difficulty buying or selling at the right time. DSR, however, tells you where to look. Their team can track companies in your portfolio for you.
Dividend Stocks Rock offers a "PRO" version where their team reviews your portfolio quarterly.
DSR PRO is a customized quarterly report tracking each company's earnings, and you receive a portfolio summary along with crucial information about all your holdings. You tell them what to follow and they keep you in the loop.

Dividend Stocks Rock Review: Cons
While I really enjoy DSR services, there are a few things that must be taken into account before subscribing.
This is not "buy this stock and make 100% return overnight" kind of service. Mike and his team focus on long-term investing and don't focus on flashy returns. While their stock selections and portfolio models outperform the market in general, you must be patient and consistent to see long-term dividend growth.
You won't find the next Shopify on their site. If you are looking for quick and timely buys, this is not the service for you.
Dividend growth investing requires a little time and effort. Although DSR does a great job in simplifying stock analysis and makes financial lingo more understandable, you will still need to spend some time doing research on their website. Mike's stock screener and other resources make things much easier, but the power is still ultimately in your hands (it's not a mutual fund after all).
DSR doesn't provide target prices. Most investment services will give you a target price in their stock analysis. They will basically tell you if TD trades at a good price right now, then what's the upside or downside potential. DSR doesn't do that. They believe in buying quality dividend growers and give little attention to the current price. The truth is that most financial analysts are wrong 80%+ of the time when they predict stock prices anyway. Nobody knows the future. Mike subscribes to the same long-term ideas as guys like Warren Buffett – simply buy quality mature companies, and then reap the rewards over the long term. (While Ignoring all of the noise).
It takes some time to get around all the information. Since you can find everything between a monthly buy list to portfolio models, it could take time to understand how to use each of the DSR tools. Mike does a good job in providing videos explaining each of them. Just know that you'll need a couple of weeks to get used to the DSR features.
How Much Does Dividend Stocks Rock Cost?
When you subscribe to DSR, you get access to many things:
Portfolio Models:Rethink your portfolio using 1 of their 9 US or CAD models. Each one comes with its own booklet and is updated quarterly. Stop overthinking by having a strong sector allocation.
Stock Cards: Buy the right assets and pick among the best stocks only with their 425+ stock reports. Focus on quality over quantity to build your portfolio with conviction.
Stock Cards on Demand: Ask them to review any stocks in your portfolio! Get instant access to their investment thesis, potential risks, dividend growth perspectives, valuation and key metrics. It's like having your own personal stock research assistant.
Newsletter: Stay the course and grow in confidence with their weekly newsletter. DSR covers everything you need to know and provides you with clever intelligence including buy and sell ideas.
Exclusive Webinars and Videos: Focus on what matters and ask all your questions! Benefit from the power of a community of over 1,500 investors.

Customized Quarterly Portfolio Report (DSR PRO only): Track each of your companies' earnings in no time. You will never miss news that may directly affect your investment performance.
Risk-free Investment: Try DSR for 60 days and get your money back if it's not working for you.
Best Deal: Your price will never increase once you become a member.
DSR offers three payment options:
Monthly ($19/month)
Yearly ($177/year)
DSR PRO ($297/year)
Since I partnered-up with Mike, I can offer you a special discount! Million Dollar Journey readers only pay $97/year for DSR and $197/year for DSR PRO.