With the increase in popularity of DIY online stock trading comes a lot of discussion over the best Canadian stock trading apps. Traders want apps that are simple, clean and easy to use. Aspects like live trading information, watch lists, and decent security settings, are also all important factors that come into play when trying to determine the top spot.
So, what are the best trading apps in Canada going into 2021?
It depends on what you are looking for and your investment style. We have four top picks depending on your needs. Here our top recommendations – click on each to read a detailed review or scroll further down this page for a quick summary and the current promos they all currently offer.
| | | | | | |
| --- | --- | --- | --- | --- | --- |
| | | | | | |
| | | FREE buying and selling of 100+ ETFs | 50 Free Trades - Worth Nearly $500 (Code 50FREETRADES) | Best Investment App in Canada | |
| | | Free BUY of ETFs (full trading prices apply to ETF sales) | | | |
| | | | | Best Robo Advisor in Canada | |
| | | Free buying and selling of 80+ ETFs | $100 - $2000 Cashback based on 1st deposit | | |
Best Investment App In Canada: Qtrade
If I had to pick one trading app in Canada "to rule them all" it would be Qtrade. When it comes to the best app for stock watchlists and other research tools, Qtrade comes out on top. Plus, it's fast, easy to use and navigate, and Qtrade has excellent customer support if needed.
The app flawlessly executes quick and easy trades, convenient money transfers, access to extensive information on major North American exchanges, real time quotes for individual stocks, and the latest encryption technology for enhanced security features.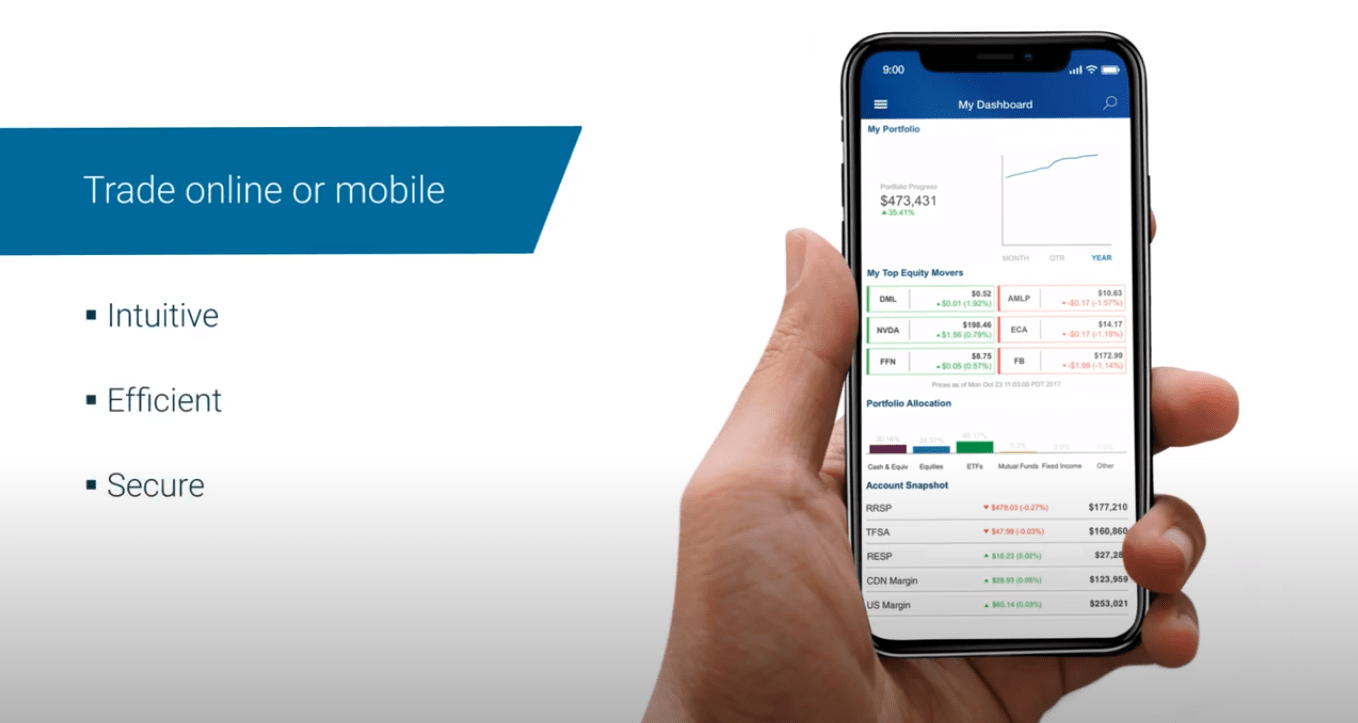 Online reviews reinforce that the Qtrade app is simple, informative, and easy to use, with great customer service. A couple of users have also commented positively about the app speed compared to other finance apps on the market.
A few users, specifically android users, have expressed frustrations with difficulties logging in. Interestingly, when reading reviews of the app I noticed that the company actually took the time to respond to many of these complaints by offering a solution which speaks to their customer service. To compare, the majority of complaints in reviews for other apps have gone without any response.
While Qtrade may not be perfect in our opinion, it's the best overall trading app in Canada. Read my Qtrade review to learn more and see why they are my overall #1 best broker in Canada.
Lowest Fees: Questrade
If your sole criteria for determining the best stock buying app in Canada with low fees, then Questrade is your best bet.
Reviews generally point to a simple design and high security features. However, there are many complaints that the features of this app are lacking meaning, and it is quite basic in comparison to Qtrade's stock analysis apps.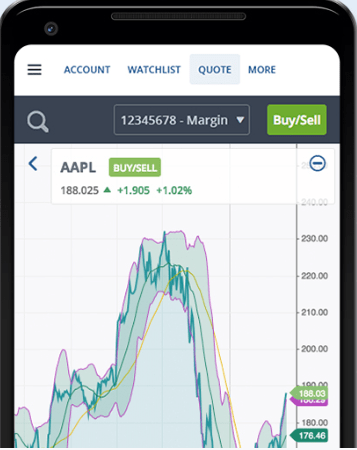 In fact, in the app description on Google Play, there is even a disclosure that "information accessible is more limited than the information available through the website or through your statement."
I will say in terms of functionality, it's not a top contender. However, if you are looking for the best online trading app in Canada with low fees then this is my top recommendation. Read my Questrade Review to learn more.
Most Convenient Canadian Trading App – BMO Investorline
BMO Investorline, in our opinion, is not the best trading app, nor the cheapest option out there. However, many individuals are drawn to the convenience factor of keeping all of their financial and banking needs under one super-trustworthy roof. If that's the case, then my top pick for the best stock trading app in Canada in terms of convenience is BMO Investorline.
The BMO Investorline emphasizes flexibility, simplicity, security, convenience, and comprehensive information. For our money, it mostly delivers on these promises, and is the best of the Canadian big bank trading apps.
Most reviews of the BMO Investorline app indicate that it is straightforward and easy to use which, if you are going based on convenience, is exactly what you want. You can easily see all your investments in your accounts and it provides updated information. It's easy to shift money from your BMO chequing account, to your discount brokerage account, and put it to work for you.
However, others note that it is not as detailed as the desktop platform and, compared to BMO's personal banking app, quite lacklustre. There are also several complaints from users experiencing technical difficulties on a semi-regular basis.
One user suggests that this app is best used as a companion tool to their desktop site rather than assuming you can just rely on being able to do everything on the app alone. Take a look at my BMO Investorline Review to learn more.
BMO Investorline 2021 Promotion:
Exclusive to MDJ readers: get up to $2,000 instant cash back when opening a new BMO Investorline account.
Just click on the button below and use our promo code MDJCASH when filling up the signup form.
Best Robo Advisor App: Wealthsimple
Ok, so technically robo advisors are not considered to be trading apps, however, if you're simply looking for the easiest app that allows you to get money from your paycheque, and quickly into a diversified investment portfolio – then the Wealthsimple App is your best bet.
Wealthsimple is Canada's largest robo advisor and has a simple onboarding process and clean-cut, easy to use platform. The Wealthsimple app was first launched in 2014 and was quite unique at the time. Since then, they have steadily grown, and you can see what a ton of well-paid designers and app engineers can do for you when you open the flawless user interface that the Wealthsimple app showcases.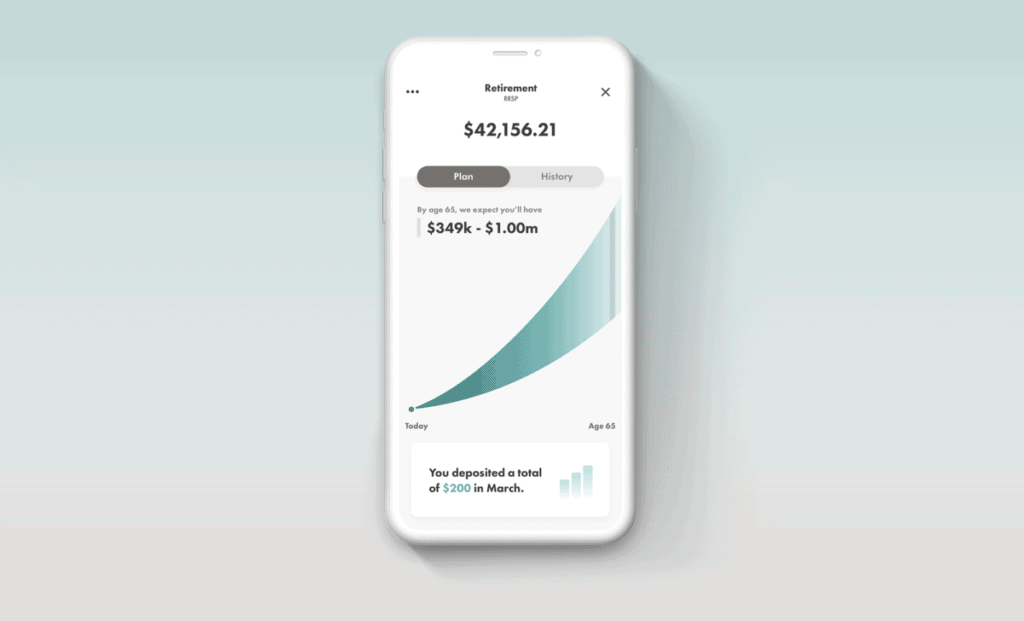 The app, which Wealthsimple describes as 'a financial advisor in your pocket' easily allows you to add funds, keep an eye on asset allocation, keep track of your performance, and get in touch with your wealth concierge. Security is also a big focus with the Wealthsimple app. Not only is there a required password plus you also can set up TouchID or use a 4-digit passcode for iphones/ lock pattern for Android.
Now, Wealthsimple does have a trading app as well, called Wealthsimple Trade. However, it's the complete opposite of the robo app. The Wealthsimple Trade app is clunky, confusing, and honestly probably one of the worst platforms out there at the moment.
I do not recommend the Wealthsimple Trade app so be sure to keep that clarification in mind during your search for the best investment apps in Canada. You can learn more about both Wealthsimple and Wealthsimple Trade in my in-depth Wealthsimple Review
Best Stock Trading App for iPhone and Android
While I'm a dedicated Google/Android user, my significant other belongs to the "dark side" of the Apple universe. We both use the Qtrade stock trading app, and have never had any issues with it.
In the name of full accuracy I should note that we're both pretty simple investors and can't report first-hand on the experience when it comes to using options or semi-exotic investments like that.
Generally speaking, I don't see much difference when I look at any of the major trading apps on either my wife's phone or my own. Obviously these companies understand just how important user experience is and are continuously working to refine their product.   
Ten years ago it's possible that you might have found bugs or glitches on the Android or Apple versions of specific trading apps, but those days are thankfully gone for the most part.  
Best Canadian Stock Trading Apps for Beginners
As you can tell from our reviews above, we're big fans of the BMO Investorline and Qtrade trading apps.
These stock trading platforms have excellent consumer education resources and top-notch usability. Their simplicity and versatility is what makes them our top choice for best stock trading app for beginners.
Frankly, most of Canada's big banks have user-friendly apps that will serve a beginner. RBC, TD, and Scotiabank have all created discount brokerage apps that most Canadians would find fairly intuitive after a little reading on how to buy stocks in Canada. What separates BMO from that group is the free ETF trading, in addition to the solid quality that one would expect from a major Canadian bank.
Of course, Qtrade still gets my personal top vote due to its edge in consumer education and cool portfolio analysis tools that provide beginner traders with some unique investment insights. The other place where Qtrade really shines when it comes to beginner investors is in its customer service (where it has consistently ranked as the best in Canada for years). Customer service is never more important than when you're just starting to get used to online investing and using the various platforms.
Best Free Stock Trading App For Canadians
It should be noted right off the bat that there is no such thing as a completely free stock trading app!
Sure, you might not pay anything upfront for a specific investing platform app, and you might even avoid per-trade fees.  However, if you aren't paying directly, then you can be sure that you're paying in some other way. Usually this comes from selling your data to the big fish further upstream and/or repeated ads that try to upsell you. If you're familiar with the various controversies in regards to the "free" Robinhood stock trading app in the USA, then you know what I'm referring to.
Long story short, there is a reason why we recommend tried-and-true discount brokerage apps such as Qtrade, Questrade, and BMO Investorline.
If you want a very limited product that is free at the point of delivery, then your best bet for a free stock trading app in Canada is Wealthsimple Trade. Now, keep in mind this is not the same product as Wealthsimple Invest (which is the robo advisor that we mentioned at the top of this article). While this platform allows you to trade stocks for free, it has many usability issues (that it claims to be gradually fixing) and only offers a very limited number of account types to be opened. Overall, I don't feel comfortable recommending any free stock trading apps in Canada. 
Final Thoughts
When it comes down to it, figuring out the best trading apps in Canada depends on your needs. Are you looking for the best app to research stocks? Perhaps you place a high importance on finding the best app to track stocks that you are on your "watch list". Or, are you just looking for an easy to use tool to keep track of your current investments while you are on the go? 
Maybe low fees or keeping all of your investments and chequing accounts under one umbrella is your top priority?
There is a lot to consider, and truly you probably can't really go "wrong" with any app on this list (especially relative to what was out there even five years ago), but all things considered, we feel confident in recommending Qtrade as our best Canadian stock trading app for 2021.
I've Completed My Million Dollar Journey. Let Me Guide You Through Yours!
Sign up below to get a copy of our free eBook: Can I Retire Yet?