RBC Direct Investing Review Summary:
Online Broker Fees and Pricing

Account Options

ETF Trading Fees

User-Friendly Platform and Mobile App

Customer Service

Overall Banking Convenience
RBC Direct Investing Review Summary:
Convenience is a valuable thing! It's not as easy to measure as fees or investment performance, but there is real value to having all of your investments and banking needs met under one roof. The question for you is, what is that convenience worth in your life?
Our RBC Direct Investing review reveals a high-end platform that you'd expect from one of Canada's corporate behemoths. It meets a wide range of needs for any investor. Unfortunately, that usability is going to come with a fairly high price tag.
The short and sweet conclusion is that Canadians can get superior platforms, equal account options, and much lower fees at Qtrade or Questrade – two of the best Canadian brokers.
Pros
User friendly, advanced platform
Solid mobile app
Easy to set up if you bank with RBC
Safe and trustworthy company
Cons
Higher fees compared to leading online brokers

Falling levels of customer service
The RBC Direct Investing online broker is amongst the most popular of Canada's online discount brokerages. As one of Canada's largest companies and most well-known brands, it should come as no surprise that RBC's online broker is used by so many. That said, is RBC Direct Investing your best broker choice? Read our full review to see how RBC's online trading platform fits your specific needs and wants.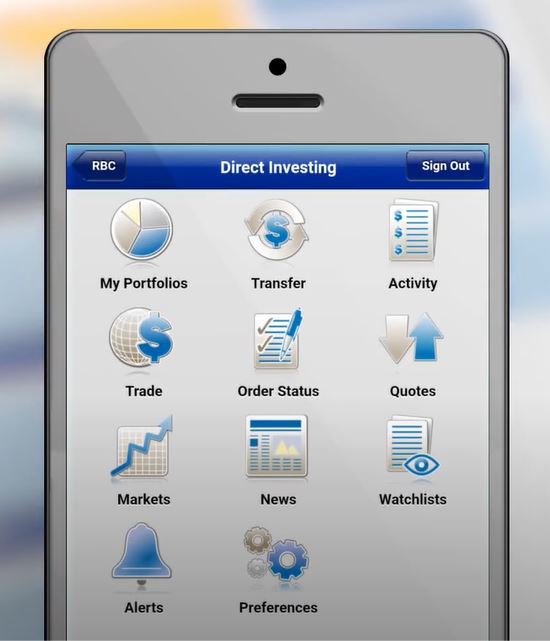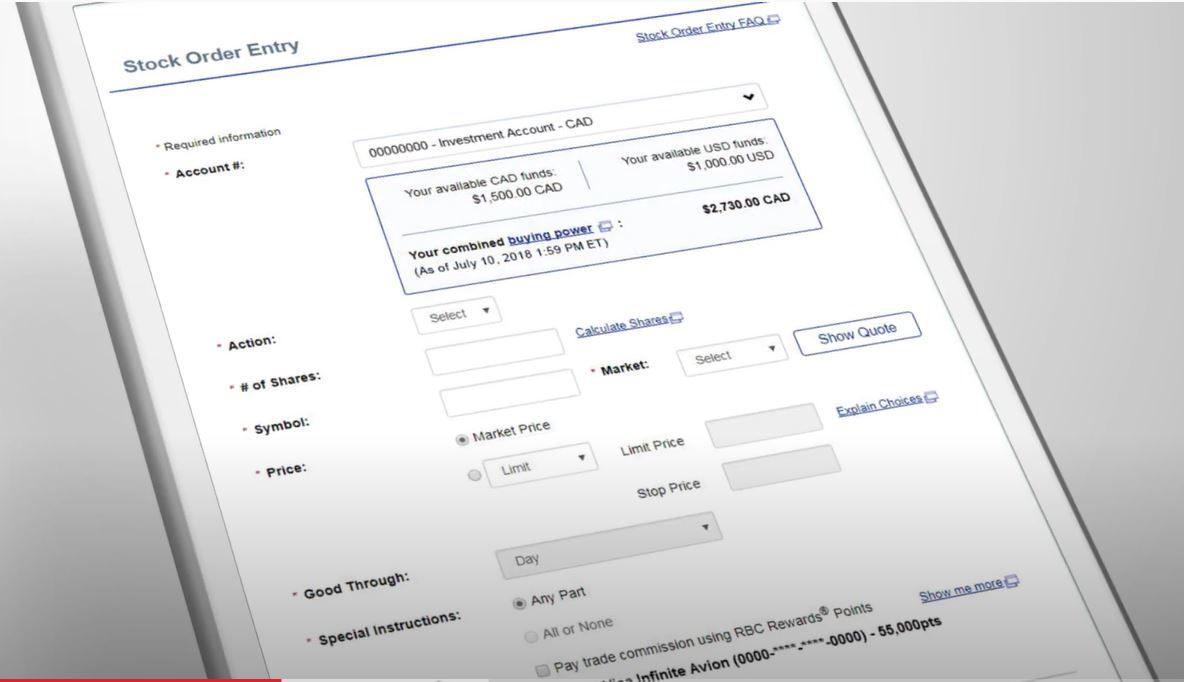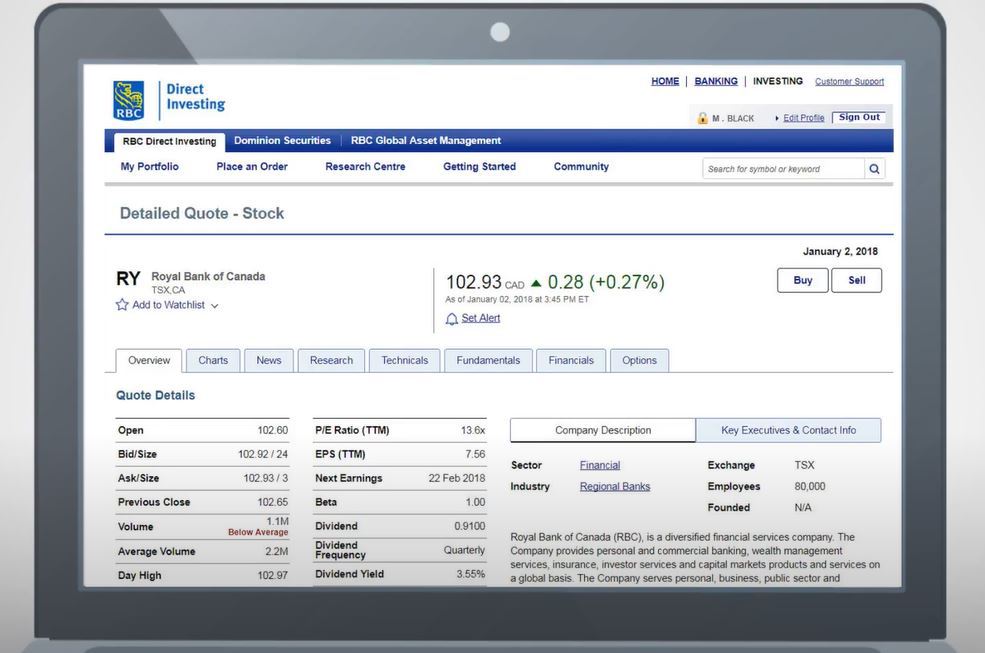 RBC Direct Investing's Trading Fees and Prices
When it comes to the RBC Direct Investing fees and price comparison, it's important to understand that RBC (and all of Canada's large banks, for that matter) rarely seek to be the cheapest option available.
RBC Direct Investing offers a competitively-priced product relative to BMO, Scotiabank, TD and CIBC. It's going to entice you with a great platform, the safety of being one of Canada's most trusted companies, and the convenience of keeping all of your banking under one roof. That said, it's not going to be your most cost-effective option.
RBC Direct Investing Review: Account and Transaction Fees
The main thing to understand when it comes to the RBC Direct Investing account fees is that there is a quarterly maintenance fee of $25 ($100 annually).
However – you can avoid this fee if you do any one of the following:
Have $15,000 or more in your combined RBC Direct Investing accounts.
Set up a minimum pre-authorized Contribution plan of $100 per month.
Pay for three trades during any quarter (3-month stretch).
Have an RBC student banking account (or have had one in the last five years)
Have an RBC VIP banking package.
Below is a quick chart of the more common RBC Direct Investing transaction and account fees that you might run into.
| | |
| --- | --- |
| Possible Account Maintenance Fee | $100 Annually ($25 per quarter) |
| RSP Withdrawals | $50 |
| TFSA Withdrawals | $0 |
| Home Buyers Plan & Life Long Plan Withdrawals | $25 |
| Wire Transfers (to North America) | $45 |
| Cheque Requests | $10 |
| Confirmation Replacement | $2 |
| Statement Replacement | $5 |
| Research Account Inquiries | $40 per hour (Min. $20) |
| Certificate Registration | $50 |
| Transfer Out | $135 |
| Internal Transfers (third party) | $25 |
| Estate Account Processing | $175 per account |
Stock Trading Fees
When it comes to the RBC Direct Investing trading fees, you're going to pay $9.95 per transaction (including ETF trades) and can trade on any North American stock market. If you make more than 150 trades per quarter, RBC will lower that trading fee down to $6.95 per transaction.
There are no ECN fees when using RBC Direct Investing.
ETF Trading Fees
Unlike Questrade, Qtrade, and Virtual Brokers, RBC Direct Investing does not offer free ETF purchases or sales. Buying an ETF is treated exactly the same way as buying a stock/share, and incurs the same $9.95 price tag (or $6.95 if you're one of the day-trader types).
| | | |
| --- | --- | --- |
| Online Discount Broker | Per Transaction Cost to Buy ETFs | Per Transaction Cost to Sell ETFs |
| RBC Direct Investing | $9.95 | $9.95 |
| Questrade | $0 | $5 |
| Qtrade | $0 – $8.75 | $0 – $8.75 |
Options Trading Fees
Personally, options trading isn't really my thing, but the RBC Direct Investing options trading fees follow the same philosophy as their stock trading fees. Most people are looking at $9.95 per trade + $1.25 contract fee. If you make 150+ trades they'll let you take three bucks off the per trade rate.
Most options traders who I know are substantially more active in their account than everyday ETF index investors, and so this fee difference versus low-cost discount brokerages might be more important to them.
RBC Direct Investing Account Types: TFSA, RRSP, Non-Registered
Like all of the leading Canadian discount brokers these days, RBC Direct Investing offers all of the usual accounts including:
Non-registered accounts (both CAD and USD)
Make no mistake, you may pay a bit more to use the RBC online broker vs some of the lowest-cost Canadian brokerages, but you will get a platform and the account options that go with investing through one of Canada's largest companies.
RBC Direct Investing Review: FAQ
Who Is RBC Direct Investing Discount Broker Best for?
Ultimately, if you read our full Questrade or Qtrade reviews you'll quickly see why we recommend these over RBC Direct Investing when it comes to choosing a discount broker in a vacuum.
We don't live and invest in a vacuum, though! If you already bank with RBC, then opening an RBC Direct Investing account might be so easy and simple, that it motivates you to get started. If that's the case, then it's well worth a few extra bucks each year in trade commissions in order to get started sooner rather than later.