Qtrade Investor Review
Critics Review and Ranking

Account Opening

Qtrade Free ETFs

Annual Fees

For High Volume Traders

App Rating

Customer Service
Qtrade Review Summary:
This Qtrade review will explain why Qtrade Investor is consistently rated as the top online brokerage in Canada. With a range of account types, investment options, and excellent customer service, it's easy to understand why so many Canadian investors trust this online broker.
Qtrade even garnered the only A+ rating from the Globe and Mail's Rob Carrick, with the long- time financial columnist saying:
"No other broker is good in so many different areas and no other broker makes such consistent year-by-year improvements."
Qtrade's excellent customer service, free ETF trading, and suite of investing tools, simply make it the best overall Canadian brokerage option for 2021.
MDJ's exclusive 2021 Qtrade promo: Sign up today through our Qtrade review, and get up to $2000 visa gift card.
Pros
FREE buying and selling of 100+ ETFs
Consistently rated #1 over the past decade
Excellent Customer Service
One of the best apps on the market
Elite investor tools
Ultra-easy account opening
Cons
Pesky inactivity fees (can be easily avoided)
Low rating for Qtrade trading app on Google Play
What Is Qtrade Investor?
Qtrade Investor is part of Aviso Wealth, a national financial services company owned by the Credit Union Centrals, CUMIS and Desjardins. Aviso manages close to $70 billion in assets, and has major operations in Vancouver and Toronto, with regional offices across Canada.
Qtrade is considered by many to be Canada's best online brokerage for good reason. This company is a trusted partner to more than 150 credit unions, banks, trust companies, insurance companies, investment dealers, portfolio managers, and financial planning firms.
With 15+ years of innovation and consistent excellence, Qtrade is simply a time-tested Canadian brokerage leader. With low fees, a refined platform, and customer service that promises:
"Prompt, knowledgeable service is part of the Qtrade experience. Calls answered in seconds, not minutes. The right answers and solutions, right away."
You can see why so many Canadians continue to place their trust in Qtrade.
Qtrade Free ETFs
As an avid ETF investor, this is a major aspect of the Qtrade Canada review.
Qtrade's commitment to the free purchasing and selling of ETFs is a deal-breaking-win for me.  Other Canadian brokerages offer free ETF purchases, but charge a trading fee when ETFs are sold to withdraw money, or just to rebalance a portfolio.
It's important to note that not all ETFs are created equal when it comes to the Qtrade free ETF policy. That said, you can get exposure to whatever market you want using these ETFs. You can get super complicated and look into niche ETFs such as the iShares Jantzi Social Index ETF (XEN) if you're looking for socially responsible investing, or you can use the ultra-cheap broad ETFs that I prefer. Namely:
1) Horizons S&P/TSX 60 Index ETF (HXT)
2) Horizons S&P 500 Index ETF (HXS)
3) iShares MSCI Emerging Markets Index ETF (XEM)
4) iShares Global Real Estate Index ETF (CGR)
5) iShares Canadian Government Bond Index ETF (XGB)
6) iShares Core Growth ETF Portfolio (XGRO)
If you want the coolest ticker symbol in Canada "COW" (the iShares Global Agriculture Index ETF) that is also available – although it's not in my portfolio! All other ETFs can be purchased at Qtrade's standard low-commission rate.
Qtrade Review: Fees & Commission
Qtrade's non-ETF trading costs and commissions are decisively cheaper than those charged by Canada's major bank brokerages, but are a slight premium on Questrade and Virtual Brokers' offerings.
Everyday investors (those who do not meet the 150+ trades per quarter or $500,000+ in assets thresholds) are charged $8.75 per trade, while Investor Plus members will see a lower rate of $6.95 per trade. Options are $6.95 + $1.25 per contract.
Traders between the ages of 18-30 can also take advantage of a reduced commission rate of $7.75 with no minimum balance and no quarterly fees as long as you set up a recurring deposit of $50+ each month.
Electronic statements are free, while paper trade confirmations will set you back $2.50. To transfer your account out will cost you $150.
Avoiding the Qtrade Quarterly Account Fee
Qtrade has a $25 per quarter account fee, but there are numerous ways to escape this pesky fee.
1) My recommendation to new investors is set up an automated contribution to their brokerage account. This simply means that you send $100 (or more) from your bank account to your brokerage account each month. This is an excellent initial goal for a new DIY investor. Qtrade refers to this as a "recurring electronic funds contribution" and it has no fees attached.
If you set up this solid investment practice, then you can avoid Qtrade's quarterly account fees no matter what your balance or trading levels.
2) Have at least $25,000 in assets on the last business day of each 3-month period (called "quarters" in the investing world).
3) Complete two commission-generating trades in the preceding quarter or either trades in the preceding year.
Qtrade 2021 promotion
This exclusive welcome bonus is available to all Million Dollar Journey readers enjoying this Qtrade review for 2021. All you have to do is sign up to Qtrade using one of the buttons on this page:
Open an account today by clicking here and investing $25,000 to get a $50 Visa gift card – plus up to $150 in Qtrade credit to offset any transfer-out fees charged to you by your current online broker!
Deposit more than $25,000 by March 1st, 2021 and get up to $2,000 on your Visa gift card!
Qtrade Review: Account Options
Qtrade has a variety of accounts that you can choose from depending on your investing goals and needs.
Cash Accounts: Cash accounts are pretty straightforward. You can buy and sell stocks, bonds, mutual funds, and other investments. Cash accounts are available as individual, joint, corporate, and group.
TFSA: TFSAs are the typical go-to for most investors. You'll be able to invest in stocks, bonds, ETFs, and mutual funds but your earnings and withdrawals are sheltered from tax.
RRSP: You can invest in stocks, bonds, ETFs, and mutual funds and the tax will be deferred until you make a withdrawal, ideally upon your retirement. RRSP accounts are available for individuals, as a spousal plan. RRIFs (the natural conclusion to RRSPs) are also available. There are also both Canadian dollar and US dollar account options.
Margin: Margin accounts allow you to borrow money against your securities to trade at competitive rates. Keep in mind, you need to pay interest.
Qtrade Review: Customer Service
One of the biggest draws of Qtrade is the customer service. This company has created a reputation for itself in terms of its prompt customer support and knowledgeable staff.
You can reach Qtrade customer service in three ways: by phone, by email, or by live chat. They even have a 'let us call you' feature where you can leave your phone number and they will get in touch as soon as the next customer service representative is available, meaning you don't have to stay on hold.
If you have ever been placed on a frustrating hold for 2+ hours, then had the end of the business day cut you off, when you're "nearly next in line" – then you know how valuable this commitment to customer service is!
This is a decisive advantage over the rest of Canada's discount brokers.
Features, Tools, and Ease of Use
Qtrade definitely gets bonus points for having a clear and easy-to-use website and app. In a piece for the Globe and Mail, Rob Carrick stated that "it's mobile app lets you do a wide range of functions and doesn't cut corners, which many other brokers have."
On both the website and the app, Qtrade allows you to easily navigate your investments, watchlists, stock screeners, and market research. The stock screeners are customizable and real-time quotes will show you the current stock price as well as additional information including dividend yield, earnings per share, 52-week highs and lows, and market cap.
Qtrade makes trading a breeze as well. A click on the 'trade' button will allow you to choose what type of security you would like to invest. You can trade stocks, ETFs, mutual funds, options bonds, and GICs on US and Canadian exchanges. If you want, you can also set limit orders and stop orders.
Investors and columnists are also loving one of Qtrade Investor's newest tools; Portfolio Score. This tool essentially gives you a second opinion on your portfolio. You can use the information provided to compare your portfolio against domestic and global benchmarks. It will also evaluate your securities and grade your portfolio against five dimensions:
downside protections
Performance
Diversification
Income
fees
It's a handy tool to have to help you invest with more confidence and manage your risk exposure.
The Investor Plus Program
Qtrade has an elite-tier program called the Investor Plus Program which comes with a few perks and benefits.
To qualify for the Investor Plus program you must have:
A minimum of $500,000 in assets across all accounts and under the same client ID
or
A minimum of 150 online commission-generation equity or option trades during the immediately preceding calendar quarter.
Perks and benefits include discounted trading commission fees, which will be discussed below, as well as a dedicated phone number to ensure faster service plus no fee for USD registered accounts.
Qtrade vs Questrade
Look, the bottom line in Qtrade vs Questrade battle is that you can't really go wrong. It comes down to the tradeoff between rock-bottom fees and the best user experience on the market.
That said, if you are mainly looking for an ETF portfolio – it's gotta be Qtrade hands-down.
Here's a closer look at the Qtrade vs Questrade comparison:
| | Qtrade | Questrade |
| --- | --- | --- |
| Free ETFs | Offers free buying AND selling of ETFs that are on it's top 100 list. | Offers free buying of ETFs, BUT does charge the normal trading fee to sell ETFs |
| User Experience | Consistently rated #1 - simply the best | Has made big gains over the last three years, rated just behind Qtrade by most publications |
| Customer Service | The #1 reason to go with Qtrade - elite customer service | Overall, Questrade lost some of their positive momentum in this area when during the recent pandemic they saw wait times of 4+ hours to answer basic queries |
| Trading Fees | Very competitive, cheaper than the big Canadian bank Brokerages. $8.75 for most investors, $6.95 for more elite traders | A rock bottom $4.95 for up to 500 shares, to a maximum of $9.95. Questrade clearly shines here |
| ECN Fees (additional trading fees) | None | Charged - often small amounts for most investors |
| Account Fees | $25 per quarter - WAIVED IF you hold $25,000 in the account OR you make 2 trades per quarter OR you add $100+ automatic recurring monthly contribution (my preferred option) | $25 per quarter - WAIVED IF you hold more than $5,000 in the account, make one trade per quarter, or are younger than 25 |
| Research Tools and Education Materials | Has been at the top of Canadian brokerage ranking in this category for over a decade | Made excellent gains in the last few years |
| Safety | CIPF Member | CIPF Member |
| Mutual Fund Purchases | Free | Fees Apply |
| Promo Offer | $50-$2,000 Instant Visa Gift Card | $50 in free trades |
| Sign Up | | |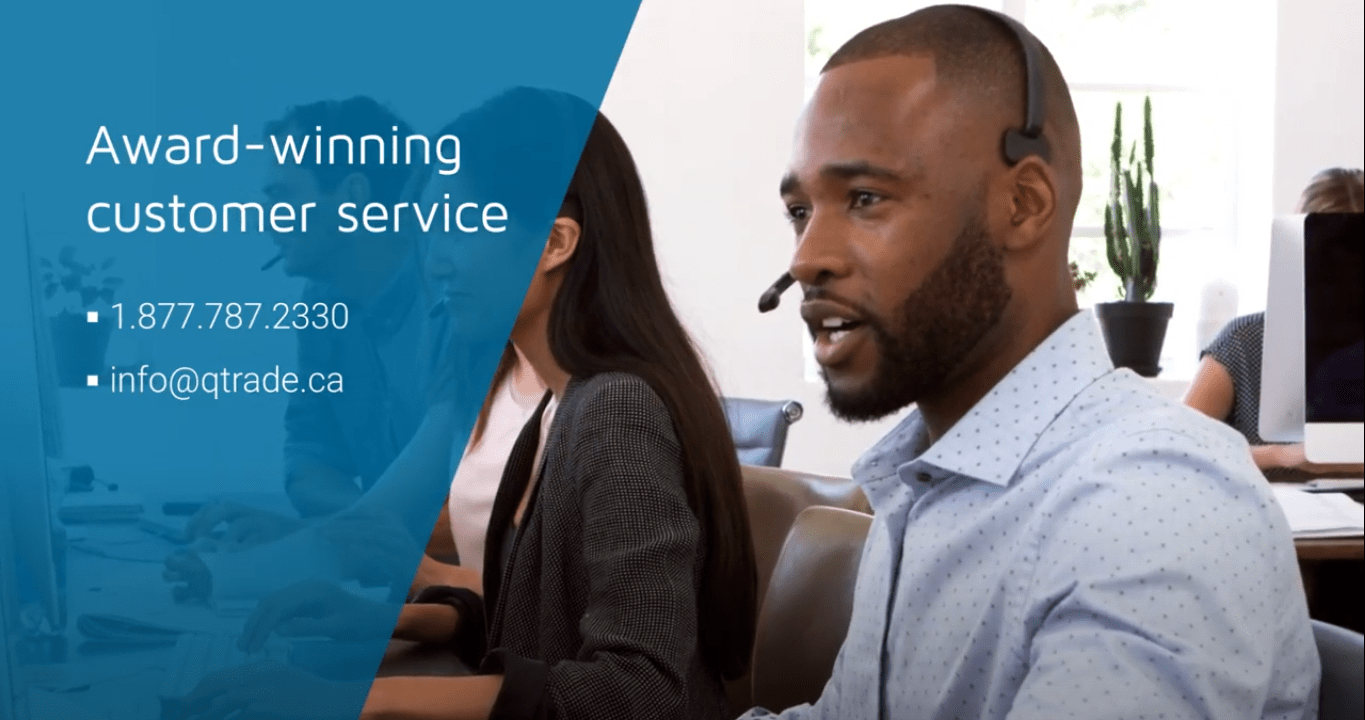 Qtrade Young Investor Program
Qtrade has recently made a strong push to get young people started on their platform. By offering specially priced $7.75 trades – and access to the same Qtrade free ETFs menu – Qtrade has made the stock market more accessible to young investors than ever before.
Qtrade has also committed to eliminating the $25 account fees automatically for young investors.
In order to qualify for the Qtrade Young Investor Program you simply need to fall in the 18-30 age group, and set up a $50 per month pre-authorized contribution from your regular bank/chequing account.
Investors who are just starting to manage their own money, can take full advantage of Qtrade's top-tier investor education materials and access to third-party investing reports.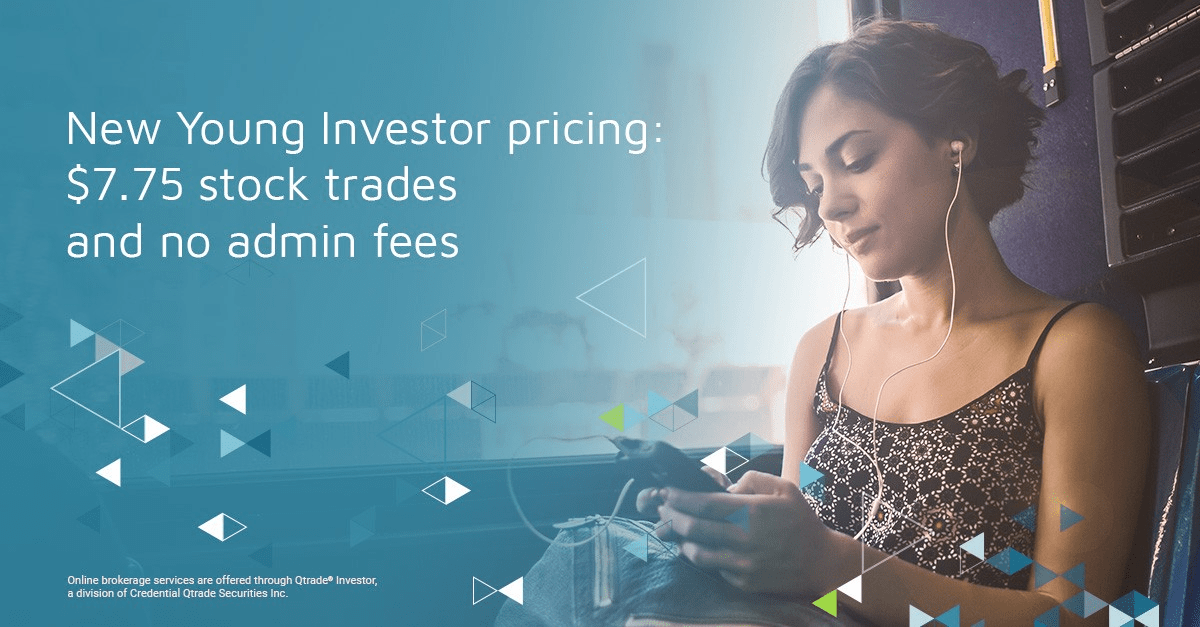 Qtrade Review FAQ
Is Qtrade Safe?
Yes! All Qtrade accounts are protected by the Canadian Investor Protection Fund (CIPF). Qtrade's parent company is Aviso Wealth, which is a massive Canadian financial services company with $70 billion in assets. Qtrade has been keeping Canadians' assets safe for 15+ years, so they have plenty of experience in the online security world.
Does Qtrade have an account minimum?
No. You can open an account with any initial deposit!
Can I open a Qtrade Account if I don't live in Canada?
No. Qtrade currently does not take on non-resident of Canada. I recommend chequing out CI Direct Investing (formerly Wealthbar) or Questrade for expat-friendly investment solutions.
Does Qtrade open business accounts (corporate accounts)?
Yes. There is a separate application process for these unique accounts, but it's pretty straightforward. The same pricing and fee schedules apply.
Can I try Qtrade for free (trial account)?
Yes. The Qtrade Investor trial account lets you get a feel for the tools that will be at your disposal as a Qtrade client.
What investments can I trade with a Qtrade account?
Any securities traded on a Canadian or U.S. stock market, including Canadian mutual funds, bonds, GICs, Options, and IPO shares. Qtrade does not allow trading of bitcoin or on stock markets outside of Canada and the USA. (You can easily get exposure to stock markets around the world with free ETFs such as XGRO.)
New to Qtrade for 2021
One of the reasons why I feel so confident in recommending Qtrade on this Qtrade review, is that they have consistently innovated to new levels of excellence over the past fifteen years.  Unlike some brokers, which snag a top ranking – only to lose ground before their next "Grand Reboot" we see Qtrade seamlessly add new features to their platform each year. 
But don't take my word for it – The Globe and mail has ranked Qtrade as the #1 discount brokerage in 2020, 2019, 2018, 2016, 2014, 2011, 2010, 2009, 2008, 2007, and 2006. In the years Qtrade didn't take the top spot it placed top 3.
Switching brokerages is a pain. Consequently, when you choose where to place your money, you're essentially placing a bet that your selection will continue to keep up over the long term. No discount brokerage in Canada can offer the same track record as Qtrade.
Here's just what was added in 2020:
New Portfolio Score, which gives a client's portfolio a health-check by analyzing and grading its performance across five financial dimensions
News service powered by Dow Jones
Sector-specific newsletters with pricing predictions from Trading Central
Expanded offering of USD DRIP-eligible securities
Spousal USD RRSP and RRIF products
Updated options trading to enhance real-time information
Redesigned and expanded ETF and Stock Screeners
Our Final Verdict
For my money (and it is my Qtrade review after all) – Qtrade is simply the best all-around option in Canada.
The combination of the best customer service (by a large margin), free buying and selling of ETFs, the user-friendly app, and the 15+ year track record of elite innovation, are what put Qtrade in a class of its own.