Given the new importance of doing things online in 2020, we felt that we needed to refresh our best online banks in Canada article for 2021.
When was the last time you walked into a bank? It might have been a while, but don't worry- you aren't alone. More and more Canadians are using online banking to conduct and take care of their financial needs. And why wouldn't we? After all, online banking offers us the ability to do the same things at home as we can do at an ATM or with a teller. The best online banks have made our lives easier.
I don't know about you, but I definitely prefer being able to pay my bills from my couch while wearing sweatpants on a cold winter day rather than having to wait in line to see a teller. Especially in this "golden era of masks".
While online banking has become a part of every bank, including the big brick-and-mortar ones like our favourite big banks like Scotiabank, in this article I'm going to focus on the best online-only banks in Canada; banks that do not have physical locations.
The reason for this, which I will discuss in further detail, is because online banks tend to be cheaper. Typically, these are the Canadian banks with the lowest transaction fees and rates. These include popular names like Tangerine and EQ Bank . If you are looking for more specific comparisons view our Canada's Best Chequing Account article or the one dealing with the Best Savings Accounts in Canada.
Now, without further ado, these are the best online banks in Canada as per MDJ's ratings.
Comparing The Best Canadian Banks
Canada has a number of online-only banking options, however, these are my top recommendations. Each one is different not just in terms of the interest rates but also in terms of the accounts they offer and whether or not they offer credit and/or debit cards. While reviewing this list, you need to keep your needs in mind. Are you just looking for a high interest savings account (HISA)? A free chequing account? Or, are you looking for the best bank in Canada for all your personal banking needs?
| | | | | | | |
| --- | --- | --- | --- | --- | --- | --- |
| | | Chequing / Savings Account | | | | |
| | | | | | High regular interest rates | |
| | | | 2.10% (first 5 months only) Regular is 0.10% | | | |
| | | | | | Free ATM access throughout the USA | |
| | | | | | Earn interest on your chequing accounts | |
| | | | 2% (PROMO) Regular is 0.10% | | | |
| | | | | | | |
| | | | | | Online investing partnership with QTrade | |
| | | | | | Good option for Quebec residents | |
Bottom Line: The Best Online Bank Account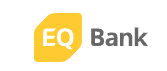 EQ Bank – The best Canadian bank account – Now with TFSA and RRSP GIC options! High interest savings with all the features a chequing account has.
Why do we like EQ Bank?
1.25%* Everyday Interest Rate
Top Canada GIC Interest Rates
ZERO Monthly Account Fees + Daily Banking Fees
No Minimum Balance to Open Account
Excellent Mobile App
TFSA and RRSP Accounts
---
Now, keep in mind, that while online banks are competing with the big ones, they still vary quite a bit in their offerings. Some of the new online banks in Canada offer teaser rates (which I don't love) while others have a lower, but consistent rate that hold steady over time. Similarly, some are basic and only offer one or two account options while others are growing to add accounts other than chequing and savings including TFSAs and RRSPs.
So if you are looking for the best online bank in Canada when it comes to your personal wishlist, read on to see which boxes our leading competitors check off.
Why Use an Online Bank?
So, why would you want to choose an online bank over the typical brick-and-mortar banks that you can just walk into?
Well, there are several reasons.
Cost
Big banks have overhead costs that trickle down to you, the client, which means you have to pay more for your accounts and frequently are offered lower interest rates. In comparison, online banks don't have those big overhead costs which means they can offer you higher rates and, depending on the online bank, even free bank accounts.
Convenience
Another huge draw to online banking is the convenience. You can do everything from opening an account to paying a bill online anywhere; from the comfort of your home, to the gym, to the office. It doesn't matter, your online banking is always available.
Online Banks are Time Savers
On top of being convenient, online banks actually save you time. No more waiting in line or worrying about bank hours. You can do whatever you need to with the push of a couple of buttons (or computer keys) at whatever time of day you want.
EQ Bank
EQ Bank, which is the online banking arm of Equitable Bank, has pulled into the lead when it comes to the best online banks in Canada for 2021. Why? Well, unlike some of the other online banks on this list, EQ Bank does not offer high teaser rates. Instead, they have a pretty solid permanent rate of 1.25%. This rate was actually 2% at the start of 2020, however, dropped with COVID-19. I'm hopeful it will increase again. While it's not the highest on the market right now, the fact that it is permanent, and not just valid for a couple of months, is a big draw.
Furthermore, despite not having a chequing account, EQ Bank recently added TFSAs and RSPs to their account options which I am pretty excited about. There are no credit or debit cards associated with EQ Bank at this time, but at the rate they are expanding and growing, those could be coming down the line soon.
Take a look at my EQ Bank review to learn more.
Tangerine
Tangerine, a subsidiary of Scotiabank, was considered Canada's top online bank for quite the last few years. Personally, while I think they are still a solid choice, I believe that they have lost some of their momentum.
\I do like that Tangerine offers a number of different products including credit cards. However, they feed into the idea of teaser rates for new customers which, as indicated above, I'm not a big fan of.
Currently, when you open a new account with tangerine you can get an interest rate of 2.10% in their high interest savings account, which is great. However, after 5 months that drops to 0.10% which is not very enticing (this offer expires January 31, 2021).
Take a look at my Tangerine Review here.
Simplii Financial
Simplii Financial falls under CIBC and used to be known as PC Financial. Again, I like that they offer a range of different products but the rates don't get me very excited. Currently, Simplii has a promotion of 2% interest until March 31, 2021. After the promotional period, the rate will drop to a measly 0.10%.
Where Simplii Financial shines is with their chequing account which is, of course, free. However, they also offer free and unlimited interact e-Transfers as well as free and unlimited cheques. Right now, until March 31, 2021 new clients can earn $200 when they open a Simplii Chequing account and deposit a minimum of $100 for three consecutive months.
Learn more about Simplii Financial here.
Motusbank
Motusbank is relatively new when it comes to the best online banks in Canada. It's owned by Ontario-based Meridian Credit Union which makes it a favourite for online banking in Ontario. Like many of the other online banks on this list, Motus Bank offers several different products. Rates are a bit higher which I like; right now you will get 1% for a high interest savings account (this is the normal rate, not promotional).
Motus Bank has a leg up on the other online banks when it comes to travel to the USA. They offer access to over 40,000 ATMs, surcharge-free, in the USA through the Allpoint network. A handy benefit to have for anyone who travels frequently to the USA. Read my Motusbank Review here.
Alterna Bank
Alterna Bank falls under Alterna Savings Credit Union which is also based in Ontario. They offer everyday banking accounts, mortgages, and investing options. Their HISA interest rate is higher than some of the others on this list, 1.2% as a regular rate, but what makes Alterna Bank stand out is their partnership with Qtrade Investor.
If you are familiar with my content, you will know I am a huge fan of QTrade and believe that they are Canada's best broker for 2021. Learn more in my QTrade review.
Motive Financial
Motive Financial falls is considered to be one of the biggest online banks in Canada and is a division of the Canadian Western Bank. Motive Financial offers two different chequing and savings accounts, however, only one option for each category is available to new clients.
New clients opening a Motive Savvy Savings Account will see an interest rate of 1.55%- a pretty good rate compared to many other online banks.
While the savings interest rate is decent, what I really like about Motive Financial is that you can earn interest on your chequing account too. Now, they aren't the only online bank to offer this option but, to the best of my knowledge, they do have the best rates for chequing accounts. The Cha-Ching Chequing account will bring you 0.25% in interest.
Take a look at my Motive Financial Review here
Oaken Financial
Oaken Financial, whose parent company is Home Trust, only has one savings account option and some GIC options. However, what it lacks in product offerings it makes up for in terms of having a decent standard interest rate.
The current standard interest rate with Oaken Financial is 1.25%. What makes Oaken Financial a standout is that Quebec residents are able to open an account with them which is not the case for many other online banks in Canada.
Canadians are Turning to Online Banking
As I mentioned above, online banking has taken off these past few years. According to recent research by the Canadian Bankers Association (CBA) 76% of Canadians do most of their online banking digitally (via online and mobile banking). No doubt part of that is due to the current global pandemic, however, online banking is also just a lot easier and more convenient for most of us.
Of course, direct banking in Canada isn't the only way to bank online. The big banks, the brick-and-mortar ones, are going digital too. According to a recent Surviscor comparison of 25 of Canada's banks, alternative banks, and credit unions, the big banks are still coming out on top when it comes to online banking. In fact, Canada's big 5 (RBC, Scotiabank, CIBC, BMO, and TD) took the top five spots for best Canadian online banking experiences.
I don't disagree. The big banks have really stepped up this year and are coming out with some great services and products. In fact, when it comes to products like Scotiabank's new premium chequing account, I would argue that, with the included welcome bonus, this might be the best chequing account in Canada. The value is worth it, even if you do end up having to pay the monthly fee. Take a look at our Scotiabank review to learn more about why it's our top pick.
However, while user experience is an important part of online banking, there are other factors to consider too, including (obviously!) cost. The fact is, that Canada's online-only banks are still coming out on top when it comes to cost. Even with interest rates dropping, the big banks struggle to compete with the low costs and free day-to-day banking offers provided by ebanks.
MDJ Awards – Canada's Best Online Bank Accounts
Best Savings Account: EQ Bank
The best Canadian bank account – Now with TFSA, RRSP & GIC! High interest savings with all the features of a chequing account.
Best interest rates in Canada
Best Chequing Account: Scotiabank
Promo offers and generous rewards plans makes Scotiabank one of the best value for money choices in Canada.
Canada's best chequing account
Online Banking FAQ
Is online banking safe?
Online banks are safe and have high-end security systems in place. Most banks are also federally incorporated and associated with CIDC (Canada Deposit Insurance Corporation) which means that your funds are protected up to $100,000. Make sure to read Canadian online bank reviews to understand security precautions in place.
While the online banks have plenty of security, it's also up to you to be vigilant and protect your information online.
Does it matter what province I live in?
Yes. Not all online banks are available in every Canadian province (especially Quebec) so you will have to do some research ahead of time depending on where you live. Tangerine, Manulife Bank, and Oaken Financial are all available in Quebec.
Should I Have accounts with more than one bank?
If it can benefit you? Absolutely you can. While having everything together at one bank makes things easier and more convenient, you can potentially earn more by having multiple accounts with multiple institutions. Especially when some banks offer higher interest for welcome bonuses. Another perk to having multiple accounts is that it allows you to save for multiple goals.
You can have a savings account dedicated to vacation and another one dedicated to saving for a new home.
How do I withdraw or deposit cash with an online bank?
While being able to bank online via your computer or phone is a huge perk, there is one thing you can't do that way: deposit or withdraw cash. To do this, you will need to go to an ATM.
Your online bank will usually be affiliated with a branch of ATM's so make sure you use the right one to avoid any unnecessary fees. If your online bank does not offer a debit card or ATM access, you will have to transfer your online funds to another bank account that does offer access to ATMs.
Conclusion
So, we're down to the main question: which online bank to choose in Canada? Well, there's no clear winner for the title of top online bank in Canada 2021. Online banks in Canada keep changing (for the better) and there is plenty of innovation happening.
Tangerine was, for a long time, the top choice. While they are still a great pick when it comes to online banks in 2021, they aren't impressing me as much as they used to. That being said, Tangerine does offer some pretty decent teaser rates that are worth keeping your eye out for if you are just saving short-term.
One bank that has consistently innovated and delivered solid interest rates is EQ Bank. While they don't currently offer a debit card, I wouldn't be surprised if they do soon given that they are growing and expanding quickly. (See their excellent GIC rates that you can stick in your new EQ TFSA as you save up for a home or new vehicle.) I will definitely be watching them. If you are interested in learning more, take a look at my EQ Bank review.
Right now, your best bet is to use the Canadian online bank comparison chart we compiled above and compare interest rates and what else you want from your online banking. If you are looking for a big complete package under one umbrella, then again, if you prefer to keep everything in one place, and want to max out your credit card rewards, you may be better sticking to a product like Scotiabank's premier package. But, if what you want is just a high interest savings account with a good interest rate or a chequing account with no fees, then online banks will likely be your best bet.
For more in-depth information, take a look at my thoughts on the best chequing accounts in Canada.
I've Completed My Million Dollar Journey. Let Me Guide You Through Yours!
Sign up below to get a copy of our free eBook: Can I Retire Yet?