Tangerine MasterCard Rating
Annual Cost

Cash Back

Benefits & Rewards

Customer Service
Review Summary:
Tangerine's no-fee MasterCard may very well be the best no cashback card in Canada. No other card offers this kind of comprehensive package of rewards and benefits to its clients.
Even though not applicable to Costco, and not recommended for those who run up a balance due to its high interest rates, this card is absolutely great value.
Pros
Best rewards & benefits in the market
No limit on rewards
100% free to use
Cons
Not applicable to Costco
High interest rates if you run up a balance
This is a guest post by credit card enthusiast and regular reader – Elbyron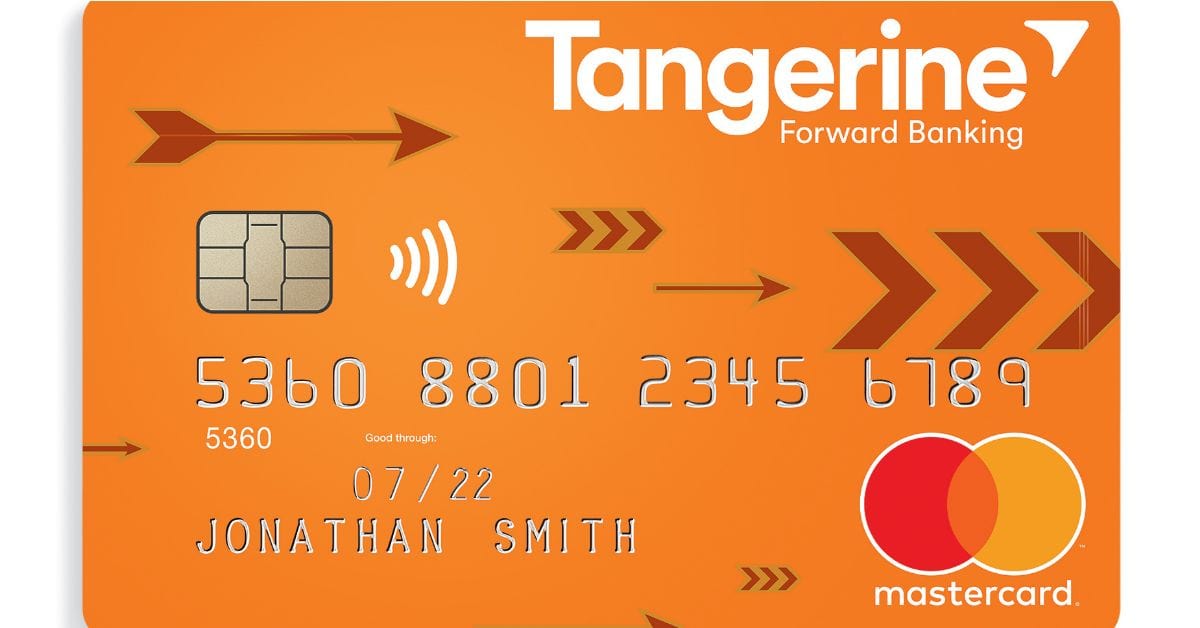 Tangerine has recently announced a new no-fee cash-back credit card which is expected to quickly become one of the most popular cards in Canada. In addition to having one of the best reward systems I've ever seen, it boasts a wide range of features, and a lower than usual foreign exchange fee.
This card almost seems like it was specifically designed to appeal to MBNA Smart Cash cardholders who are fed up with the limits and inflexibility. It's reward structure is similar, but is improved over Smart Cash in many ways.
Rewards
Earn 2% cash-back on purchases in up to 3 categories of your choice, with NO MAXIMUMS.
Earn 1% 0.5% cash-back on all other purchases (also no maximum).
The reward is automatically redeemed monthly.
Choose to get a statement credit or a deposit to your Tangerine Savings account (excluding TFSA).
If you choose the statement credit for your redemption, you get to pick 2 categories for the 2% cash-back. If you choose the deposit to a non-registered Tangerine savings account (either sole or joint account holder), then you get to pick a third category.
You can change your categories to suit your spending: once initially set, the categories can be changed every 90 days. The changes take effect on the next monthly statement date after current categories have been in effect for 90+ days. Which category a purchase falls under depends on the merchant, not the item you purchased. So if you buy pharmacy items from your local grocery store, they will actually count as Grocery, not Drug Stores. Conversely, if you bought food from Shoppers Drug Mart, it goes under Drug Stores and not Grocery.
The current categories are:
Drug Stores: Merchants classified as "Drug Stores/Pharmacies".
Restaurants: Merchants classified as "Eating Places, Restaurants, Bars, Lounges, Discos, Nightclub Taverns and Fast Food Restaurants".
Entertainment: Merchants classified as "Sports Venues, Theatres, Amusement Parks, Carnivals, Circus, Tourist Attractions and Exhibits, Movie Theatres, Zoos, Bands, Orchestras, Aquariums" .
Furniture: Merchants classified as "Home Furnishing Stores, Furniture Reupholstery" .
Gas: Merchants classified as "Service Stations" .
Grocery: Merchants classified as "Grocery Stores and Supermarkets" .
Home Improvements: Merchants classified as "Hardware Stores, Home Supply Warehouse Stores, Lawn and Garden Supply Stores, Glass/Paint/Wallpaper Stores, Florist supplies nursery stock & flowers, Floor Coverings, Drapery and Window Coverings".
Hotels: Merchants classified as "Lodging, Hotels, Motels, Resorts or by Property name" (i.e. Fairmont, Marriott, Holiday Inn, etc.) .
Public Transportation and Parking: Merchants classified as "Automobile Parking Lots and Garages, Public Transportation (including Buses, Trains, Ferries), Taxis, Road Tolls" .
Recurring Bill Payment: Recurring bill payments are defined as payments made on a monthly or other regular basis, and which are automatically billed by the merchant to your Tangerine Money-Back Credit Card, such as your monthly phone bill. Not all merchants offer recurring payments, and not all ongoing payments will be considered "recurring payments" for purposes of this category. Please check with your merchant to see if your recurring payment qualifies.
Unfortunately, no Costco but…
Because Costco categorizes themselves as "Discount Stores" (5310), they will not qualify for any of these categories. However, Costco gas stations are correctly categorized as Gas. Walmart.ca is also a "Discount Store", but their Supercenter stores are usually "Grocery". Online merchants like Amazon or eBay likely won't qualify either. There is currently no categories for electronics, flights, fitness (except recurring membership costs), medical, liquor, contractors, insurance (unless recurring), jewelry, and many other high-spending categories. But we can always hope that they'll add more in the future!
You can request additional cards for up to 5 authorized users, but your 2 or 3 category choices will apply for all of them. All the cards accumulate cash-back, but the primary cardholder receives all the rewards to their chosen destination. Your significant other could just get their own card with different categories, but they wouldn't be linked and you would have two bills to pay.
Cost
No annual fees;
No cost for additional authorized users (up to 5);
19.95% interest rate;
With an interest rate of 19.95%, this is not a good choice of credit card for carrying a balance, as there are other cards in the range of 7 – 10%. Also note that even if you choose to get your cash-back as a statement credit, this does not reduce the minimum payment amount (just your total balance).
Benefits & Features
90-day purchase assurance (theft/damage/loss);
Double manufacturer's warranty up to 1 extra year;
Ability to setup online travel notifications;
Pause-my-card feature, in case you temporarily misplaced your card;
Customizable alerts: you can be notified of every purchase, if you want;
Automatic pay-my-balance: pre-authorized withdrawals from any chequing; and,
Online credit limit adjustments.
Most of these features are starting to become common-place, but there doesn't seem to be many cards that offer all of them. Tangerine also has a well-designed and easy-to-use website, plus they are known for pushing the envelope on new online banking features.
Cash While Travelling
Another potential use for this card is obtaining foreign cash while out-of-country. The flat $5 out-of-Canada cash advance fee means that if you withdraw a large enough amount at once, you can get cash for a fairly cheap rate. For example, withdrawing $1,000 CAD worth of the local currency from an ATM would cost you $5 (0.5%) plus a 2.5% fee over MasterCard's excellent base rate. This is likely to be cheaper than most other methods of obtaining foreign cash, but there is a catch: unlike other purchases, interest will begin accruing immediately on the cash advance, until the day you pay off the balance.
Fortunately, there is a simple trick to avoid paying any interest on the advance: first pay down any current balance, then make a payment for an additional amount to cover the cash you want to withdraw, plus $5 for the fee, plus a little extra to account for fluctuations in the exchange rate. When you go to withdraw from the ATM, you already have a positive balance, which gets used to immediately pay for the cash advance, and therefore no interest is charged. This isn't really a "trick", as all credit card companies apply over-payments towards future purchases. It works with pretty much any card – just be aware of the foreign exchange fees and cash advance fees.
How it Stacks Up
There are lots of no-fee cash-back cards available, but only one other – MBNA Smart Cash – offers rewards as high as 2% on select categories. However, the 2% bonus on Smart Cash is restricted to gas & groceries and only applies to the first $400 of each month spent in those categories. Furthermore, unless you upgraded to the World version of Smart Cash, even the 1% is limited to a $1,250 monthly spending cap. (not available anymore)
The fact that Tangerine's card has no limit on the rewards will seem very appealing to those who would normally exceed those limits. However, it should be noted that those who spend over $5,000 per year on their credit cards may be better off with a premium cash-back card with an annual fee, depending on how much you spend in your 2 or 3 highest spending categories.
At the other end of the spending spectrum, those who only charge small amounts to this card will automatically give you all your accumulated cash-back every month. It is quite clear that Tangerine's new card is designed to beat Smart Cash and become the new cash-back king!
How to Get It
You must be 18 years old, but there is no minimum income requirement on this card. Right now, this is the best free cash back credit card in Canada.