Best Canadian Online Brokers (2021 Updated)
Million Dollar Journey was amongst the first independent publishers to rank the Best Canadian Online Brokers, way back in 2006!
We've continuously checked for that latest news each month and updated our Canadian brokerage list ever since.
There is no doubt that today's discount brokerages are a much, much better product than they were when I first started using them (on my old slow internet). Far better platforms for far less money = big win for Canadian Investors.
Check out our in-depth and 2021 updated online discount broker comparison below!
Our Top Online Brokers in Canada: Quick Comparison
| | | | | | | |
| --- | --- | --- | --- | --- | --- | --- |
| | | | | | | |
| | 4.9 / 5 | FREE buying and selling of 100+ ETFs | $8.75 ($6.95 elite accounts) | Canada's Best Overall Broker - Buy & Sell ETFs for Free, Best Online Platform, Low Cost, Superb Service | | |
| | 4.3 / 5 | Free BUY of ETFs (full trading prices apply to ETF sales) | | Runner Up Best Broker - Best Options Trading, Advanced Data Streams, Customer Service Lacking | | |
| | 4.1 / 5 | FREE buying and selling of 80+ ETFs | $9.95 ($7.95 elite accounts) | Best Big Bank Brokerage - 80+ Free ETF Trades, Big Bank Convenience, Medium Cost | Up to $2,000 cash back (use promo code MDJCASH) | |
| | 3.8 / 5 | | $9.95 ($6.95 elite accounts) | Canada's Biggest Bank, Good Mobile Platform, High Fees | | |
| | 3.8 / 5 | | $9.99 ($7 for Active Traders) | Serviceable Platform, Good Convenience, High Fees | | |
| | 3.7 / 5 | | | Medium Cost, High ETF Fees, Good Convenience, Integrated Savings Account | | |
| | 3.4 / 5 | | | $0 Trades, Poor and Buggy Platform / App, Terrible Account Options, Depends on high-fee crypto trading to make money | | |
---
Best 2021 Broker Promo: Up to $2,000 Cash Back Instantly On New Accounts
Open an account with Qtrade before March 1st 2022*, and get up to $2000 in cashback.
The offer is exclusive to MDJ readers – get it by using clicking the button below.
* deposit/transfer at least $15,000 in assets by March 31, 2022 ** Applies to both New and Existing clients who open a new Qtrade account by March 1, 2022 ***Qtrade promo 2021: more details
What is an "Online Discount Brokerage" or "Discount Stock Broker"?
If you're wondering what an "online discount brokerage" or "discount online stock broker" is then think of how people used to buy glasses.
You used to go to the optometrist (eye doctor) or an expensive store and either choose from what was in stock or place a very expensive custom-made order right?
These days, you just get your subscription, go online, cut out the middleman, and buy your glasses for 10% of what you used to.
An online stock broker is simply a trading platform that allows Canadians to buy and sell investments such as stocks, bonds, ETFs, and options.
If you want the ultimate control over your own investment portfolio – and you want to slash fees to the absolute bone – then you need to open a discount broker account.
This is of course much different from the old days when a bunch of dudes would gather around a counter in NYC, Toronto, or London, and yell crazy stuff at the top of their lungs while pushing reams of paper at an overwhelmed stock exchange employee.
Investors used to pay HUGE money to phone in their orders, and have these middlemen yell them out at the right time.
It was a financial stone age.
Our list of best Canadian online discount brokers features numerous contenders that allow you to buy & sell ETFs for free, and trade stock at a massive discount compared to the old days.
It used to be $30+ in order to post a single buy or sell order! The more money you save on commissions, the more of it can stay in your account and compound the growth of your nest egg.
TL;DR Our Best Online Stock Brokers For 2021 in Canada
Picking the best online broker for your individual needs and tastes isn't an exact process. There are just too many variables involved to definitely say, "This is the Best Canadian Broker for every single person."
Instead, what we do at MDJ is sit down as an editorial team (which includes 5-7 authors who all use multiple brokerage accounts in order to get an accurate picture of the current brokerage market) and discuss any changes that have recently been made. We then cross reference our conclusions with traditional media sources such as the Globe and Mail, as well as several other Canadian personal finance sites.
In the end, our key comparison metrics (in order of importance) are:
1) Trading Fees
2) Accounts Fees
3) Customer Service
4) Current Promotions
Qtrade Direct Investing – MDJ's Top Canadian Broker
After all of that anecdotal and quantitative research, we think that Qtrade is likely to be the best online broker in Canada, at least for most people in 2021. That said, as always, we'll be paying attention to our comment boards and inboxes in order to implement any real-time feedback we get from the Million Dollar Journey community.
Don't take our word for it… longtime Canadian personal finance veteran, Rob Carrick of the Globe and Mail says that:
Their ability to innovate new aspects of their platform, as well as to flawlessly integrate these new ideas – all while keeping their fees amongst the lowest in Canada – mean that Qtrade has shown its best-in-class stripes over the long term.
In past years we have ranked Questrade slightly above Qtrade in our Canadian discount broker rankings, chiefly on the basis on their lower fees – and while Questrade certainly remains an excellent alternative, and a solid #2 overall option – we have decided that Qtrade has overtaken them this year based on the following criteria.
Million Dollar Journey's Overall Rating: 4.8/5
Qtrade Direct Investing Pros:
FREE buying and selling of 100+ ETFs
Consistently rated #1 over the past decade
Excellent Customer Service
One of the best apps on the market
Elite investor tools
Ultra-easy account opening
Globe and Mail's #1-Rated Online Broker for 2021
Up to $2,000 in cashback on new accounts with $15,000 minimum deposit – best promo offer in Canada
Qtrade Direct Investing Cons:
Pesky inactivity fees (can be easily avoided)
Not the cheapest trading fees in Canada for all instruments
Runner Up Canadian Discount Broker – Questrade
Questrade is a truly-usable discount brokerage that has amongst the lowest costs in Canada. Questrade charges a penny-per-share-traded (bought or sold) – but with a minimum of $4.95, and a maximum of $9.95. Personally, I've never bought more than 495 shares of a stock or unit of an ETF before – but I'd like to have an account big enough to try it some time.
There are no annual fees (no matter the size of your account, though there is an account minimum of $1,000) and no fees charged when you buy ETFs.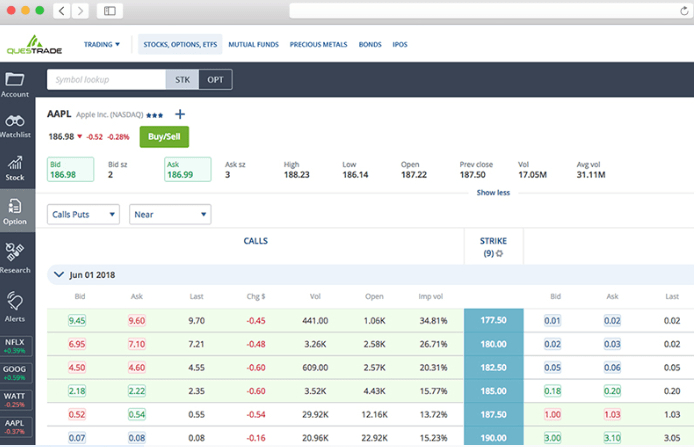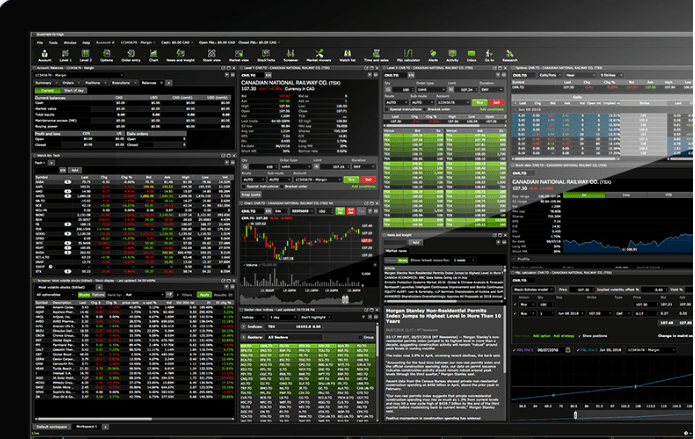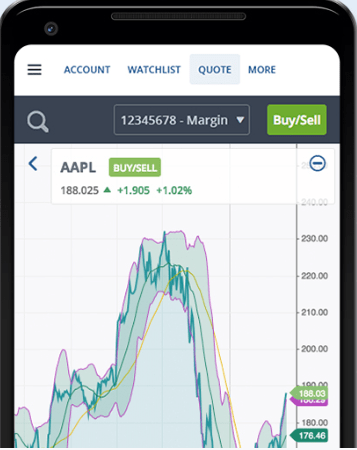 It's not like the rest of the Questrade package is lacking something major, it's simply a tribute to how far some of the other brokerages have come, that we no longer rank them #1. The Questrade app and website have seen tremendous upgrades in the last couple of years, and the vast majority of people that we have recommended Questrade to over the years have been quite happy with them.
That said, there is no doubt that customer service emerged as a weak spot for the quickly-growing company during the pandemic. Several of the writers on this website saw wait times of over four hours for both the online chat and call-in options. Emails went over a week between response times at various points.
Of course, if you're not the "customer service" type, and simply want access to a great platform at the lowest price – then Questrade makes a ton of sense for you. Check out our full Questrade Review for more information.
Mllion Dollar Journey's Overall Rating: 4.4/5
Questrade Pros:
No Fees To Build an ETF Portfolio!
Very Low Trade Costs (ideal for building a dividend-heavy portfolio)
$0 Annual Account Fees
24-Hour Paperless Account Opening
Globe and Mail "A" Rating + Best DIY Brokerage Website
Good Promo Offer
Solid USD Trading Options
$50 in free trades for new accounts
Questrade Cons:
Better options online for those interested in doing in-depth analysis research on stocks prior to purchase
Customer service rating took a real hit in 2020 – the main reason we now rank Qtrade ahead of Questrade.
Only 2.9/5 app rating on Google Play – reviews mentioned delay in pricing on app vs desktop
Why did we decide to rank Qtrade above its primary rival, Questrade?
During the pandemic, our MDJ inbox was filled with a constant flow of messages complaining about Questrade's customer service standards.
Wait times of 4+ hours for both phone and online chat options showed what the price of the lowest fees in Canada are.
Qtrade on the other hand has consistently held the highest standards for their customer service according to our readers, the Globe and Mail, and Moneysense Magazine. For many Canadians this commitment to customer service makes a huge difference in their trust of a company.
Qtrade's free ETFs represent a nice little upgrade on Questrades "free to buy – but to not sell" ETFs.
Finally, we just think that Qtrade's overall investor education package, combined with the app and desktop platforms they have refined give them a slight edge on what Questrade has put out there.
Qtrade isn't the unchallenged leader in every single category – but they have no glaring weaknesses, and absolutely shine when it comes to free ETFs, elite customer service, and unparalleled access to information and education tools. See our in-depth Qtrade Review for more information, or this Questrade vs Qtrade comparison.
April 2021 Update: The newest edition of the Globe and Mail (with the help of Dalbar Canada) discount brokerage rankings just came out and once again ranked Qtrade as the best broker in Canada:
"Any broker can fill an order to buy stocks, exchange-traded funds, mutual funds, bonds and more. Qtrade helps you build a well-constructed portfolio and then monitor it to ensure it continues to work for you." and, "They may be the king of steady year-by-year improvement."
When they looked back at the market turmoil in 2020 and early 2021, Dalbar's findings matched our own anecdotal evidence: Canada's online brokers struggled with the increased demands put on their trading platforms. This confirms our own intuitive heavier weighting when it came to the customer service advantage that Qtrade enjoyed over their lower-cost competitor at Questrade.
Most Convenient Big Bank Brokerage – BMO InvestorLine
We Canadians love our big banks.
Their names grace our sports stadiums, and many of us opened our very first bank accounts at their in-person locations – and then never looked back.
Here's the thing – it can just be really really nice to have all your banking and investing in one place.
There is no denying that there is a bit of tradeoff when it comes to price – as BMO's trading fees are higher than those of Questrade and Qtrade – but for many Canadians it's worth slightly higher fees to keep life simple (and paperwork minimal).
BMO Investorline made some big headlines in June 2021 when they introduced 80+ ETFs that are free to buy and sell.
This made them the first big bank broker in Canada to embrace low-cost investing and decisively set them apart from their peers. These ETFs include all of the Vanguard and BMO all-in-one portfolio ETFs, as well as the vast majority of ETFs that any Canadian would ever need.
The MDJ editorial team had rated BMO as the best Canadian broker account out of the "Big 5 Banks" due to their superior user experience and edge in investor education materials.
That ranking has now been solidified with the free ETF updates.
It's great to see BMO embrace low-cost investing like this, and should really benefit from the synergies involved with their in-house ETFs.
Million Dollar Journey's Overall Rating: 4.4/5
BMO InvestorLine Pros:
Best bank-owned broker
One of the top online trading platforms
Strong app
80+ FREE ETFs (both buying AND selling)
Trust and reputation of 200+ years
Great consumer education
Up to $2,000 instant Cash-Back Promo on your first deposit – Use code MDJCASH
BMO InvestorLine Cons:
Not as cheap as discount brokerages such as Qtrade or Questrade
More suited towards large portfolios
Check out our full BMO Investorline Review for more information, or sign up by clicking the button below and using the code MDJCASH to enjoy our exclusive promotion.
Lowest Fees Canadian Broker – National Bank Direct Brokerage

National Bank Direct Brokerage shook up the world in August of 2021 when they announced that they would be the first of Canada's "Big Banks" to roll out commission-free purchases of not only ETFs, but also shares of Canadian stocks as well. This was a crafty move by NBDB, as the online broker has struggled to make any headway in the past, and this has garnered the a unique value proposition.
If per-trade fees are the be-all and end-all when it comes to what you need from your broker account, then National Bank Direct Brokerage is definitely worth a look. That said, there are several reasons why the broker perennially receives one of the lowest grades in Canada from many of the personal finance authorities.
NBDB does not have a mobile app of any kind yet, and its online platform leaves much to be desired when compared to the well-oiled machines that our top choices bring to the table. Finally, there are no real portfolio analysis tools or investor information sources available at NBDB, so it really is the "no frills" option when it comes to the Big Bank brokerages.
If you're wondering how NBDB is going to make money if they don't charge any fees, it's important to point out that they will charge you a $100 account fee if you're account is under $20,000, and that they will make money off currency exchange when you buy stock in US Dollars, and/or when you "buy on the margin" (borrow money from National Bank in order to make investments). So don't worry about poor old National Bank – they'll still do just fine!
Million Dollar Journey's Overall Rating:
2.8/5
NBDB Pros:
No Fee Trades
Good bricks-and-mortar presence if you live in Quebec
NBDB Cons:
No Mobile App
No Portfolio Analysis Tools
$100 Account Fee
No Sign Up Promotions
Poor Overall Platform Rating
Onboarding Process is Labour Intensive
Other Canadian Online Brokers
Even though Qtrade and Questrade are practically neck and neck for the title of the best online broker, and BMO represents the best compromise option when it comes to using a discount broker that Canadians are familiar with, that doesn't mean they are the only viable choices. Luckily, we Canucks have plenty of good options available if you want to see if there is a better fit.
Read on to find out a little more about "the best of the rest", including what we like and dislike about each of the other broker options in Canada. We also have detailed reviews for all of those companies which will be linked from the relevant part of text – so if you want to learn more about a specific one you can simply click the review link and get all the added info you need.
RBC Direct Investing – 2nd Best Mobile App (After Qtrade)
As mentioned above, all of the big banks trading platforms are quite comparable and could all be classified as 'elite products'. The biggest upside is of course the fact that if you already bank with them, opening a brokerage account with a specific bank becomes easier and much more convenient. In that regard, RBC is no different.
RBC Direct Investing offers you the same trade-off as other big banks do – you pay higher fees and in return enjoy an excellent platform and a lot of account options to choose from. In RBC's case, their biggest advantage is their mobile app, which has the best ratings out of all the options listed on this page.
Million Dollar Journey's Overall Rating: 3.9/5
RBC Direst Investing Pros:
User friendly, advanced platform
Fantastic mobile app
Easy to set up if you bank with RBC
Safe and trustworthy company
RBC Direct Investing Cons:
Much higher fees compared to other online brokers
TD Direct Investing – Great platform
If it weren't for the fact they neither have an ongoing promotion, nor offer free ETF trading, TD Direct might well have been placed higher on our list. With the TD Webbroker, they have arguably the best trading platform in Canada – at least for desktop users. While their mobile app isn't the best, it is also a very good product and overall user reviews are very positive.
If you already bank with TD, or if you know you are going to make a lot of use of their excellent trading platform, then signing up with TD Direct Investing can't be a bad decision ever. That said, even though their software might be a little bit better – they simply can't compete with the value one might get from Qtrade's low fees or BMO's excellent promo offer.
Million Dollar Journey's Overall Rating: 3.8/5
TD Direct Investing Pros:
One of Canada's most trusted financial companies
Easy and convenient if you already bank with TD
Modern, easy to use platform
Good amount of account options to choose from
TD Direct Investing Cons:
Higher trading fees, ETFs in particular
Very high account fees unless you maintain a $15K balance
Virtual Brokers – Competitive Fees + Extra Consideration for Canadian expats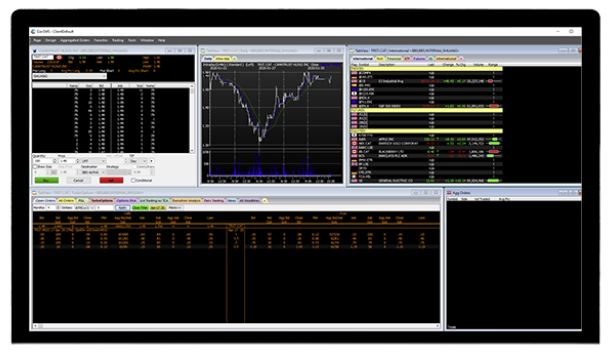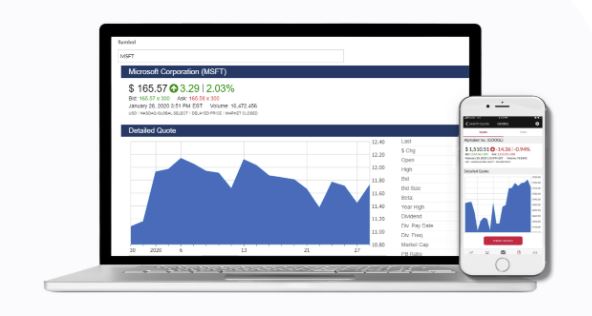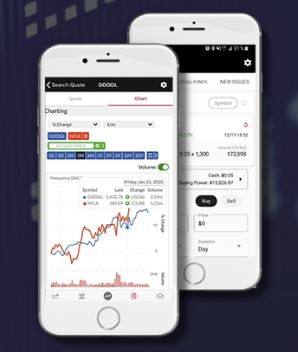 Virtual Brokers is a very good option for active investors and Canadians who are living overseas. They are one of the bigger and most well known brokers in Canada and have been in business since 2009 and are now backed up by CI Direct Investments, giving them solid stability going forward.
This broker is ideal for Canadians who live overseas but prefer to keep their portfolios back home. Unlike other companies on this list – other than Questrade – Virtual Brokers don't shy away from expat clients and will assist you with all the necessary paperwork. Not only that, but there will be no added charges for that! The only requirement is a $25,000 account minimum.
VB's fees are comparable with Questrade as some of the industry's best. The reason it falls short of a top spot for me is because the platform over there is quite outdated and hard to use – the mobile app in particular is really not polished enough. Add to that the fact they currently have no promo on offer, and they simply fall short of being the best choice for most Canadians.
Million Dollar Journey's Overall Rating: 3.7/5
Virtual Brokers Pros:
Very competitive fees, similar to industry leaders
Best solution for Canadian expats
Trustworthy and safe with a long positive track record
Great fees and platform for very active traders
Virtual Brokers Cons:
Not the best product for passive investors
Platform is overall not very user friendly or nice
Pretty basic mobile app
No promo offers for new signups
Scotia iTrade – Excellent for Traders Who Like Scotiabank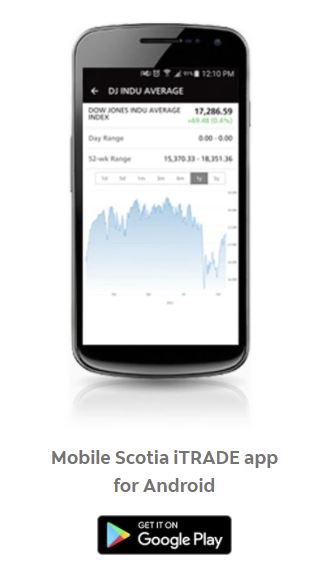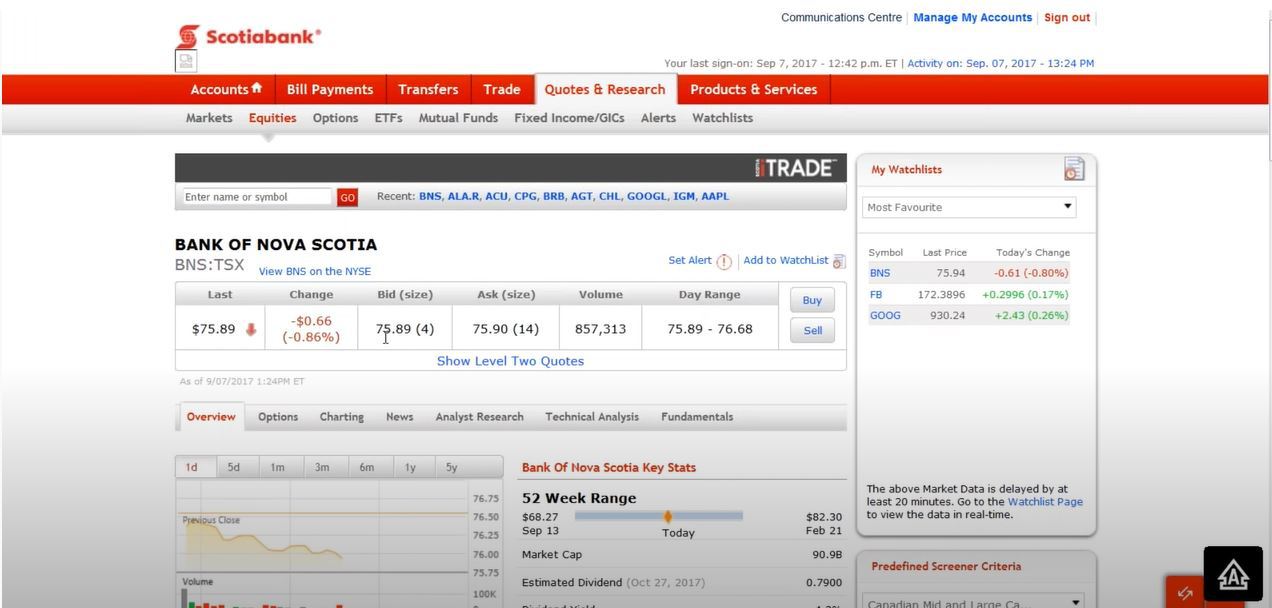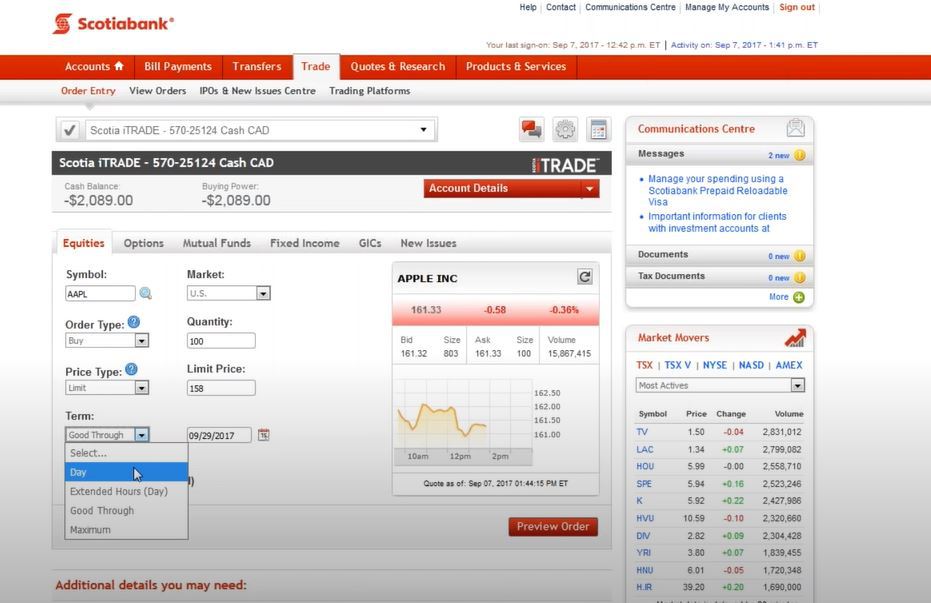 Like most of the big banks, Scotia's trading product is an elite one. The platform is modern and integrates very easily with all other Scotia products so you get a very good 'all in one' solution for your financial needs.
Scotia iTrade is particularly attractive for those who want to deposit large amounts of money and be very active with their accounts. If you do that, then it somewhat mitigates the higher fees and the overall convenience and ease of use really shines through.
Scotia's trading fees are higher than the top brokers on this list, but are on par with all the other big banks. The only real major downside is their mobile stock trading app – it got abysmal reviews and hasn't been updated in a long while.
Million Dollar Journey's Overall Rating: 3.7/5
Scotia iTrade Pros:
Great all-in-one solution
Ideal for day traders
Excellent desktop platform
Well known and trusted company
Scotia iTrade Cons:
Fees are much higher than other brokers
Bad reviews for their mobile app
Editor's Note: Still looking for more brokers? Read our reviews of HSBC, Interactive Brokers or Desjardins. All 3 are perfectly fine choices, but we failed to identify any field where they shine above the rest, and our user's reviews weren't stellar to say the least.
Top Canadian Broker Promo Offer Codes for 2021
BMO Promo:
Use our exclusive promo code MDJCASH to receive cash back offers.
For the minimum deposit of $50,000 you will get $100 cash back, with tiered bonuses going all the way to $2000.
Questrade Promo:
Sign up with Questrade to get $50 in free trades.
Questrade continues to be the low-cost leader, and one of the best brokers in Canada.
Qtrade Promo:
Deposit at least $15,000 until March 1st, 2022, to get up to $2000 in cashback offers.
Enjoy multiple other rewards and benefits with Canada's best broker!
Are These Canadian Stock Brokers Safe?
When I approach most new investors about opening a discount broker account, their first question is: Are Canadian online stock brokers safe?
The short answer is Yes.
The longer answer goes something like: Canada's online brokers are as safe as any on the planet when it comes to protecting your assets from theft, fraud, malware, viruses, phishing schemes, and data breaches. That said, obviously there is a relatively small risk whenever information is stored online. There is no larger safety risk than if you were invested in a mutual fund or even just a basic bank account.
Canada's big banks have been around for hundreds of years, and even the relatively new brokers that we recommend have over a decade under their belt. If their security wasn't top notch.
Common online broker security measures include the following:
SSL encryption
Ultra-secure servers
Two-step authentication process when logging in
Automatic logout
Regular system monitoring
Of course, it's not just up to the online broker. You need to be cautious as well. If you are investing online (or sharing any personal information online, really), you should take the following steps to better protect yourself online.
Recommended Steps
Install anti-virus and anti-spyware programs on your computer
Use strong passwords that are hard to guess
Take advantage of two-factor authentication when offered
Always be mindful of who is around when you are entering your account information. As much as possible, this should be done when you are alone at home. If you need to step away from the computer, make sure to log out first.
At the end of the day, yes, investing online does have risks, it's not typically seen as a risky activity. As mentioned above, there are plenty of security measures in place and procedures you should be following as well. It's really just about being smart and cautious with your personal information.
Are Qtrade and Questrade as safe as BMO, RBC, TD, CIBC, and Scotia?
I think most Canadians understand intrinsically that the Big Banks are safe. After all, the massive banks have been around for over two hundred years, and are some of the biggest businesses in Canada. People assume that their money will be safe.
Fewer Canadians make the same assumption about our other top discount brokers.
The bottom line is that Qtrade and Questrade have all of the internet safety measures that are described above, but additionally, they have the same CIPF-insurance backed accounts that the big banks enjoy.
What is the CIPF you might ask?
The Canadian Investor Protection Fund is basically an insurance coverage the the Canadian Government created in order to protect Canadian investors in case a brokerage went bankrupt or became insolvent.
This insurance covers each investment account to $1 Million. That's $1 Million each for your RRSP, TFSA, non-registered, etc.
So even if the company was in trouble (which it isn't – since Qtrade for example is owned by Canadian financial conglomerate Avisio Wealth), your personal assets would still be safe – just like BMO, TD, RBC, Questrade, and any other online broker in Canada.
Now, it shouldn't need stating, but I'm going to say it here anyway: No broker account or financial advisor can protect you against basic investment risk!
The Canadian online broker can keep your information safe from being hacked, there are steps that can be taken to minimize vulnerability to fraud, and the CIPF will protect your assets from a company that is in trouble – but there are no guarantees when you invest in stocks, bonds, ETFs, or commodities. Again, this might be obvious to you – but you wouldn't believe the questions that end up in our inbox sometimes!
Ultimate Comparison of Canadian Discount Brokers
Below you can see a much more detailed table, which will hopefully give you better insight as to how we rate and pick the different brokers in Canada. You can also scroll down below the table for a more in-depth analysis and breakdown of each key factor.
| | | | | | | | | | |
| --- | --- | --- | --- | --- | --- | --- | --- | --- | --- |
| | | | | | | | | | |
| | | | | | | | | | |
| | | | | | | | | | |
| | | | | | | | | | |
| | | | | | | | | | |
| | | $0.0008- $0.004 per trade | | | | | | | |
| Trading Fees for Average Investor | | | | | | | | | $0 (expect for options trading) |
| Trading Fees for Elite Day Traders | | | | | | | | | $0 (expect for options trading) |
| Automated Dividend Re-Investment Plans (DRIP) | Both Canadian and U.S. DRIPs are free of charge. | $0 for balance above $5k $19.95/ quarter if balance < $5k | $100/ yr if balance < $25k | $25 / quarter if balance < $25k | $100 / yr if balance < $25k | $100/ yr if balance < $25k | $100 / yr if balance < $25k | $50/ yr if balance < $15k, $50/ yr for USD RRSP | |
| | | | | | | | | | |
| | | | | | | | | | |
Comparing Canadian Stock Broker Trading Fees for ETFs and Stocks
Everyone is looking for low investing fees in Canada, and there's no doubt that online discount brokers offer the best rates relative to mutual funds and even robo advisors. But, just how much better off are you with a discount broker? Let's take a look:
| | | |
| --- | --- | --- |
| | | |
| | Free to buy or sell the top 100+ | |
| | $0 to buy, $4.95-$9.95 to sell | $0.0008- $0.004 per trade per order |
| | | |
| | | |
| | | |
| National Bank Direct Brokerage | | |
When it comes to ETFs we need to remember that even though a few of the online brokers mentioned in this article offer free ETFs to buy, you often need to pay a fee to sell. This is one area that allows Qtrade, BMO, and NBDB to really shine.
Another fee that you will want to keep in mind are ECN fees. So, what exactly is an ECN fee? ECN stands for Electronic Communication Network and these fees are essentially service charges that you will pay on your trades, although they can sometimes be avoided.
You can see from the chart above what the average price of an ECN fee is for each broker. If you're buying and selling relatively small amounts of shares, the fee won't add up to much. However, if you're making large Market Orders (as opposed to limit orders) and "removing liquidity from the market" – then you might end up paying something like $2-$5 per trade on a 500 share purchase or sale.
I think it's also worth mentioning that Canada has some of the highest investment fees in the world. A Morningstar 2017 global study compared the investment fees and expenses in 25 different countries around the world. So, where did Canada fall on the scale?
At the bottom.
We paid the highest investment fees out of all the other developed countries on this list. When you read or hear stats like that, it's really no wonder that more and more Canadians are becoming interested in taking the proverbial bull by the horns and getting into DIY investing themselves rather than paying others to do it for them. After all, the end goal is to make money – not flush it away on unnecessary expenses such as buying yachts for mega-wealthy yacht owners..
Bottom Line: If you're a passive investor or prefer to diversify through ETFs, you really can't beat Qtrade's free ETF policy. If you're more into margin trading, or want to specialize in trading options, then Questrade is worth a strong consideration as well.
The Best Brokers Mobile App in Canada
While I prefer to use my online brokers website platform, I know that several of Canada's discount broker mobile apps got redesigned in 2020 and 2021 in order to meet demand for cutting-edge usability. There is a fine balance to be struck when it comes to providing brokerage app users with a high number of features, but also a simple & clean user experience.
Once again we see Qtrade come out as the best Canadian online broker app, as they have yet again refined their already-best-in-class offering from last year. Qtrade's app has the best ratings in the app store for good reason, as they offer a smooth user experience combined with the ability to view and trade from all of your accounts in a simple intuitive manner.
Read our full stock broker app comparison here.
Who Should Use an Online Trading Platform?
There is no question that cutting your investing fees is essential to building wealth as quickly as possible.
Sidenote: No matter how hard you study, you probably won't be able to have much impact on your investment returns. What you can control 100% is the ability to keep as much of your money in your account as possible by paying less fees.
The trade off with opening a brokerage account and becoming a DIY investor though, is that getting over that initial intimidating inertia can be a real challenge.
The good news is that opening that account and hitting "buy" for the first time isn't nearly as difficult as most of us think it will be.
It's a fairly painless process – honest!
Part of what makes online trading platforms so enticing is that they really can work for everyone due to the fact that they are so customizable. Online trading platforms can work well for both active and passive investing. For those who are unsure of the difference between the two, active investing is a much more hands-on approach.
An active investor will try to pick and choose which stocks or bonds will perform best and trade accordingly. Passive investing, on the other hand, involves having a little piece of every company or bond in a market, rather than relying on a select few.
Passive investors usually employ an index investing approach (the couch potato strategy) when it comes to their investments and is seen as an effective long-haul investment strategy. For those interested in active investing, you will essentially have to become your own portfolio manager.
Alternative to Online Brokers in Canada: Robo Advisors
I should take a second to point out that if you really want the ultimate in low-maintenance hands-off investing (like many of my friends do) then the Wealthsimple robo advisor platform has really distinguished itself from the rest of the pack when it comes to instant portfolio solutions, and is rated our best robo advisor in Canada.
You'll pay more in fees than you would with a discount brokers account, but it is still less than 25% of what you'd be paying with a typical Canadian mutual fund. They'll even give you $50 cash when you open an account!
Canadian Online Broker Frequently Asked Questions
Final Words of Wisdom About Canada's Online Brokers in 2021
Becoming a successful active investor requires knowledge and understanding of the stock market.
It also involves you needing to do your own research. It will take time and effort; however, if this is the strategy you wish to use then using an online trading platform instead of a traditional financial planner can save you a lot of money.
That being said, you don't need to be an active investor to make an online trading platform work for you. You can go with buying an all-in-one ETF, sit back, and relax.
Using an online trading platform and becoming a DIY investor can mean anything from simply re-buying the same basic index ETFs a few times a year, to far more complicated "momentum" trading strategies that can involve 150+ trades per quarter. Consequently, finding the best discount broker to fit your needs is essential to long-term success and commitment.
Please let us know in the comments if your personal experiences don't align with our most recent Canadian online broker comparison or individual stock broker reviews.
Because we know just how important online brokers and promotional welcome offers are to our readers, we promise to continue updating our Best Canada Online Broker Comparison for 2021 throughout the year.
I've Completed My Million Dollar Journey. Let Me Guide You Through Yours!
Sign up below to get a copy of our free eBook: Can I Retire Yet?