Cheapest International Money Transfer in Canada: Top 3 Best Services
The cost of transferring money internationally to a bank account abroad – or just exchanging one currency for another – is likely higher than you think. An overwhelming amount of Canadians are transferring money across borders (particularly to USD accounts) and they wrongfully believe the only cost of that is the bank's wire charge (a flat rate of between $15 and $30 per transfer).
Well, I have some bad news for you folks…
If you are constantly transferring money abroad or do so frequently, those international money transfers are eating away into your savings in a big way. On top of the wire flat rate there is a hidden currency exchange charge.
My TD bank account quoted me at 1.36 CAD for USD today (September 9, 2022) while the actual rate was 1.32665, so for every American Dollar that I want to buy, I'm paying 3.5 Canadian Cents in hidden charges – which is a 2.5% markup against the Band of Canada's rates.
If a person makes a real estate investment in the USA, and/or takes a trip or two each year down south, they could easily be transferring $40,000 internationally per year into USD. At a 2.5% currency exchange mark up, that's a thousand bucks per year! Essentially a voluntary tax.
Heck – even someone who takes an annual vacation down to the States and/or is a "Florida/Arizona snowbird" is looking at paying hundreds of dollars towards this "voluntary tax" each year.
The good news is that there are solid bank-alternatives for Canadian customers enabling cheaper international money transfers, with better online money transfer systems than those of banks, and superior service for those needing to transfer large amounts internationally. In this article I'll list my top 3 best money transfer services for Canadians and touch on all other money transfer companies I'm familiar with.
How Banks Get Away With Such High Fees on International Money Transfers
International money transfer fees is one of the least discussed topics in Canadian personal finance and always catches people by surprise. Canadians are slowly moving away from Big Five banks towards online banks so that they can enjoy commission-free chequing (among other advantages), and similarly move their stock trading to online brokerages to save up on fees, but often have no idea what they're actually paying when using their banks to send money internationally.
Bank practices when it comes to money transfer fees and exchange rates are particularly shady.
An unsuspecting customer would never realise he is being taken advantage of when transferring money internationally through his bank. If I were to continue my TD Bank example you'll see that in the send money internationally section of their website there is not a single mention that the exchange rates will be a lot worse than the official exchange rate.
By the way – TD Bank is just an example I picked due to the fact they have substantial US operations. The other big banks in Canada have at least the same exchange rate profit margins.
Most banks only mention that fees will be up to $25 per transfer, depending on destination – which can sound pretty cheap if you are sending large sums abroad. If you are sending $100,000, for example, $25 sounds like a pretty marginal fee for a massive transaction like that.
But, of course, those international wire fees become highly irrelevant* compared to markups if you're sending a large amount. That $100,000 example would cost you $2,500 in currency exchange fees straight up.
*For smaller transfers, flat international wire fees are a lot more significant. If you need to pay $150 for an item bought in the U.S, then $25 makes up an extra 16% in costs, and that's before factoring the currency exchange markups. International money transfer services don't charge a flat fee at all.
If you navigate through TD's website and end up on their FX calculator then they are pretty transparent about their buy and sell rates, but you would have to absolutely know what you are looking for in order to find that.
It's important to mention that bank practices when it comes to hiding the true cost of sending money internationally aren't unique to Canada. Other than specific countries in which regulation protects the private consumer and forces banks to disclose those hidden fees (like Denmark for example), banks all over the world – USA, Europe, UK, and Australia for example – do the exact same trick disclosing only the flat wire fees, and hoping consumers will fail to understand the real cost of currency exchange markups.
In the USA, it's even worse than Canada as most or all banks don't even bother disclosing their current exchange rates anywhere on their websites, and in Australia oftentimes banks would actually quote the customer with an FX rate worse than what they disclosed on their website.
In a letter to John Taylor dated 1816, Thomas Jefferson wrote the following:
And I sincerely believe, with you, that banking establishments are more dangerous than standing armies; and that the principle of spending money to be paid by posterity, under the name of funding, is but swindling futurity on a large scale.
… and he wasn't necessarily wrong. Bank fees on sending money to a bank account abroad are infuriating.
International Money Transfer Services: a New Way
International money transfer services are establishments that, unlike banks, offer one specific service. In essence, they enable customers to move money between bank accounts in different countries while offering wholesale rates on the currency exchange (the best money transfer services in Canada also omit the wire transfer fees that banks charge).
Those money transfer companies are financial establishments which are appropriately regulated and supervised by regulators (FINTRAC in Canada, but most of them operate globally so they are authorised by multiple regulators across the globe).
Such international money transfer services have been gaining popularity globally and specifically in the UK. The industry dates back to the 1980's where a handful of foreign exchange companies started offering international payments for British businesses. Then in the 1990's and the 2000's, some of these companies recognised the need for a similar service in the private consumer sector and outside the UK, and started offering a more holistic international money transfer services for customers in Europe, Australia and North America.
Up until the 2010's, these money transfer companies were still operating on a purely old-school brokerage model closing all deals on the phone or via email, but since then, they have all adapted and built comprehensive online money transfer systems (though many customers till prefer to deal with them on the phone, especially when dealing with large amounts of money).
In Canada, international money transfer services are still relatively unknown, which is a shame considering their genuine value-add compared to banks.
Top 3: Best for International Money Transfers in Canada
The best 3 international money transfer services in Canada are OFX, Moneycorp, and Remitly. Each of those has slightly different designations and advantages, and I'll review them briefly below. For an even deeper analysis of these companies you can look at MoneyTransferComparison best money transfers in Canada article.
OFX
In my opinion, OFX is the best money transfer company in Canada, because of its high diversity, excellent online functionality and excellent rates on both small and large international money transfers. It is also one of the NHL's sponsors: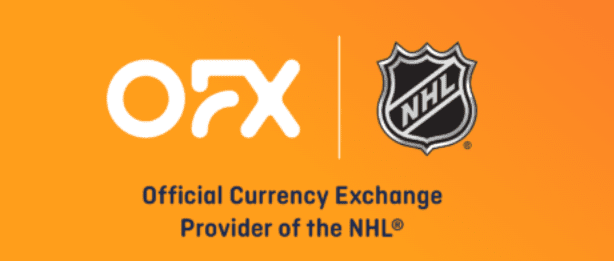 For starters, OFX is a highly credible company which has been operating in Canada since 2007 (previously under the brand CanadianForex which consolidated into OFX). It handles $20bn in customers' funds every year, traded on the Australian Stock Exchange, and has always received really excellent feedback from customers.
Using OFX you can transfer money internationally for cheap with no fees and very competitive exchange rates. You can do so online through a very complex online payment system, through their app (rated 4.5/5 on Google Play and 4.8/5 on Apple App Store), or simply via email or phone. OFX is the perfect combination, in my view, between the new school and old school, who really do both things very well – technology and service.
OFX also offers an excellent multi-currency account functionality so you can receive, pay and store money in 10 different currencies (I'll touch on that in a separate article soon).
Moneycorp
Moneycorp is traditionally considered the pioneer of the international money transfer industry, operating since the late 1970's. It was the first company to realise small businesses don't get the same level of service, rates, or access, as corporations do and offer a bank alternative before Fintech was a "thing".
Soon after, they were quick to understand the services that they have been offering small businesses are applicable for private customers as well, especially ones who need to transfer large sums of money overseas, and expanded their offering.
With Moneycorp , your money is as safe as it can be. The firm is one of the largest ones of its kind transferring dozens of billions annually, employing hundreds of employees (including several dozen in North America), and even have a banking license for some of their operations (Gibraltar banking license).
Moreover, with Moneycorp you can expect the best level of service, with a direct connection to a currency dealer who is able to provide hands-on assistance on your transfer. This service can become particularly useful when transferring large amounts internationally or if you have a complex payment schedule – your currency dealer can help with advanced topics like hedging which are all readily available for private consumers.
For me, moneycorp is the best option for Canadians who need to make business transactions or simply large amounts and need some friendly hand-holding. Similarly to OFX, moneycorp has a no flat fees policy, the only cost is the exchange rate markup and it is highly competitive.
Remitly
Remitly is the cheapest way to transfer money internationally from Canada to countries like India, Kenya, or China. This immigrant-friendly startup has been receiving accolades all over the world for its fair rates and easy online money transfer system.
With more than 35,000 reviews on TrustPilot and an average rating of 4.8 stars, it is clear that Remitly is doing something right. The company offers a "fees back" guarantee if money doesn't come on time, and offers receiving methods which are specific to countries where some people don't even have a bank account such as cash pickup or mobile top-up.
It should be noted that you could find about 200 complaints on the firm on SiteJabber but that is just a result of them being so widely popular and operating in difficult currency corridors as compared to OFX and Moneycorp who appeal to larger-sum transfers. Most complaints are about delays or onboarding issues and are expected when dealing with immigrants sending money to developing countries.
Transfer Money From Canada to USA, Europe, Australia And More
All of the above top 3 money transfer companies offer a very wide variety of currencies and destination countries to choose from. The most popular use case for Canadians is of course transferring money to the USA, with the second most popular corridor being transferring money to France and other destinations in Europe, but you can actually use these services to transfer money to anywhere in the world almost, and you have as much selection as with banks.
Compare Money Transfer Exchange Rates And Negotiate Better Rates
If your aim is to get the best foreign exchange rate for your international money transfer, then you should be aware that with some companies, for instance OFX and Moneycorp, which I rated as the best money transfer services in Canada, you can get a discount by shopping around.
What it essentially means is that if you have a large money transfer requirement (say, five figures and up) you could sign up with multiple service providers and collect quotes, and in case you have received a better exchange rates than the one offered to you, you could go back to providers who have already quoted you, and ask them to match or beat the rate you've just been offered.
That trick is likelier to work with really massive transfer requirements, and will only work with spot contracts (i.e. an immediate need to transfer money internationally, as opposed to a limit order which is triggered when a certain rate has been met or a Forward contract which locks today's exchange rate for the future).
How Much is YOUR Bank Charging You For International Money Transfers? Share Your Experiences
To round up this comprehensive piece about international money transfers from Canada and finding cheaper ways than banks to do them, I'd like to hear your feedback. To reiterate what I wrote previously, bank practices when it comes to sending money abroad are murky, and finding reliable information on what banks actually charge is difficult to do. (This is part of the reason why Canadian bank stocks are such excellent investments by the way.)
If you are transferring money internationally through your bank or have done so over the past years, I'd love to hear what you paid after factoring the exchange rate markup* and whether you were aware of these hidden charges at all. Similarly, on the journey to find the best international money transfers from Canada we are happy to hear about experiences with money transfer providers and how much did you manage to save by using them.
* To calculate your international money transfer fees in retrospect, use Bank of Canada's exchange rates for the value date of your transfer and deduct the amount you received from your bank.
For example, if you transferred 10,000 CAD to Euro on Sept 21, 2020, when the official rate on EUROCAD was 1.5628, and you received 6150 Euros in return, it means the total fee was (10,000/1.5628-6150) = 248 Euros, or 380 CAD.
I've Completed My Million Dollar Journey. Let Me Guide You Through Yours!
Sign up below to get a copy of our free eBook: Can I Retire Yet?