Investing In Canadian Wide Moat Stocks For 2023
I am a cautious investor given that I am in the semi-retirement stage. While I would acknowledge that growth is important for a retiree or near retiree, I want most of our equity positions to be in the quality or high-quality camp.
Basically, I am looking to 'win' by having less stocks fail. I am looking to limit poor performing stocks or stocks that fail outright. This quest led to me researching how to invest in Canadian undervalued moat stocks.
For quality low-risk U.S. stocks I've largely trusted the Dividend Achievers Index that demands that a stock have at least a 10-year dividend growth history. That index also applies to proprietary dividend screens. It's a quality plus quality add-on approach. I also applied a large cap bias when I purchased 15 of the Dividend Achievers in early 2015.
Our preferred service for doing that is Dividend Stock Rocks (DSR). It's a subscription based service, specializing in dividends and improving portfolio performance. You can read our DSR review, or sign up and get 33% off on all subscription plan by clicking the button below and using promo code MDJ33.
Finding Quality Moat Stocks in Canada
Canada is unique in that there are many very good dividend-paying companies that operate in an oligopoly situation. There is little competition and they are often protected by government regulators to boot. This is essentially the definition of a "moat stock".
Here is a simple explanation of what moat stocks are courtesy of investopedia.
"A wide economic moat is a type of sustainable competitive advantage possessed by a business that makes it difficult for rivals to wear down its market share. The term economic moat was made popular by the investor Warren Buffett and is derived from the water-filled moats that surrounded medieval castles."
Essentially, when someone says they are interested in investing in moat stocks, they are looking for companies that have a durable competitive advantage over the long term. While a technology company might very well get disrupted by another newer technology company, it's much harder to supplant Enbridge's pipeline, or CNR's railway!
For wide moat investments in Canada, think Canadian bank stocks, Canadian Dividend Telco stocks, Canadian Railway stocks and we touched on the Canadian pipeline stocks in that post that covered investing in Canadian energy stocks. For moats you can also look to the grocers in Canada. In this post on Canadian retail stocks I suggested that you could certainly build your retail stock component around the grocers that dominate the Canadians landscape.
Utilities are also moat-like with extended contracts and fixed rates – we'll be covering those shortly.
On energy producers, I am in the process of updating that post. Coming out of the pandemic lockdowns and with higher oil prices, that sub-sector has become the mecca for increasing earnings and free cash flow in Canada.
Put it all together and you could fairly easily build a wonderful Canadian Wide Moat stock portfolio with 15-20 high quality companies. And you could certainly build around the Wide Moat portfolio with more growth options. Again, you might look to Dividend Stocks Rock for more ideas and very useful rankings and expert evaluation.
Taking Dividend Investing to the Next Level
Dividend Stocks Rocks (DSR), is a highly recommended newsletter and product if you want to take your dividend investing to the next level . It has been managed by my fellow blogger Mike from the Dividend Guy Blog since 2013.





DSR is not just a weekly newsletter with stock picks. It's a program that will help you manage your portfolio and improve your results. You can first read our detailed DSR review, or sign up now by clicking the button below.
The Canadian Wide Moat 7
Personally, for my RRSP portfolio (and the core Canadian equity component) I hold a concentrated portfolio of 7 moat and wide moat stocks. I do shade in some Canadian energy, gold and other commodities for inflation protection.
It is a similar theme that you will find in the Morningstar rankings for Canadian moat stocks. That Morningstar ranking will be updated in a few weeks. I'll be sure to add that and update this post.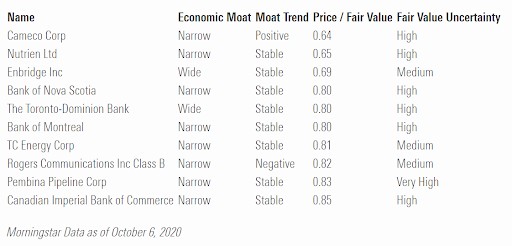 Here are the holdings for my personal Wide Moat 7.
Canadian banking: Royal Bank of Canada, Toronto-Dominion Bank, and Scotiabank
Telecommunications : Bell Canada and Telus
Pipelines: Enbridge and TC Energy (formerly TransCanada Pipelines)
I landed on this portfolio as I had held these stocks for quite some time. I had weaved in and out of mixing in index funds such as the TSX 60, ticker XIU and a few managed funds. I realized that my core moat big dividend paying companies were my best performing group. I am a big fan of passive index investing, don't get me wrong, but I decided to go the stock route. I do believe (and research suggests) that you can create better returns and better risk-adjusted returns with the stock portfolio approach.
I did not purchase these stocks based on the generous and growing dividends, but that is a welcome by-product of investing in very profitable companies that are able to grow earnings and free cash flow over time. The dividends come along for the ride. We can thank the moats for that benefit.
Total Returns for My List of Canadian Wide Moat Stocks
While the dividends are wonderful (we'll get to that next), in the end it will come down to the total returns. How much money have I created by way of dividends and selling shares?
Here's the performance over the last several years.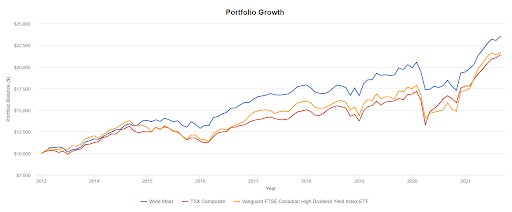 I've used the TSX Composite and the Vanguard High Dividend Yield ETF (VDY) as benchmarks.
And here's the dividend history.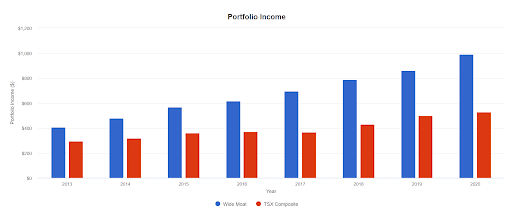 I've experienced no dividend cuts within the Canadian or our U.S. stock portfolio. We even had a perfect record moving through the pandemic. Most companies have continued to increase dividends. Of course, in Canada, the banks are currently mandated to hold dividends until further notice. I'd suggest you might see very generous dividend increases in the 10-15% range starting in the first or second quarter of 2022. They will make us for lost time, and lost dividend increases.
In the above chart we see the starting yield of 4%. Over several years that portfolio was throwing out a 10% yield based on the initial purchases, with no reinvestment other than throwing those divvies back at each company that delivered them.
Imagine that compounded growth over decades? That's why you'll see a lot of crossover between my personal Canadian Moat examples and our list of top dividend stocks in Canada.
Other Canadian Companies With Large Moats
I'll be the first to acknowledge that there is certainly considerable concentration risk in a portfolio of 7 stocks. And that's why I suggest Million Dollar Journey readers look to those aforementioned sectors if they choose to embrace the Canadian Wide Moat Investing approach.
You might add.
Grocers (they also offer pharma exposure): Metro, Loblaws and Empire
Railways: CP Rail and CN Rail
Utilities: Fortis, Canadian Utilities, Emera, Northland Power, Algonquin
As a unique add-on to these moat portfolio options, you might consider Nutrien. It's commanding spot on top of the world's Potash production and certainly has a durable competitive advantage.
Better Total Returns and Even Better Risk-Adjusted Returns
I've long suggested to readers that they consider the wider moat route. To be brutally honest, I wish I had eaten my own cooking a little earlier in the game on that one.
When I run the math, I find that there are better returns that have been offered with less volatility. That makes sense, as there are more sub-sectors to help with volatility and drawdowns in corrections. And while there are smaller dividends in the rails and grocers, there has been more dividend growth.
Certainly we give up some dividend yield by going the wider moat route, but the total returns would allow you to create even greater income in retirement by the combination of dividends and share harvesting.
And keep in mind that in retirement we would have to manage the sequence of returns risk.
Here's the performance of the Wider Moat Portfolio after we add in those grocers and railways and utilities.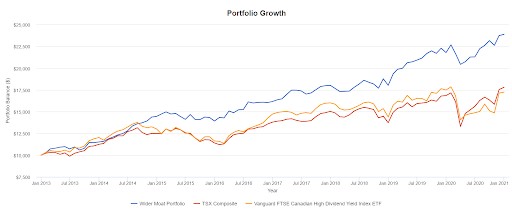 We see even greater outperformance vs the benchmarks. The Sortino ratio (a measure of risk-adjusted returns) just destroys the market as 2.33 vs .87. That's just ridiculous. Who doesn't want greater returns with less risk?
Of course, this is a good time to add that past performance does not guarantee future returns.
But I like the investmenting in moat stocks approach for the Canadian market especially given the strong oligopoly structures in place.
You win by losing less. You don't necessarily need the high flyers (and sometimes high crashers).
I've Completed My Million Dollar Journey. Let Me Guide You Through Yours!
Sign up below to get a copy of our free eBook: Can I Retire Yet?