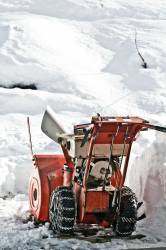 Newfoundland is sometimes known for its rugged beauty, friendly people, offshore oil and the weather.  More specifically about the weather, our winters are typically fairly mild averaging between +5C to -10C but mild weather can mean more snow.   I'll be honest, we get a lot of snow.  It is very common here for a homeowner to own a snow blower because occasionally the snowbanks are simply too high for shoveling.  To me, owning a snow blower in NL is equivalent to the need of owning a lawn mower.
Having said that, while a snow blower helps save time (and my back), there is a cost involved with owning one.  There is the obvious upfront capital cost, but also an ongoing cost of fuel and maintenance.  My philosophy is to buy quality, but keep it for as long as possible, which in this case means regular maintenance is required.
When it comes to small engine repair and maintenance, due to my lack of experience, my first instinct is to hire someone to do the work.   Here is some of the costs quoted to me when I phoned small engine repair shops around town.
Cost of Snow Blower Maintenance at the Shop
$50-$70 for pickup/drop off + tax (my vehicle is not big enough for the snow blower);

$80/hr for technician;

Cost of oil, spark plugs and other required fixes; and,

2-3 week lead time.
By my calculations, the annual maintenance cost would be $200 + tax/year which would increase significantly if any repairs were required.  $200/year in maintenance is a lot of money for a typical snow blower that costs $1,200.  I mean, I don't pay much more than that for my vehicle!
So off I went to YouTube to check out the process required for a snow blower oil change, spark plug change and other maintenance items.  It turns out that changing the oil and spark plug on a snow blower is a quick and easy process (even for me) and definitely not worth the $200+ fee.  Even more complicated repairs like changing an impeller or drive belt, or fixing rough idling is very doable at home.  Here are some of the costs for do it yourselfers.
Cost of Do-it-Yourself Snow Blower Maintenance
No pickup required;
1 hr of time;

Cost of oil: $5/quart (

approximately

 a liter);

Spark Plug: $5;

Carburetor spray cleaner: $8;

Lube/Grease: $10; and,
Degreaser: $10 (sometimes required to clean the friction wheel).
When I went out to buy supplies, I picked up a quart of oil (check your manual, 5w-30 for me), a new spark plug, some carburetor spray cleaner, spray lubricant, and a degreaser.  The total cost to my credit card was less than $45.  Not only is that a significant amount of savings (especially over the years), there is the satisfaction of doing it yourself.
The How To's
Rather than typing out instructions, I'll show you some of the videos that helped me perform my snow blower maintenance.  For me, I had to change the oil and spark plug, and clean out the carburetor bowl to help solve the rough idling problem.  I also included an extra video below on how to change an impeller or drive belt that I used to help my father fix his aging snow blower (cost of two belts $70 plus 1 hour of our time, small engine shop quoted us $250 + tax).
What do you think of "FT's Small Engine Repair Shop" as my next venture?
Changing the Oil
[youtube_sc url="https://www.youtube.com/watch?v=8q3OjHkYfgA"]
Changing the Spark Plug
[youtube_sc url="https://www.youtube.com/watch?v=rX_pIUxTm38″]
Cleaning the Carburetor Bowl
[youtube_sc url="https://www.youtube.com/watch?v=KYj5oH0vNVg"]
Changing an Impeller and/or Drive Belt
[youtube_sc url="https://www.youtube.com/watch?v=ochNjWTGjKc"]
I've Completed My Million Dollar Journey. Let Me Guide You Through Yours!
Sign up below to get a copy of our free eBook: Can I Retire Yet?