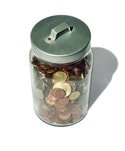 I've written about my saving strategies and frugal living before, but I've decided to write an updated post in a numbered list format on how to save money and the various ways to save money on a day to day basis. This post was inspired by similar posts on other blogs like CashMoneyLife.
Included below are 25 28 ways that I save money:
I use a points or a cash back based credit card that gives me the best return for my spending. Here's a post and picture of what's in my wallet.
I arrange my banking so that I don't pay any fees and use a discount brokerage that minimizes my trading expenses. The current favorite of Million Dollar Journey readers for a low cost, no frills discount brokerage is Questrade (I have a TFSA and RRSP with them).
When buying consumer items, I try to separate my "needs" and my "wants".
When I find something that I "need", I do comparison shopping or wait until it goes on sale. If I find the item online, I check Ebates or Great Canadian Rebates or for additional cash back opportunities.
I try to watch movies at home (or use Netflix) instead of going to the movie theatre. However, since we enjoy the theatre, we still visit the movies on occasion. Here is how to maximize Scene points.
When making a big purchase, like a mortgage or a vehicle, I negotiate and shop around for the best rate. This will save you thousands in the long run.
I drive with gas efficiency in mind.
In addition to reducing trading fees, I keep our ETF/mutual fund management expense ratios (MER) as low as possible by using indexed ETFs/mutual funds.
I try to save energy around the house with CFL's, programmable thermostats and proper insulation.
We do laundry once / week (we do more now because of kids, but try to be as efficient as possible).
I brown bag my lunch to work.
I prepare my lunches in bulk and store them in individual plastic/glass containers.
I cook at home whenever possible.
I perk my own coffee (or drink the coffee at work).
This is more of a healthy lifestyle choice, but I don't smoke, do drugs, and minimize drinking.
I use basic cable instead of the fancy cable packages.
I combine my cable/internet/telephone with the same provider to take advantage of the discounts available.
I use term insurance instead of universal life or whole life insurance.
As with anything else, I shop around for my insurance products.
I pay a higher deductible on insurance products to reduce the premiums.
I buy with quality in mind in the expectation that it will last a long time.
To please my reading habit, I go to the library (or get publishers to send me free books for review) :)
I make my deposits into my high interest rate savings account and RRSP automatically on a bi-weekly basis. Basically when I get my paycheck.
When purchasing a home, I save for a large down payment to reduce mortgage insurance fees (CMHC).
I buy clothes when they wear out, not when they go out of style.
I track my spending/budget with Excel or Mint.com (recommend not connecting your bank account, only credit cards).
When my income increases, I aim to keep lifestyle inflation at bay. Basically, I bank my raises.
To save money on car rentals, I watch the fluctuating prices on Expedia and when a low price shows up, I bid slightly lower on Priceline.
What are some ways that you save money? Do you follow the frugal living lifestyle?
I've Completed My Million Dollar Journey. Let Me Guide You Through Yours!
Sign up below to get a copy of our free eBook: Can I Retire Yet?