Hosting Homestay Students – The Perfect Side Hustle?
Photo by Daria Shevtsova on Unsplash
This is a post by Chrissy who guest posted here a couple years ago about going for financial freedom in a high-cost city.  She has since started her own blog, Eat Sleep Breath FI, that details her journey towards financial freedom.  Chrissy is back with another guest post about a side business that has really worked for their family – hosting international homestay students.  Here are the details!
If you've ever dreamed of:
Side hustling from home.
House hacking to earn extra income.
Staying home with your kids.
Reaching FI sooner.
… then this might be the perfect side hustle for you! Amazingly, it checks off all the above, plus:
It offers a ton of flexibility.
Requires little or no money and experience to start.
Takes only an hour (or so) of 'labour' each day.
What is this dream side hustle, and how do you get into it? Keep reading and I'll fill you in!
What is it, and how did we discover it?
When we decided that I'd stay home full-time with our kids, we knew that we'd be taking a significant pay cut. (My earnings accounted for 40% of our household income.)
The bills would still get paid, but simply covering expenses was NOT okay with me! I wanted to continue growing our savings and give ourselves a bit of a safety margin. I also didn't want my husband bearing all the responsibility for our financial well-being.
Enter our house hack/side hustle of choice: hosting international homestay students.
We'd learned about hosting from my husband's uncle and aunt, who hosted for many years. They often shared fun and interesting stories of their experiences, and it sounded like a good fit for us. So we decided to give it a try—and we're so glad we did!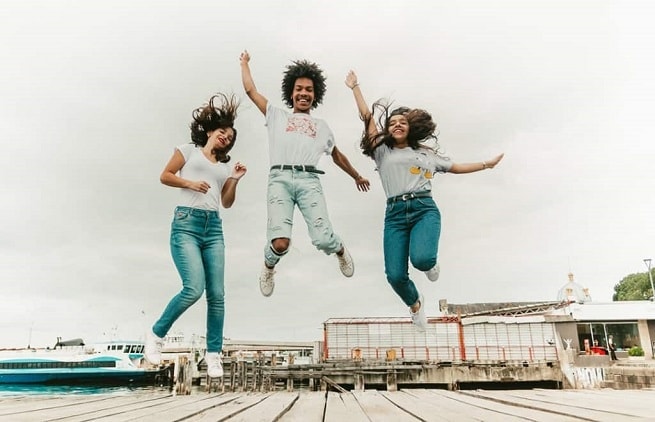 Photo by Anderson W Rangel at Unsplash
Why hosting students is awesome
Hosting turned out to be an ideal side hustle for us. The extra income (on average, $10,000/year) allows me to stay home with our kids, and the 'work' (around an hour per day) easily fits into our daily lives.
We and our children have been forever changed by the experiences we shared with our students. We've learned things that can't possibly be taught in a classroom or book. We've made lifelong friends. We've grown our repertoire of dishes we love to cook. The list goes on and on.
Homestay hosting's not only an easy way to combine house hacking and side hustling, but also an incredibly rewarding life experience. I'm not even sure if hosting counts as 'work'!
A perfect fit for financial independence (FI)
The FI community tends to be open-minded and adventurous. We're helpful and like to share our knowledge and experiences. We also enjoy meaningful relationship-building (even us introverted types). Just having the FI mindset means you'll likely love hosting and meet all the requirements to be a good host!
But that's not all—there are lots of other ways hosting complements FI such as:
Financial benefits
Homestay hosting is a huge FI booster. It's a house hack that allows you to put unused rooms in your house to use, while also allowing you to write off expenses you'd be paying for anyway. It's also a side hustle you can do from home—with your family! Not only do you gain more quality time as a family, but you're also earning money together. Not many side hustles allow you to do that!
Emotional benefits
Being healthy not just physically, but also in mind and spirit is key to a successful FI journey. Homestay hosting fulfills most of the 10 keys to your emotional well-being: altruism, compassion, diversity, empathy, gratitude, happiness, and social connection. Welcoming students into your home not only improves your financial wellbeing but your emotional wellbeing too!
Educational benefits
If you have kids, they'll receive these same benefits—plus they'll also learn countless life lessons. Those of us on the FI path know the importance of always learning.
When our kids share their home, belongings, and parents with different people from all over the world, they learn about tolerance, patience, and generosity. My kids' lives have been immeasurably enriched from engaging with our students. You couldn't buy an education like this!
Give it a try!
I believe so strongly in homestay hosting that I feel it's my duty as a FI blogger to tell others about it! Hosting students is such a perfect complement to the FI journey… so get out there and give it a try! I can't recommend it enough.
About the Author: Chrissy is a financial independence (FI) enthusiast aiming for FI in her 40s. She lives with her husband and two kids near Vancouver, BC. Her passion is helping others discover FI and get there sooner. If you'd like to contact Chrissy, you can leave a comment in this post, or visit her blog: EatSleepBreatheFI.com.
I've Completed My Million Dollar Journey. Let Me Guide You Through Yours!
Sign up below to get a copy of our free eBook: Can I Retire Yet?