Going through school, the last thing I would consider myself was a writer. However, starting this blog in 2006 changed things where I discovered that I enjoyed sharing my thoughts, and surprisingly, for an audience.
As time went on, I've played around with the idea of writing a book related to personal finance, but the timing was never right.  As I've written about taking baby steps towards financial goals, I've taken a baby step towards writing a book by contributing to one!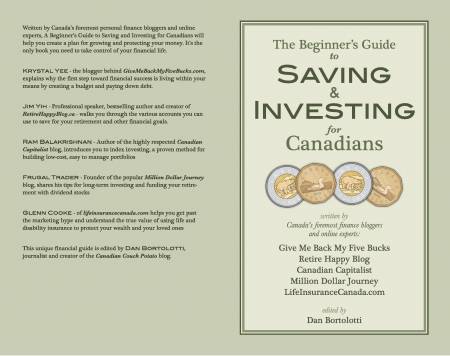 The book "The Beginner's Guide to Saving & Investing for Canadians" has just been released and is authored by a team of personal finance bloggers.  The authors include:
So what is the book about?  It's all about the basics of personal finance and it's written in an easy to understand manner (about 100 pages in total).  What section did I write?  I covered one of my favorite topics, that is, dividend investing for beginners.
The outline of the book is as follows:
Making a Budget – net worth, goals, debt repayment, saving money, emergency funds.
Where to Save Your Money – why save money, saving for retirement, rrsp vs. mortgage, rrsp vs tfsa, resps.
Investing Wisely – risk and return, investment plan, cash, stocks, currency hedging, reblaancing, sample portfolios.
Dividend Investing – basic concepts, tax advantages, ETFs, dividend growth, living off dividends.
Buying the Right Insurance – how much do you need, types of life insurance, disablity and critical illness.
This book is written by 5 individuals who live, eat and breath personal finance. I must say that Dan Bortolotti did a great job editing and bringing the pieces together.  I'm very pleased with the final product and recommend it to all people starting out on their personal finance journeys.
Want a Free Copy?
We are offering readers the chance to win 5 free copies of the book.  Here is your chance to get multiple entries.
The Details:
Only one comment entry per person (valid email addresses only please – privacy policy).
Only one tweet per twitter account.
Only those with a North American mailing address may enter (publisher rules, sorry).
Contest will end Fri 5pm EST August 10, 2012 and the winners, drawn randomly from all entries, contacted shortly after!
I've Completed My Million Dollar Journey. Let Me Guide You Through Yours!
Sign up below to get a copy of our free eBook: Can I Retire Yet?