Unfortunately, anyone who owns equities right now is affected by the current market turmoil. I am no exception and I expect that my net worth statement this month will take a big hit.
Why is the market tanking?
To put it simply, it's because of uncertainty. With sub prime mortgage defaults on the rise, those financial institutions exposed to that particular lender market will take a big financial hit. People are uncertain how far into the economy this will reach. Uncertainty = panic selling. For a more detailed explanation, Globe Investor has a great primer on the credit crunch.
So what do you do in times like this?
Long term investors should expect volatility like this in the market from time to time. Actually, long term investors should get excited when markets dip because of the potential buying opportunities. Good companies are currently being sold off due to panic selling. Financial stocks are getting pummeled because of sub prime exposure. But if you're looking 10 to 20 years down the road, this whole sell off will be a little blip on the map. Stay the course.
Although I am invested deeply into the market, I do have a bit of cash on the sidelines waiting to be deployed. I'm not the type to try to pick the bottom, but I aim to buy when the market starts to turn around.
Which stocks are attractive?
Personally, I think that the Canadian big 5 banks are over sold. Yes, they may go down further because of their sub prime exposure, but in my opinion, I expect that they will bounce back to form in no time. Banks that I'm watching, RY-t, BNS-t, TD-t, CM-t, BMO-t, NA-t along with MFC-t (insurance).
Below is a 2 year chart of the Canadian financials ETF: XFN-t – just another dip?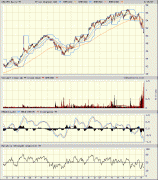 What are your thoughts on the market correction?
Disclosure: I own some of the stocks mentioned in this post.
I've Completed My Million Dollar Journey. Let Me Guide You Through Yours!
Sign up below to get a copy of our free eBook: Can I Retire Yet?