VISA Stock/IPO is going to be Huge!
I was just doing some finance reading today and came by an article about the much anticipated VISA Initial Public Offering (IPO). The reason that investors are excited? VISA is the largest credit card network in the U.S and they basically print money.
VISA is hoping that their IPO will raise $10 billion which, if achieved, will be the second largest IPO in US history.
How does VISA make money? Through the fees they charge to it's card issuers and merchants. Do they face the risk of the expense of credit card fraud? Nope, their card issuers take care of that.
The biggest risk that they face right now are the "anti trust" type scenarios where competitors sue them for being the biggest and baddest in the credit card space. For example, VISA and American Express just settled a lawsuit for $2.25 billion alleging that VISA used illegal practices to stifle competition.
If you want an example of how a successful credit card company IPO looks like, check out the Mastercard stock. They started @ $40 around 18 months ago and currently trades for around $206. That's right, a 5 bagger in 1.5 yrs for a credit card company that does HALF the business of VISA.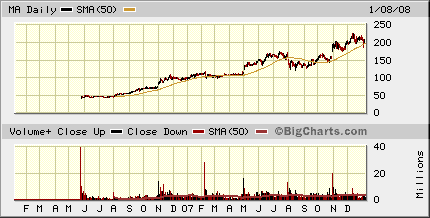 I wonder what the VISA stock chart will look like on the day of IPO?
Are you interested in getting involved with VISA stock? Check out my discount brokerage comparison.
Update: VISA is now trading on the NYSE under the symbol V. You can see the latest Visa stock chart here.
photo credit: rick