Net Worth Update April 2017 – Nobleea the Oil and Gas Engineer (+10.8%)
Welcome to the Million Dollar Journey April 2017 Net Worth Update – Team MDJ edition. A select group of readers were selected to be part of Team MDJ which was conceived after the million dollar net worth milestone was achieved in June 2014. Nobleea – the Oil and Gas Engineer, was selected as a team member and will post net worth updates on a quarterly basis. Here is more about Nobleea.
Name: Nobleea
Age: 38
Net Worth: $943,034
Day Job: Engineering manager at oilfield services company, Teacher (wife)
Family Income: $135,000 (main job), $10,000 (part time job), $80,000 (wife main job – Maternity leave)
Goals: Million dollar family net worth before 40, Retirement from primary job at 50 (for me)
We live in Edmonton where incomes are decent and housing prices are fairly reasonable. Some may roll their eyes at the high family income and say that a million dollar journey is going to be pretty easy. I have a plan to retire at 50 and pursue other interests. My wife will likely continue working until it makes sense to retire with her DB pension as the penalties for early retirement are pretty severe.
We welcomed our second child, a boy, in November and have been adjusting to having two kids under 3 in the household.
One of our goals for the last year was tracking utility consumption in our old and new house. There was a fair amount of design and construction modifications to make the new house more energy efficient. Our 5-year average consumption in our old house was Power 513kWh/month, Water 12m3/month, Natural Gas 6GJ/month. The average Edmonton household uses 600kWh/month power, 16m3/month water, and 10GJ/month natural gas so I was happy to see were under those. For our new house, it looks like we're going to be at 575kWh/month Power, 8.6m3/month Water, 9.6GJ/month Gas. This includes some amounts for a rental suite above our detached garage that is not yet occupied but is heated.
For our new house, it looks like we're going to be at 575kWh/month Power, 8.6m3/month Water, 9.6GJ/month Gas. This includes some amounts for a rental suite above our detached garage that is not yet occupied but is heated. For power, I think we can drop to 500kWh/month or at least lower than it was in our old house. For gas, we may be able to drop a bit, but it's still going to be high. Water I continue to be shocked at how little we use compared to the average household. And that is with a large irrigated lawn.
As per the company's plan, our furlough program ended at the start of 2017. They have not restarted the matching RRSP contributions yet, but I think that is going ahead in late summer.
Gains in our net worth since the last update came from saving money up in our non-registered accounts, significant gains in the commuted value of the DB pension plan, and market gains in registered accounts, as well as a reduction in debt.
We started an RESP for our son as soon as we could. Combined, the two kids have a total RESP balance of about $15,200 though the value is not included below. It is invested in TD e-series. Our eldest is 3 and youngest is 4 months. When the balance exceeds $35,000, we will likely move it to a self-directed brokerage to save on fees.
It looks like we will pass the Million dollar mark mid- to late this year, which would be before my stated goal of age 40. In May 2009, when we started tracking net worth in earnest, the value was $136,377.
Net worth numbers (Quarter/Quarter):
Assets: $1,696,945 (+4.5%)
Cash: $3,382
Registered/Retirement Investment Accounts (RRSP): $222,771 (+8.8%)
Non-Registered Accounts: $76,044 (+17%)
Tax Free Savings Accounts (TFSA): $0 (0%)
Defined Benefit Pension: $219,000 (+27%)
Principal Residence: $1,130,000 (new)
Home Maintenance Account: $2,048 (new)
Vehicles/Other: $43,700 (-4.8%)
Liabilities: $753,911 (-2.4%)
Mortgage: $749,126 (-1.5%)
Credit Cards: $4,785 (-59.9%)
Total Net Worth: $943,034 (+10.8%)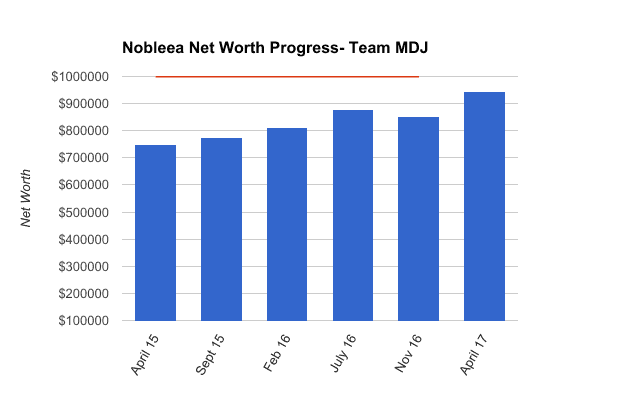 Some quick notes and explanations to common questions:
The Cash
Cash includes bank account balances in two accounts, plus any gift card balances. We use cash flow modeling to predict the maximum amount we can put towards debt/investments today without having a negative balance in the future, taking all one time or non-regular bills into account.
Loans and Credit Cards
The credit cards are paid off in full every month with no interest due. We put all our expenses on credit cards for cash back. As this can be a substantial amount some months, I believe it needs to have a line item in your monthly net worth as it is a liability at that snapshot in time.
Savings
TFSA's will need to be replenished over the next 5 years.
Real Estate
We moved into our new build last July and are loving it. I spent some time over the past few months getting our rental suite finished and ready for the market (it is located above our detached garage). It is on the market now getting some very good applicants and we expect it to be rented for June at $1050/month. Continuing with our goal of trying spec residential infill, we are under contract to buy a tear down in a desirable neighbourhood. The purchase price is 440K and we are hoping to start construction in September or October. This is something I have always wanted to do. We have a partner lined up to assist with part of the build and they have a lot of experience doing it. It will show up on our NW statement later in the spring when the deal closes.
I've Completed My Million Dollar Journey. Let Me Guide You Through Yours!
Sign up below to get a copy of our free eBook: Can I Retire Yet?