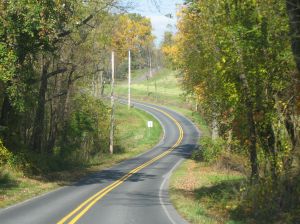 This is something that I want to talk about as I've been getting questions on this lately.  One particular question is, what are you going to do if you don't reach your one million by 35?
My million dollar net worth goal is just that, a time based goal.  If I reach the 1 million in net worth by the age of 35, then great!  It will be a great sense of achievement.  If I'm not quite there, then no big deal.  In the grand scheme of things, it doesn't matter either way.  I don't plan to retire or plan on any significant life changes when I reach the $1 million mark.  I consider personal finance fun, and keeping score via my net worth helps push me in the right direction.
My real financial goal is financial independence.  Financial independence is achieved when your passive income is enough to meet your expenses which gives you the choice of whether to work for money or not.  While on my pursuit of high net worth and passive income though, we aim to live a balanced life.
Life shouldn't be all about money.  Life is about experiencing new things, relationships, people and following your dreams.  At your funeral, will your eulogy include all of the "material things" that you have accumulated?  Of course not, it's going to be about the relationships you formed, how you affected people, and the kind of person you were.
What I consider more important than the financial destination, is the journey itself.  So far, my million dollar journey has taught me that:
Life
It's important to enjoy life and to find fulfillment in what you do.
Building online communities that focus on personal finance and investing education is something that I love to do.
Giving back feels a heck of a lot better than receiving.
Continual learning is one of the keys to success in any niche.
Being courageous isn't about eliminating fear, it's about acting despite the fear.
Personal Finance
Investing
Even though we can try to predict long term market averages, market returns in any particular year is impossible to estimate (see 2008).
Index investing is the best choice for 99% of the investors out there.
Asset allocation is essential to help weather market down turns.
Before starting this blog, I believed in shooting for the stars when picking individual stocks and that investing (gambling) was much better than paying down a mortgage.  I now believe that paying down debt is likely the best bet for most people before investing.
Successful technical trading is challenging!  I've learned that technical trading is not absolute but helps increase the odds of obtaining gains.
Options can be used to reduce risk in a portfolio, but it takes a while to wrap your head around them.
What have you learned while on your financial journey?
I've Completed My Million Dollar Journey. Let Me Guide You Through Yours!
Sign up below to get a copy of our free eBook: Can I Retire Yet?