How to Maximize PC Optimum Points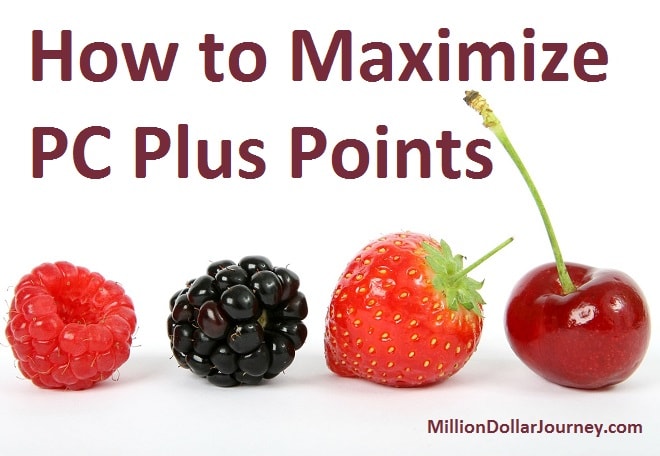 A little while back I wrote about how to maximize the AIR MILES program which is a very popular loyalty program in Canada.  However, I admitted in the article that I'm more of a passive AIR MILES collector where I generally prefer cash back as a reward because it can't be diluted or expire.  Although I prefer pure cash back, there is a loyalty program that we follow that is a hybrid of a cash back and points program, and that is the Loblaws/Shoppers Drug Mart (SDM) PC Plus program.
The PC points program is essentially a cash back program however the points can only be redeemed for purchases at the Loblaws group of companies such as Loblaws, Real Canadian Super Store, No Frills, Dominion (in NL), and soon Shoppers Drug Mart (Feb 2018).  I include SDM in this because Loblaws owns SDM and will be combining the SDM Optimum program and the PC points programs together.  Soon you'll be able to redeem PC points at SDM stores.
The PC Plus program is an enhancement to the PC points program.  When you sign up for the PC Plus program (it's free), you'll get a weekly email with specialized offers based on your shopping habits.  Personally, I like to use the free phone app which shows your points balance and all your weekly offers in a nice and organized manner.  For example, this week, one offer was for 200 pts for every $1 spent on potatoes.  Since 20,000 pts = $20, the offer equates to 20% off potatoes.  Another offer was 1,000 pts for every $5 spent on Joe Fresh apparel which is also a 20% discount.  What does Loblaws get in return?  Repeat customers, valuable data on your shopping habits, and the ability to apply analytics to shopping trends and other user data.
Maximize your PC Plus Points
The PC Plus program may seem like it's more "onesies and twosies"; however the points really do accumulate fast.  Using this program since it was introduced in 2013, we have redeemed over $1,000 worth of groceries.  We are essentially getting paid for stuff that we are going to buy anyways.  Here are the main strategies that we use.
1. Watch Weekly Offers and Sales
The best offer, in my opinion, is for bonus points for certain spending levels.  For example,  last week I had an offer for 10,000 points for every $100 spent in-store.  For a family of four, I will admit that it's pretty easy to hit $100/week at Loblaws (or affiliated brand).  Not only do you get the points for reaching the threshold spending, you still accumulate points for other items on your offer list.  So in addition to collecting 10,000 pts for spending $100, you still get points for potatoes and Joe Fresh apparel as described above.  Stacking points like this can easily result in a 20,000 + pt visit.
What gets me excited (I know it's sad) is when I get a juicy offer an on an item that I'm going to buy anyways, and it's also on sale!  For example, we often get an offer for 2,500 pts ($2.50 value) on boxed PC wings.  The regular price is around $15/box which I think is too much for 1 kg of wings, so I typically pass on the offer.  However, the last time we bought PC wings they were on sale for $10/box.  Combined with the offer resulted in a net price of $7.50/box which gave me a sense of satisfaction.
2. Use the PC Financial Credit Card
I write a lot about cash back credit cards and for the people who do a lot of shopping in Loblaws or affiliated stores, it's hard to beat the PC Financial World Elite Mastercard.  This card gives you 3% cash back on purchases you make in Loblaws stores and has $0 annual fee.  So say on a good offer week, you accumulate 20,000 ($20 in value) in PC points after spending $100 (as per the example above).  If you use the PCF World Elite card, you would get an extra 3,000 points ($3) which adds up week after week over the year. 
Since we do most of our grocery shopping at Loblaws brands (besides Costco where we are trying to cut back), my wife signed up for the PCF World Elite Mastercard a little back when there was a $100 gift card promotion.  In fact, as of today, RateSupermarket is offering another $100 bonus for this free Mastercard (not sure how long the promo will last).
3. Use More than One PC Plus Account
When we first joined the PC Plus program, we joined under my name.  However, when Mrs. FT signed up for the PCF World Elite Mastercard, she also signed up for her own PC Plus account.  At first, I was trying to figure out a way to combine our PC Plus accounts for convenience sake.  However, my procrastination benefited me in that I noticed that the offers were quite different for both accounts.  Some weeks my PC Plus offers had more value, and other weeks my wife's account would have better offers.  For example, that week that I got an offer for 10,000 pts for every $100 spent, Mrs. FT's email had an offer for 10,000 for every $125 spent.  Guess which account we picked?  I figured that with our pattern of shopping the offers for both accounts would be the same, but the offers come in slightly different every week.
Final Thoughts
There you have it, my three methods of maximizing the PC Plus program.  Essentially, follow the offers and watch them closely.  I like using the PC Plus app while I walk around the store to focus my spending.  The PC Financial World Elite Mastercard is a great free credit card and our goto when shopping at Loblaws and affiliated stores – we really find it contributes significantly to our points balance.  Third, we stumbled upon a trick of using two PC Plus accounts instead of combining them (one per spouse) and choosing which account depending on the offers that week.
Are you a PC Plus fan?  Do you have any tips to share?