How to Maximize PC Plus Points – Part 2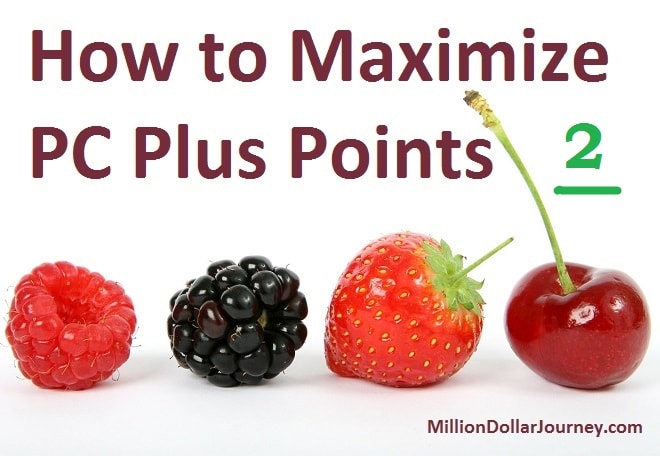 Last weeks article on how to maximize PC Plus points turned out to be quite popular. A number of readers added their tips to the comments (also via email), and the post was mentioned in an online Globe and Mail article (thanks @rcarrick!).
The reader tips were so good that I think it deserves a dedicated article on how to really maximize the PC Plus program like the pros.
Background on the Program
The PC points program is essentially a cash back program however the points can only be redeemed for purchases at the Loblaws group of companies such as Loblaws, Real Canadian Super Store, No Frills, Dominion (in NL), and soon Shoppers Drug Mart (Feb 2018).  I include SDM in this because Loblaws owns SDM and will be combining the SDM Optimum program and the PC points programs together.  Soon you'll be able to redeem PC points at SDM stores.

The PC Plus program is an enhancement to the PC points program.  When you sign up for the PC Plus program (it's free), you'll get a weekly email with specialized offers based on your shopping habits.  Personally, I like to use the free phone app which shows your points balance and all your weekly offers in a nice and organized manner.  For example, this week, one offer was for 200 pts for every $1 spent on potatoes.  Since 20,000 pts = $20, the offer equates to 20% off potatoes.  What does Loblaws get in return?  Repeat customers, valuable data on your shopping habits, and the ability to apply analytics to shopping trends and other user data.
Summary of my PC Plus Strategies
1. Watch Weekly Offers and Sales

The best offer, in my opinion, is for bonus points for certain spending levels.  For example,  last week I had an offer for 10,000 points for every $100 spent in-store.  For a family of four, I will admit that it's pretty easy to hit $100/week at Loblaws (or affiliated brand).  Not only do you get the points for reaching the threshold spending, you still accumulate points for other items on your offer list.  So in addition to collecting 10,000 pts for spending $100, you still get points for potatoes and Joe Fresh apparel as described above.  Stacking points like this can easily result in a 20,000 + pt visit.

2. Use the PC Financial Credit Card

I write a lot about cash back credit cards and for the people who do a lot of shopping in Loblaws or affiliated stores, it's hard to beat the PC Financial World Elite Mastercard.  This card gives you 3% cash back on purchases you make in Loblaws stores and has $0 annual fee.  So say on a good offer week, you accumulate 20,000 ($20 in value) in PC points after spending $100 (as per the example above).  If you use the PCF World Elite card, you would get an extra 3,000 points ($3) which adds up week after week over the year.  You can read my full review here.

Since we do most of our grocery shopping at Loblaws brands (besides Costco where we are trying to cut back), my wife signed up for the PCF World Elite Mastercard a little back when there was a $100 gift card promotion.  In fact, as of today, RateSupermarket is offering another $100 bonus for this free Mastercard (not sure how long the promo will last).

3. Use More than One PC Plus Account

When we first joined the PC Plus program, we joined under my name.  However, when Mrs. FT signed up for the PCF World Elite Mastercard, she also signed up for her own PC Plus account.  At first, I was trying to figure out a way to combine our PC Plus accounts for convenience sake.  However, my procrastination benefited me in that I noticed that the offers were quite different for both accounts.  Some weeks my PC Plus offers had more value, and other weeks my wife's account would have better offers.  For example, that week that I got an offer for 10,000 pts for every $100 spent, Mrs. FT's email had an offer for 10,000 for every $125 spent.  Guess which account we picked?  I figured that with our pattern of shopping the offers for both accounts would be the same, but the offers come in slightly different every week.
Reader Tips to Maximize PC Plus Points
1. Carry Forward  your Unused Offers
In the PC Plus app, you can swipe left on an offer which will give you the option to save your offer for the following week.  This is useful for when it's a good offer, but you don't need it this week (or you can wait for the item to go on sale).  I used this tip this past weekend with a couple of offers.
Stephen:  One tip I would like to add is that you can save up to 5 offers at a time for the next week using the app (and again the following week if required). This means if I get a good offer on a product I know I will buy and there isn't a matching sale, such as 20% off chicken, I will forward that offer to the next week waiting for a better deal.
Saving your offer can be used in conjunction with flyer timing.  The weekly flyer comes out on Wednesday with a Thursday effective date.  Your PC Plus app offers end on Thursday night.  This gives you an opportunity to scan through the flyer and save relevant offers in your app before they disappear.
Red: New sales start on Thursdays. Your offers end on Thursday at midnight. Go shopping for your offers one last time on Thursday and save the offers you like but didn't use within the 2 weeks of sales. Maybe that product will go on sale the following week. Repeat until offer can't be saved anymore. This will probably change on February 1.
2. Delete Irrelevant Offers
Similar to the above tip, when you swipe left on an offer, you also have the option to delete.  When you delete an offer, it updates the algorithm to show that you aren't interested in the item, and over time, your offers will (hopefully) become more relevant.
Greg:  Make sure each week you delete any of your PC offers that you know you will never buy. Over a few months this will ensure the large majority of your offers will be for items you use on a regular basis.
3. Wait for Redemption Offers
This strategy is not as solid, but PC Plus sometimes offers an incentive for points redemption.  I recall last year, PC Plus had an "Extreme Redeem" event that gave you bonus points for redeeming points.  During the event, for every 50k redeemed, you get 5k back; 100k, 20k back; 200k, 60k.  For this reason alone, I try to keep a minimum balance of 50,000 points.
4. Focus your PC Financial Credit Card Spending
A significant number of readers wrote about how they focus their spending on their PCF World Elite Mastercard which generates the bulk of their PC Points.  One really good tip was to buy gift cards from Loblaws to take advantage of the 3% back in points.  For example, if you are out shopping for Starbucks gift cards for Christmas, why not buy them at a Loblaws gift card kiosk and get a 3% reward for yourself.
IanH: We maximize our points by paying for everything on the PC MasterCard. Automated bills, kids days care… anything to pay we use that card. Now that Costco uses MasterCard we use it there as well. We always pay off the card, never carry a balance so it works for us. I think my wife and I average over $1000 a year in earnings. We also use PC Home/Car insurance for the extra points. Been thinking of switching to their mobile phone plan if a good deal presents itself and my wife works near a Loblaws with a Gas Bar so she fill's up one of the cars there. I used to use PetroCan for gas but going to switch to Esso for the extra points as well.
Final Thoughts
There you have it, four more methods of maximizing the PC Plus program.  Essentially, take advantage of the app where you can carry forward offers and delete them for more relevant offers.  Use this in conjunction with flyer sales which will result in supercharged savings.  Also, occasionally, PC will offer redemption events but that also requires that you maintain a points balance throughout the year.  Finally, most readers recommended using the credit card to focus your spending at Loblaws and affiliated stores (ie. Shoppers, Esso, PC Insurance, The Mobile Shop etc).