Free iPhone Apps that Save You Money (Canadians)
I know that the iPhone is expensive and the prices for the monthly plans are out of this world but it is a very attractive device. The tools available on the iPhone are unbelievable.
One problem I find with many iPhone apps is that many popular apps are not available on the iTunes store in Canada. I had two requirements: absolutely free application and available on the App store in Canada.
I have found seven applications that not only let you save money but are free applications that don't cost anything.
Wi-Fi Finder
Wi-Fi Finder offers a list of more than 200,000 locations across 135 countries. All of these locations are verified hotspot locations which are made available on iPhone and iPod touch. This is convenient when travelling and it avoids you having to pay for internet access sometimes. Click here to download
Cheap Gas
Find the cheapest place to by gasoline near you with the Cheap Gas iPhone application. The pricing for this app is provided by the GasBuddy website and works in the United States and Canada. I am a major fan of low gas prices! Click here to download
CIBC Mobile Banking – ATM Finder
With the CIBC Mobile Banking app, you can complete everyday CIBC banking transactions on your iPhone quickly, easily and safely. The app even has an area where you can find CIBC bank machines and branches in your area. Search by street address or postal code. I really liked the interface, and it saves fees when you need to use a specific CIBC ATM. Click here to download
Stanza – Free eBook reader
Read books on your iPhone or iPod Touch! Choose from an additional 50,000 free classics and recent original works available from Project Gutenberg, Feedbooks, and many other sources. This is a major money saver when you consider how much the Kindle costs in Canada. Click here to download
GroceryDeals – mobile grocery deal finder
GroceryDeals lets you find the closest, grocery store with the single touch of a finger. It was designed to allow Canadians to find grocery store deals to save them time and money. It helps you find a close grocery store when you are in a hurry and a quick look at five deals from the latest grocery flyer. Click here to download
Taxi Magic
Book a taxi from your iPhone. Save yourself the cost of a DUI and/or fender bender. It seems to not have every Canadian city but they seem to slowly be adding more cities. Click here to download
Awesome Tip Calculator
I still remember the Seinfeld wizard when Jerry bought his dad the expensive calculator that was also a tip calculator. Free application that provides full set of features and easy to use great UI so that you don't tip more then you need to. Click here to download
Back to you,
Does anyone know of any other free iPhone apps that help save money?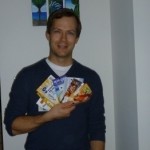 The author is Steven Zussino, Founder of Grocery Alerts Canada – home of grocery deals, product reviews and money saving coupons. He enjoys personal finance and saving money in beautiful Victoria, BC.
I've Completed My Million Dollar Journey. Let Me Guide You Through Yours!
Sign up below to get a copy of our free eBook: Can I Retire Yet?