Financial Freedom Update (Q2) – June 2017 (+9.73%)
Welcome to the Million Dollar Journey June 2017 Financial Freedom Update – the second update of the year.  For those of you new here, since achieving $1M in net worth in June 2014 (age 35), I have shifted my focus to achieving financial independence.  How?  I plan on building my passive income sources to the point where they are enough to cover our family expenses.  All within the next 5 3.5 years.  If you would like to follow my latest financial journey, you can get my updates sent directly to your email, via Twitter (where I have been more active lately) and/or you can sign up for the monthly Million Dollar Journey Newsletter.
In my first few Financial Freedom updates, I talked about what life has been like since becoming a millionaire, why I like passive income, and our family financial goals going forward.
Here is a summary:
Financial Goals

Our current annual recurring expenses are in the $50-$52k range, but that's without vacation costs.  However, while travel is important to us, it is something that we consider discretionary (and frankly, a luxury). If money became tight, we could cut vacation for the year. In light of this, our ultimate goal for passive income to be have enough to cover recurring expenses, and for business (or other active) income to cover luxuries such as travel, savings for a new/used car, and simply extra cash flow.

Major Financial Goal:  To generate $60,000/year in passive income by end of year 2020 (age 41).

Reaching this goal would mean that my family could live comfortably without relying on full time salaries.  I would have the choice to leave full time work and allow me to focus my efforts on other interests, hobbies, and entrepeneurial pursuits.
Previous Update
To give you context for this update, here are the numbers in my previous financial freedom update.
March 2017 Dividend Income Update

| | | |
| --- | --- | --- |
|  Account | Dividends/year | Yield on Cost |
| SM Portfolio | $5,800 | 4.20% |
|  TFSA 1 | $2,100 | 4.89% |
|  TFSA 2 | $2,500 | 4.87% |
|  Non-Registered | $210 | 1.37% |
|  Corporate Portfolio | $9,700 | 3.66% |
|  RRSP 1 | $5,300 | 3.68% |
|  RRSP 2 | $600 | 2.66% |

Total Invested: $679,450
Total Yield on Cost: 3.86%
Total Dividends: $26,210/year (+10.89%)
Current Update
Since March, there has been little change to our financial situation.  In fact, it has been more go-with-the-flow type mentality. We still live off my government salary, and we still pay close attention to our spending (here is a breakdown of our expenses in 2015 ).  Since we do not have any large debt servicing requirements (mortgage, rent, car payments etc), my salary allows us to live comfortably, but far from extravagantly.
In a previous update, I mentioned that there was some financial benefit to my spouse leaving her position, namely her pensions.  One pension was already transferred to a LIRA with Questrade, but there was a larger pension to deal with.  We had the option of leaving the pension in place until the age of 60, or taking the inflated commuted value (due to the low-interest-rate environment) lump sum and investing it ourselves.
I'm happy to say that the commuted value was again transferred to Questrade and waiting to be invested.  I must admit that although the plan is to index the portfolio, I'm a little uncomfortable investing going all-in at all-time market highs.  Perhaps I will invest smaller amounts over a period of time and take advantage of dollar cost averaging.
Now, let's talk a bit about my passive income strategy – generating dividend income. As dividends are the main focus of my passive income pursuit, there is a large dependence on the market. While there are merits to this investment strategy, there are also substantial risks – particularly dividend cuts.  As an example, you may have heard about what happened to Home Capital Group (HCG).  This is a secondary lender who had a very strong track record of dividend increases (18 years in a row).  HCG funded their mortgages through client deposits into GICs and high-interest savings accounts.  With the company under investigation, client essentially made a run at the bank and essentially wiped out HCG's high-interest savings balance.   To help stop the bleeding, HCG obtained a very expensive line of credit.   The deal was so expensive that it could end up wiping out a full year of earnings.  In light of this, the company suspended their dividends in May.
The goal of the strategy is to pick strong companies with a long track record of dividend increases.  On the topic of dividend increases, 2017 is doing great so far.  We're about halfway through the year, and there has been a large number of dividend increases in my portfolio.  I have received raises from:
TD Bank (TD); Scotiabank (BNS); Magna (MG);  Royal Bank (RY); CIBC (CM); Bank of Montreal (BMO); National Bank (NA);  TransCanada (TRP); Great-West Life (GWO); Thomson Reuters (TRI); Manulife (MFC); BCE (BCE); Telus (T); Enbridge (ENB); Enbridge Income Fund (ENF); Canadian Utilities (CU); Canadian National Railway (CNR); Canadian Pacific Railway (CP); Exco Technologies (XTC); Suncor (SU); Thompson Reuters (TRI); Leons Furniture (LNF); First National Financial (FN); Power Financial (PWF);  Transcontinental (TCL.A); Imperial Oil (IMO); George Weston (WN); Sun Life (SLF) and, Metro (MRU)
In addition to the dividend raises, I've continued to deploy corporate cash into dividend stocks which has resulted in the biggest contributor to dividend income growth ($9,700 annually -> $11,700 annually).  Since this is currently my largest investment account, it also adds the most weight to my overall holdings.
In my overall portfolio, here are my current top 10 largest holdings (besides cash):
Bank of Nova Scotia (BNS);
TransCanada Corp (TRP);
Fortis (FTS);
Bell Canada (BCE);
Emera (EMA);
Canadian Utilities (CU);
Enbridge (ENB);
iShares Core MSCI All Country World ex Canada Index ETF (XAW) (mostly from my wife's RRSP); and,
Royal Bank of Canada (RY);
Rogers Communications (RCI.B)
June 2017 Dividend Income Update
| | | |
| --- | --- | --- |
|  Account | Dividends/year | Yield on Cost |
| SM Portfolio | $6,300 | 4.32% |
|  TFSA 1 | $2,150 | 4.89% |
|  TFSA 2 | $2,600 | 4.87% |
|  Non-Registered | $210 | 1.37% |
|  Corporate Portfolio | $11,000 | 3.69% |
|  RRSP 1 | $5,800 | 3.70% |
|  RRSP 2 | $700 | 2.80% |
Total Invested: $738,588
Total Yield on Cost: 3.89%
Total Dividends: $28,760/year (+9.73%)
Through a combination of deploying cash and collecting those juicy dividend increases, the midway mark for 2017 has been strong with a 9.73% bump in dividend income.  With the financial goal of $35,000/year by the end of this year, I will need to stay aggressive in deploying savings capital into yielding positions.
We still have a long way to go, but for the most part, we are moving in the right direction.  There is cash available to deploy in most of our accounts – in particular, the lump sum of cash from the commuted values of the pensions.  That's in addition to the dividends that are constantly being churned out which gets deposited as cash and reinvested again (the power of compounding).
If you are also interested in the dividend growth strategy, here is a recent post on how to build a dividend portfolio.  With this list, you'll get a general idea of the names that I've been adding to my portfolios.  If you want a simpler investing strategy that outperforms most mutual funds out there, check out my top ways to index a portfolio.
Let me know if you have any questions by leaving a comment.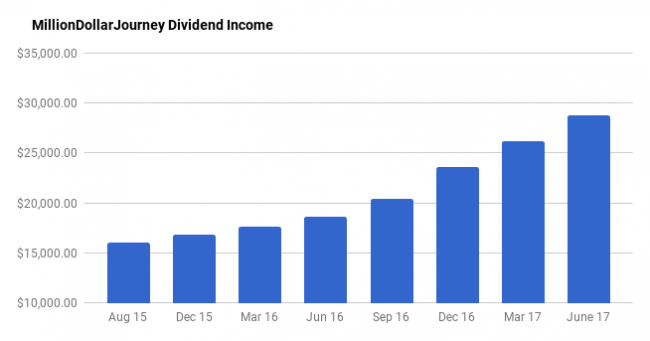 I've Completed My Million Dollar Journey. Let Me Guide You Through Yours!
Sign up below to get a copy of our free eBook: Can I Retire Yet?