I'm a big believer in long-term investing and taking advantage of compounding returns to build wealth.  While 95% of my investible assets are in long-term positions, as my internet handle implies, however, I'm also a fan of shorter-term swing trading. I find trading to be fun but I'm set on only using a small percentage of my overall portfolio – in other words, my play account.  I consider the markets to be a lifelong educational endeavor, and even with 20 years under my belt, it still feels like I'm only scratching the surface.
Regardless of whether I'm investing for the long-term, or making a short-term trade, I routinely log in to my Google Finance account when the stock market opens at 9:30 am EST during the week.  I use the portfolio feature to see how my accounts (especially trading positions) are doing and to compare my long-term returns against various index benchmarks (a really great feature).  There are some bugs with the interface (like adding positions and sometimes not showing up in the portfolio list), but since I'm heavily integrated with Google products, the pros heavily outweigh the cons.
All was well until October 2017 when users received a message from Google Finance that they were closing down their portfolio functionality (message as circled above).  I was disappointed in the news, but I realize that things change often, especially in the world of technology.  The good news though is that Google Spreadsheets stock quote functionality will remain which is what I use to track my dividend portfolios (here's how to create a dividend portfolio watchlist with google spreadsheets).
Digesting the news, my thoughts turned to alternative solutions to Google Finance portfolios.  Ideally, free solutions that worked relatively well.  With this search, I came up with two viable free solutions.
1. Morningstar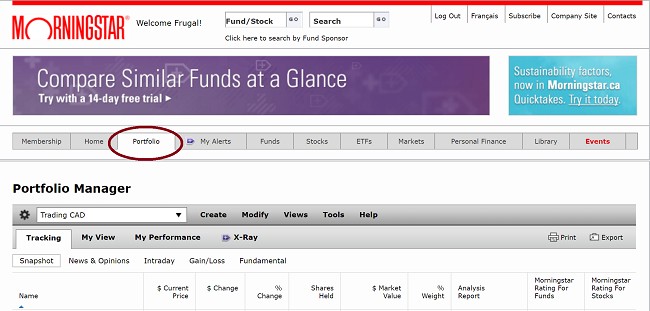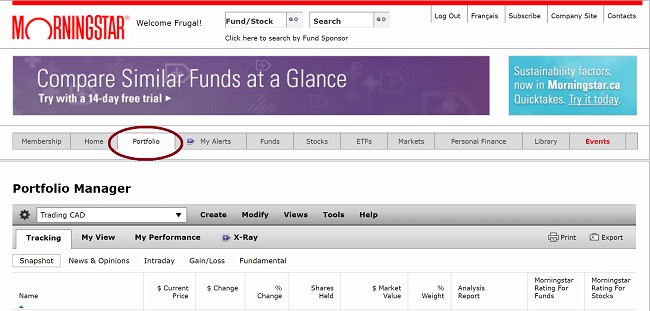 First, I think that Morningstar is missing a huge opportunity by not adding an "import" feature.  It would be great if I could simply export my Google portfolio transactions and import them into my Morningstar account.
However, let's start with what I like about the Morningstar portfolio (link):
News specific to portfolio positions.
Creating custom views/tables (lots of options which is a big plus).
Performance measuring, including comparing against index.
What needs work:
Often, pages will not load (could be specific to my PC) which can be frustrating.
2. Yahoo Finance


Like Morningstar, Yahoo does not have a feature to import portfolios. However, I've been told that the Yahoo App allows for importing portfolio transactions, but I have not tried the app yet.
What I like about Yahoo Finance Portfolios (link):
Financial history of individual stocks.  While this functionality is more of a Yahoo Finance feature rather than specifically their portfolio, it is extremely useful in checking dividend history and calculating returns manually (if you are into that).
Customized views/tables, however, not as elaborate as Morningstar.
What needs work:
As mentioned above, it needs more options for custom views.
Cannot measure portfolio performance against index benchmarks.
Simply not as comprehensive as Morningstar.
 Final Thoughts
In my search for alternatives to Google Finance Portfolios, I came up with two decent free solutions: Morningstar Portfolios and Yahoo Finance Portfolios.   Both have their pros and cons, however, both do not allow importing (I've been told Yahoo app allows importing).   As of right now, I'm leaning towards Morningstar to handle my daily watchlist needs as I find the interface more robust with more options.
Let me know what you use to track your portfolio or if you have any additional ideas.
I've Completed My Million Dollar Journey. Let Me Guide You Through Yours!
Sign up below to get a copy of our free eBook: Can I Retire Yet?