Update: This card has been discontinued, you can check out my other favorite cash back credit cards.
Do you use a rewards based credit card for the points? I know I do. Have you ever wondered which credit card gives you the best bang for your buck? That's one thing that I always look for, the best value for your dollar. I do that whenever I'm in stores, restaurants and especially when buying a stock.
Picking a credit card to use is no different and after doing some extensive research, I have found a credit card that I carry in my wallet to this day. That card is the MBNA Starwood Preferred Guest (SPG) Credit Card.
Why do I like the SPG credit card the most? Simply because it gives you a great return on your spending, it has NO annual fee with free supplementary cards, it includes a comprehensive insurance package and they have a super fast online system (updates within minutes of transaction).
The Rewards
SPG is a HOTEL points program that gives you points towards staying in Sheraton, Westin, 4 points, Luxury Collection, St. Regis, Meridien, and W hotels. SPG has been winning awards for many years now as the best rewards program out there.  What's really great about this program, unlike other travel programs, is that the points can be used anytime.  That is, there are no blackout dates.
How many points do you get for using the SPG credit card?
You get 1 point for every $2 spent
5000 bonus points upon first purchase
5000 bonus points for your first stay (that you pay for)
5000 bonus points for every $10,000 that you spend for up to 15k bonus points ($30k spent).
For example, if you spend $30k in your first year and get all of your bonuses, you can obtain 40k points which is enough for 4 nights in a category 4 hotel (middle-upper class). After your first year, you get around 1 pt for every $1 that you spend up to $30k. After $30k spending, you only get 1 point for every $2 that you spend.
Here is the SPG rewards chart:
Program:
Category
1
2
3
4
5
6
Free Night – Weekdays
3,000
4,000
7,000
10,000
12,000 – 16,000
20,000 – 25,000
Free Night – Weekends
just 2,000!
just 3,000!
7,000
10,000
12,000 – 16,000
20,000 – 25,000
Cash & Points
1,200 Starpoints +$25
1,600 Starpoints + $30
2,800 Starpoints + $45
4,000 Starpoints + $60
n/a
n/a
5th Night Free
n/a
n/a
28,000
40,000
48,000 – 64,000
80,000 – 100,000
Room Upgrade
1,000 – 1,500
1,000 – 1,500
1,000 – 1,500
1,000 – 1,500
1,500 – 2,750
1,500 – 2,750
Suite Upgrade
3,000
4,000
7,000
10,000
12,000 – 16,000
20,000 – 25,000
50% off Regular Rack Rates
1,000
1,000
1,000
1,000
1,000
1,000
Nights & Flights
n/a
n/a
60,000
70,000
n/a
n/a
An example rewards redemption:
Sheraton Bal Harbour Best Resort – Category 4 (Florida)
March Price: $362USD/night (~$480 CAD inc taxes)
Points Required: 10k points/night
Spending Required: $10k (after first year, less during first year)
Return on spending: $480/$10000 = 4.8% RETURN !
Other Rewards
This kind of return is a bit on the high end but I typically get around 2.5%-4% return / redemption. Their point system also has a bunch of great features like cash and points, 5th night free and SPG to airline point conversions.
The cash and points system (one of my favorites) is where they let you combine cash and points towards selected SPG hotels who join the program. It's really great for people who don't have an obscene amount of points but want to stay at SPG hotels at a substantial discount. The 5th night free is just that, book 5 nights with any of their hotels on points, and you get the 5th night free. So if you booked a Category 4 hotel for 5 nights, it would cost you 40k points instead of 50k.
Their SPG to airline points transfer system also offers generous perks where they give you an additional 5k points for every 20k spg points that you transfer. They support a large number of airline point programs (except Aeroplan) :(.
Comprehensive Insurance Package
Some other features as mentioned before is a comprehensive warranty/insurance program which includes travel accident, car rental, and purchase/theft insurance along with double warranty on purchases (for up to 1 year).
Who Should Get this Card?
This card is best for those who like to travel and spend up to $30k on their primary credit card every year. If you don't pay off your credit cards in FULL every month, this card is NOT for you. They charge around 20% interest/annum.
It may sound like I work for MBNA and even if I did, it would be easy to push this product. But alas, I'm just a regular Joe trying to get the best bang my buck, and the SPG credit card is on top of the rewards (no annual fee) credit card list.
Interested in getting this card?
Unfortunately, the MBNA SPG credit card has been discontinued.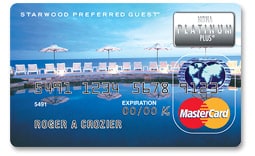 For more info visit:
I've Completed My Million Dollar Journey. Let Me Guide You Through Yours!
Sign up below to get a copy of our free eBook: Can I Retire Yet?