Low-Cost Countries for Canadians to Retire Early In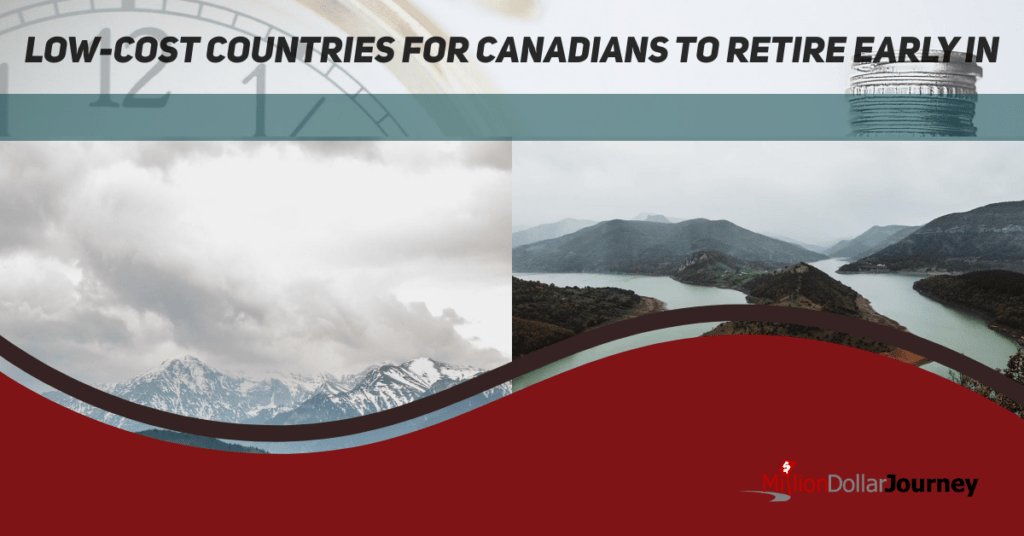 **Editor's Note: With everyone obsessed over the tragedy enveloping our world and/or the stock market gyrations that it is causing, we decided to give readers a bit of a sunny break this week. If you want to read our personal finance/investing thoughts on the unprecedented current events, please see our thoughts about investing in the age of the Coronavirus, as well as a Canadian-specific look at the effects on your wallet. Our thoughts haven't changed much. Basically, we're looking at a time that is really incomparable for a number of reasons, and we'll no doubt write more as companies' balance sheets become more clear. For now though, please enjoy a sunny post about possible retirement options (perhaps in a fully vaccinated utopia in the not-to-distant future).
Retirement is something that every Canadian should be thinking about. Hopefully, you are contributing regularly to your RRSPs to ensure you get the most in your golden years but, for many Canadians, affordability is still a concern meaning the dream of retiring early is, for many, just a dream. After all, the cost of living in Canada just keeps getting higher.
That being said, being retired gives you a lot more freedom, including the freedom to live abroad. There are plenty of countries around the world where the Canadian dollar will stretch further and last longer. So, if you have your eye on early retirement and are interested in seeing more of the world then this article is for you. I'm sharing three low-cost countries for Canadians to retire early in with some of the pros and cons of each.
If you Want to Retire Early in Europe: Portugal
Europe has a reputation for being expensive given the exchange rate between the euro and the Canadian dollar, but Portugal is surprisingly affordable. Of course, major cities like Lisbon and more touristic areas such as the Algarve will be more expensive but, in comparison, they are still cheaper than many Canadian cities.
For example, Numbeo.com lists the following costs for Lisbon:
1 month rent in a 1-bedroom apartment in the city centre: 895 euros ($1292 CAD)

Meal at a local restaurant: 8.50 euros ($12.25 CAD)

1-month transit pass: 35 euros ($50 CAD)
Again, these prices are for Lisbon and you can find cheaper if you look in the smaller towns or outside the main city centre.
Cost of living is important, but it isn't the only thing you need to consider when thinking about where to retire abroad, but Lisbon has plenty of other great perks going for it. It's a popular hub for digital nomads and expats making it easy to socialize and make friends. It's safe; the government of Canada has no travel advisories for Portugal, and many find the climate much preferable to that of Canada's.
Of course, Portugal isn't perfect, there are some cons as well. While English is spoken widely in the touristic areas, you may still experience a language barrier. The Portuguese way of life is also much slower paced than it is in Canada. Some people may love this while others may find it too slow. Over tourism is also becoming a problem in Portugal which, during high season especially, may be incredibly frustrating.
That being said, if you are looking for a 'western' country to retire with warmer weather, friendly people, and a low cost of living then Portugal is a great choice.
If You Want to Retire Early in Asia: Thailand
Thailand is growing more and more popular every year, and it's easy to see why. With its idyllic beaches, buzzing night markets, and jungles perfect for adventures, Thailand has a lot to offer. Typically, it's a popular backpacking destination with the younger crowd, but over the past few years, it's also become a common destination for older expats as well, especially the cities of Bangkok and Chiang Mai.
Affordability is a huge reason as to why many people love Thailand. There's no way around it, Thailand is cheap and one of those destinations where you really can experience luxury on a budget. The Canadian dollar will definitely go a long way here.
For example, Numbeo.com lists the following costs for Chiang Mai
1 month rent in a 1-bedroom apartment in the city centre: 12,000 Thai baht ($503 CAD)

Meal at a local restaurant: 50 Thai baht ($2 CAD)

1 month of local transit: 1000 Thai baht ($43 CAD)
Aside from affordability, Thailand is generally a pretty safe destination; the government of Canada does warn about travel in certain areas but the main spots are safe. Plus, there is plenty to see and do. Those who live in Thailand can have access to decent healthcare, in fact, the hospitals in Bangkok are said to be some of the best in Asia. Plus, because it's so popular with tourists and expats, it's pretty easy to meet people and make friends assuming you are staying in one of the main cities.
For downsides, the hot and sunny weather that Thailand is known for might be too much for some people to handle. Additionally, pollution is a big problem in Bangkok, Chiang Mai has a 'smoke season', and the islands can all experience torrential rainfalls and tropical storms during certain months of the year. Language barriers can definitely be a problem and services, in genera,l don't tend to be up to North American standards which some people may find frustrating.
Living in Thailand will definitely take some getting used to, but for some this tropical paradise may be just the escape they are looking for.
If You Want to Retire Early in Central America: Costa Rica
Central and South America are becoming increasingly popular areas for expats and those who want to retire abroad. However, while things are considerably better than they were a decade or so ago, safety can still be a concern in this area of the world. However, Costa Rica is a great compromise that will get you the Central American climate and culture, lower costs, and a feeling of safety.
Numbeo lists the following costs for living in Tamarindo, Costa Rica:
1 month rent in a 1-bedroom city centre apartment: 267,500 Colón ($620 CAD)

meal at a local restaurant: 4,000 Colón ($9.50 CAD)

1 month of local transportation: N/A (the city is small and walkable)
To be clear, when it comes to places to retire in Central America, Costa Rica is not the cheapest. But, it does have a higher quality of living and is considered to be a safer destination for expats and foreigners (though the Canadian government travel advisory does warn Canadians to exercise a high amount of caution). Foreigners do have access to public healthcare (though reviews are mixed) and the country's rich biodiversity including stunning beaches makes it a solid choice for those who enjoy nature and outdoor activities.
You do need to be careful of where you choose to live. The large cities, like San Jose, are often cramped but smaller beach towns including Tamarindo may seem small and can be crowded with tourists. Safety could also be a concern, especially in comparison to most Canadian cities.
If you are looking to retire early somewhere by the beach and live 'la Pura Vida' then Costa Rica may be a great option for you to consider.
Final Thoughts
Retiring abroad will take a bit of getting used to. There's a lot to consider including language, local healthcare, customs, and more. However, if you are looking to retire early and have a bit of an adventure after years of working, then these suggested countries for Canadians to retire early in are great picks to help make your money last longer and give you the experience of a lifetime.