You've seen that weird set of scrolling numbers at the bottom of a news screen or heard that people are making money "betting on video game meme stocks" and so you Googled: How does the stock market work in Canada?
You've come to the right place.
First off, we need to understand what a stock is. In simple terms, a stock (or share / equity) is a type of investment that represents a piece of the company. So, as a stockholder, you own a piece of a company. The goal is to buy stocks in companies and businesses that you think will excel over time. You want the stock price to increase after you have bought it so that you can make a profit.
So, how do you make money off of stocks? There are two ways.
The first is to sell the stocks. You want to sell your stocks when their value increases above what you originally paid for them, so that you can make a profit. This type of profit is called a capital gain. This is why it's important to do some research ahead of time and invest in companies that you think will grow and succeed over time. Their success is your success.
The second way is to make money from your stocks through dividends, which are regular payments to shareholders. Keep in mind that not all stocks have dividends. Stocks that do have dividends typically pay out quarterly (every three months).
When it comes to where to buy and sell stocks, you can do that yourself through a Canadian discount brokerage account. Through the discount brokerage, you can then buy Canadian stocks on the Toronto Stock Exchange (TSX). The TSX is Canada's premier stock exchange.
Now that we have the basics out of the way, let's get started.
How to Begin With Online Stock Investing
To start online stock investing in Canada you first need to decide what kind of account you want to open. I recommend choosing either your RRSP or TFSA. Take a look at my RRSP vs TFSA article to help you decide. Note that you can also use an unregistered account, however, using your RRSP or TFSA has some substantial tax benefits, and most Canadians who are using stock investing apps don't ever need to go beyond using these two tax-advantaged accounts.
Once you have that figured out, you'll want to open up an online brokerage account. There are plenty of options for Canadians. You can take a look at my Canadian online discount stock brokerage comparison article to get a better idea of your options. These brokerages come in many forms and flavours:
self-directed brokerages from major banks like BMO
discount brokerages like Questtrade  or Qtrade
automatic or Robo-advisor brokerages like WealthSimple
traditional fully managed stock portfolios by banks or investment companies
Signing up is easier than ever and can be done online in a matter of minutes. Once you have your account created and have set up your funding, it's time to buy some stocks.
I'm in, now what?
Now that you've gone through the process of signing up, registering and putting in your deposit, it's time to purchase some stocks.
If you're a beginner investor, we highly recommend ETFs as a good way to get started. Read our all-in-one ETFs guide to learn more. ETFs are a good start for both beginners and advanced investors as it gives you a quick and cost-effective way to get full market exposure. You can put your money to work and not have to worry too much.
How to buy individual stocks in Canada for beginners (not Dummies!)
In this section, I'm going to show you how to buy individual stocks in Canada. Let's say I have $1,000 to invest and I want to invest in BMO. Here's how to do that using my preferred discount brokerage, Qtrade.
Step 1: Sign in to your Qtrade account. You then have three options to start buying:
Click on Trade at the top toolbar, and select Equities
OR click the button that says Buy/Sell Equity Order
OR enter the Ticker Symbol (if you know it) under 'Get Quote' then hit submit then buy from the quote page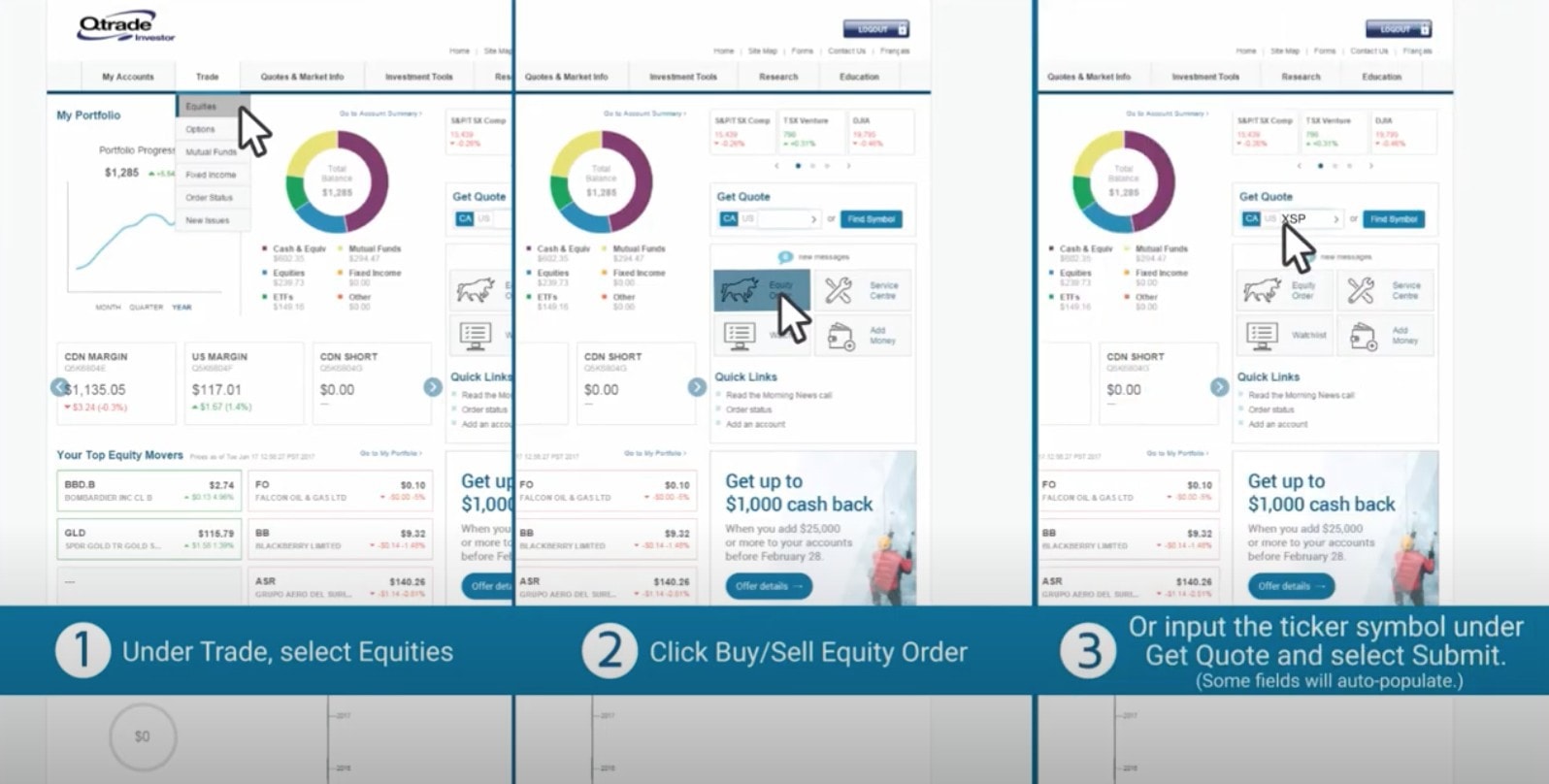 Step 2: Choose your stock and fill out the required information. Note that if you searched by ticker symbol, some of these will auto-populate.
Account: Which account you want to buy your stock from
Market: the country the stock is listed in (BMO is in Canada)
Ticker symbol: To find it, click the magnifying glass and search the company's name. For BMO it's BMO.
Action: select 'buy'
Quantity: the number of shares you want to buy. Say BMO shares are $105 apiece. This means, with your $1000, you could buy 9 shares.
Order Type: Choose' Market' which is the simplest way. A market order allows you to buy a stock at the best available current price.
Good Through: Set it at today's date
Enter your phone number then click 'review order'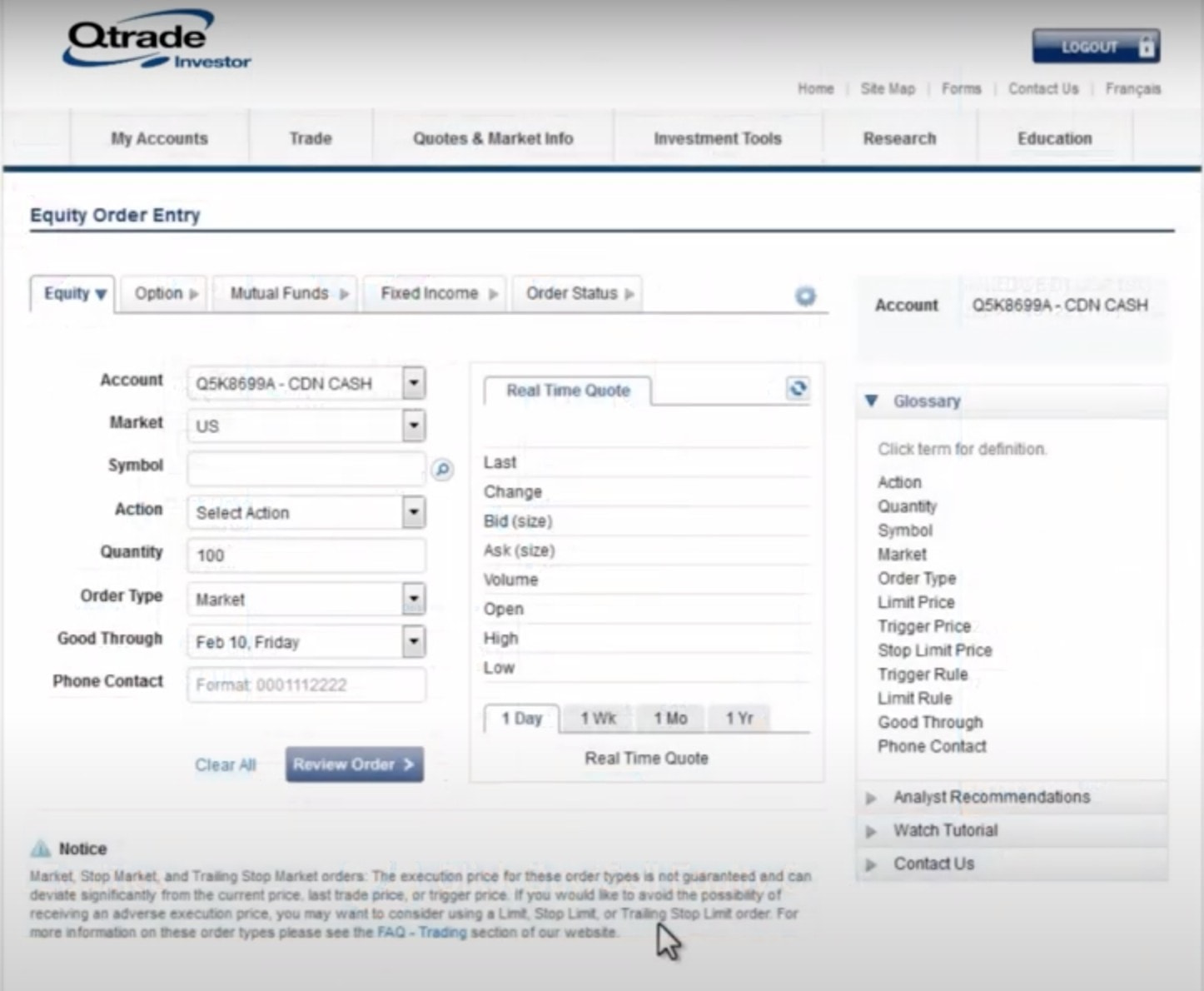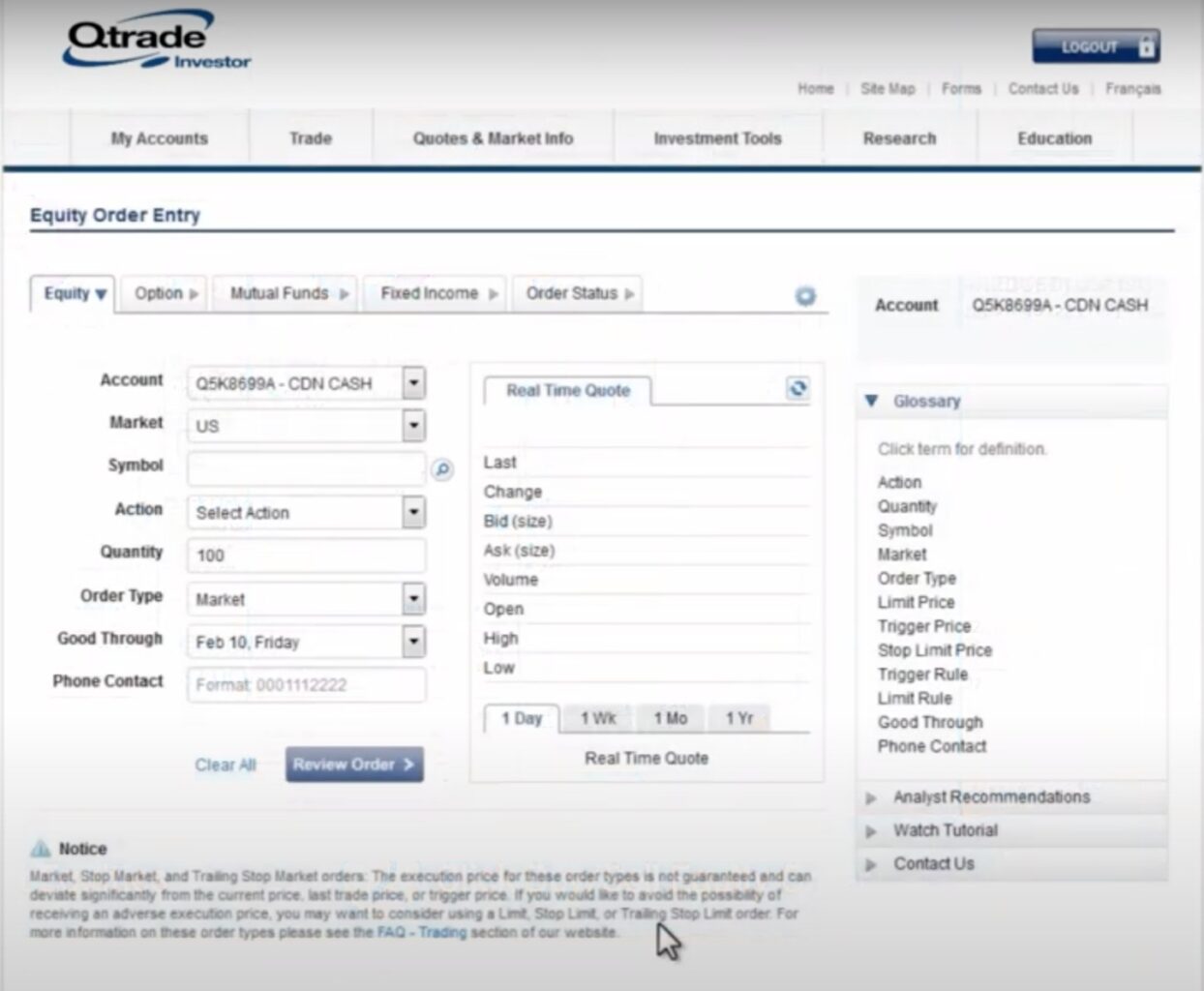 Step 3: Review your order. If something looks wrong, hit modify. If everything looks good, then you can confirm your order by entering your password and hitting the blue 'submit order' button.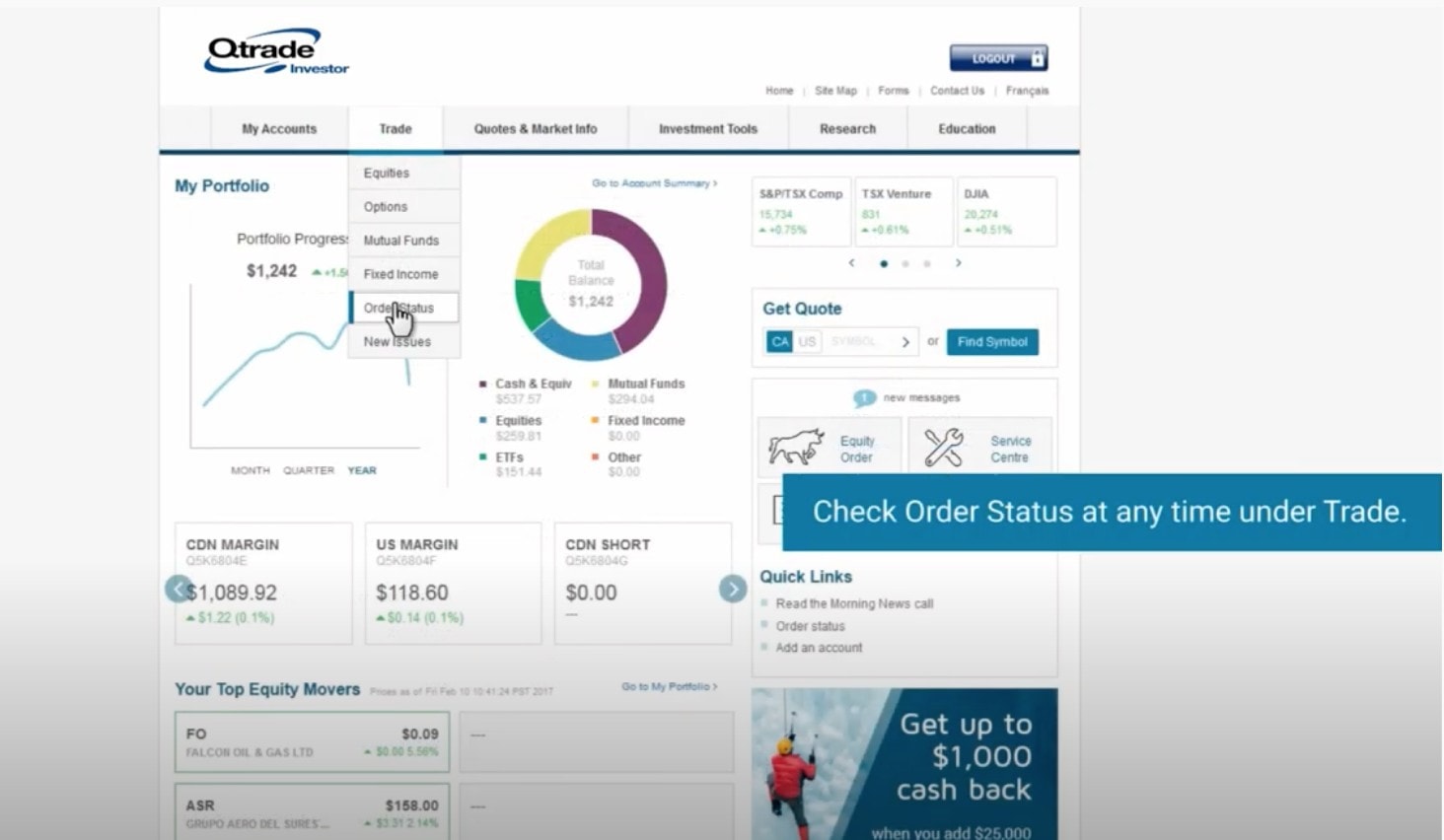 Congratulations! You have just began online stock investing in Canadian stocks! You now own several pieces of the massive company that is the Bank of Montreal. Your first dividend payments will be on the way in no time! You can check your status at any time by choosing 'Order Status' under 'Trade' on the main toolbar.
Market & Limit Orders
Market orders are the most straightforward and simplest types of orders. With Market Order, you are choosing to buy a stock or ETF at the best market price available on the market at the time your order is sent to the exchange market and is processed (i.e. executed).
In other words, if you are buying a stock, and the last order price is $28.80, then you will be buying stock in and around that price. Keep in mind, stock exchanges/the market executes orders in the sequence it receives them. So if someone buys a whole bunch of stocks just before you buy yours and that moves the price up to say $29.00, then when your order is ready for execution, you will be buying the stock at this new price.
But what if you want certainty in the price your paying for a stock? Enter, limit order.
Limit order gives you the ability to specify a price that you will pay when buying or selling a stock or an ETF. Your order will only be executed if the price matches the price you set, within the time limit you choose.
Now, you might ask yourself, why not always go with limit orders? This way, I can always make sure I'm not overpaying for a stock?

Well, while this is theoretically true, it also means that you might not be able to buy the stock or ETF you want at all. Remember, the order only executes when the stock price you set kicks in. If it never hits that price, or worse, if it goes up, you might lose the opportunity to buy a stock or ETF at the original market price. Timing the market is a tough business – one that even the pros can't get right.

That said, one major benefit of limit orders is that you can set a price you believe to be a fair price for a stock. Assuming you do your homework and understand what a fair value of a company, say using value investing principles, then using limit orders ensures that you won't overpay for a stock. 
Buying Stocks in Canada – FAQ
Final Words
Before you start buying stocks, you owe it to yourself to do a bit of research. Read some of our reviews on some of the major brokerages, such as Questrade, Qtrade, and Wealthsimple. Also, do some homework on what it means to own a stock, what is fair value, diversification and simple to understand strategies like "Value Averaging", or even "The Hot Potato Investing Strategy".

That said, if you want to get started now and want to learn as you go, we suggest that starting with an ETF, such as the ones discussed in this all-in-one ETF comparison. EFTs are great as they are large, diversified portfolios of stocks, that give you exposure to the market while minimizing the risks of having to pick winners and losers.
I've Completed My Million Dollar Journey. Let Me Guide You Through Yours!
Sign up below to get a copy of our free eBook: Can I Retire Yet?