For those hard core dividend investors, this post may seem a little trivial, but it will be of use for those just starting out on their dividend investing journey.
Date of Record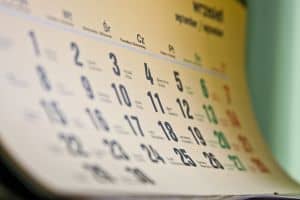 Dividend paying companies typically distribute their payments to investors on a quarterly basis.  When they declare their dividend, they typically state a date of record.  That is, the date in which the investors who own the stock on the record date will receive the distribution.
Seems easy enough right?  However, investors need to account for the settlement time.  That is, it typically takes 3 days after the purchase of a stock for the stock to settle (ie. to officially own the stock).  That's where the ex-dividend date comes in.
Ex-Dividend and Cum-Dividend
The ex-dividend date is 2 days before the date of record.  Basically, if an investor purchases a dividend paying stock before the ex-dividend date, the investor will be entitled to receiving the dividend.  The time before the ex-dividend date is known as cum-dividend.
If the investor is looking to sell a dividend stock but would like to receive the upcoming dividend distribution, he/she would have to sell on or after the ex-dividend date to remain on the date of record.
Summary
I know, this stuff can be kinda boring but knowing these terms is important if you are, or becoming, a dividend investor.  The most important thing to remember is that if you want to receive the upcoming dividend, you need to own the stock (after settlement time) on the announced date of record.
I've Completed My Million Dollar Journey. Let Me Guide You Through Yours!
Sign up below to get a copy of our free eBook: Can I Retire Yet?