Why Canadians Don't Redeem Coupons
According to the Coupon Industry Association of Canada*, in 2006, Canadians redeemed 100 million of 3.6 billion coupons available.
Canadian consumers that did redeem coupons saved over $134 million dollars.
This sounds like a lot of coupons redeemed, but when you calculate the amount of unredeemed coupons it is astounding.
With an average face value of $2.02, the amount of unredeemed coupons is approximately $7 billion dollars.
Some reasons why Canadians do not redeem coupons?
Coupons are not for all consumers. There are several reasons why consumers do not use them.
Cutting them from magazines or newspapers, printing them from various websites like, Grocery Alerts , or sorting them from the mail is time-consuming. It takes time and effort to clip coupons and organize them. Having to carry them to the store is too much of a hassle for many shoppers, whether they save a few dollars or not. Most consumers could not be bothered.
Another possible reason why some Canadians might not redeem coupons is that they might spend more money. A coupon's purpose is to entice shoppers to try a new product. Some consumers are brand loyal and do not wish to switch brands to save some money. The discipline required to not spend additional money may be lacking from some shoppers.
Coupons are typically for name brand products for items such as Tide and Sunlight. If a family on a budget and needs to choose between Tide when using a coupon and the store's private label brand, the final price could show that the private label brand is cheaper even if the coupon is redeemed. Therefore, using a coupon would not be beneficial
When I was a teenager and went grocery shopping with my mother, I always saw the people that redeemed coupons and I perceived them as being "cheap." The possible embarrassment or being labeled as "poor" or "cheap" is why some people don't use coupons. The stigma attaching to using coupons probably still remains, especially at long lines at the grocery store when someone is trying to redeem double coupons.
Some Canadians still redeem coupons
However, the recent recession has changed the general public's mind when it comes to redeeming coupons. In tough economic conditions, families are forced to stretch their budgets further. This includes redeeming coupons on everything from oil changes to clothing stores to laundry detergent.
Thanks to the Internet, several grocery stores (Real Canadian Superstore, Save-on-Foods, Safeway Canada) have added coupons to their websites and new websites have propped up to aid in gathering more coupons.
The fact that more and more merchants are offering coupons shows the demand for them.
Final Thoughts
Personally, I carry a grocery coupon binder (just a simple tupperware container), that organizes all my coupons into different categories for easy redemption.
I have had terrible experiences at stores explaining that they do not accept photocopied coupons and when you inform the cashier that they came from a retailer's website or from our website, it does not make a difference. Speaking with the manager at the local Save-On-Foods if the coupon came from the retailer and that it has a valid bar code, a valid expiration date, and a valid Canadian redemption address they typically redeem the coupon. This is something to look out for if a cashier or merchant ever refuses to take your coupon. Just explain that the printed coupon has everything they need to redeem.
It is not a lot of money saved typically, but I do find the coupons add up when you combine them when an item is on sale.
Here is a recent transaction.
This copy of the receipt shows that I saved 75 cents off the Glad Wrap. This does not sound like much money, however, since the item was on sale at $2.99 using the coupon saved me an additional 25% off the sale price.
How do you tend to use coupons? Do you find them more hassle then the savings?
* –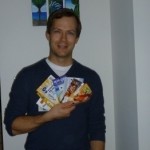 Author's Bio: The author is Steven Zussino, Founder of Grocery Alerts Canada (http://www.groceryalerts.ca/) – Home of grocery deals and money saving coupons. He enjoys personal finance and saving money in beautiful Victoria, BC.
I've Completed My Million Dollar Journey. Let Me Guide You Through Yours!
Sign up below to get a copy of our free eBook: Can I Retire Yet?