The Trouble with Reward Points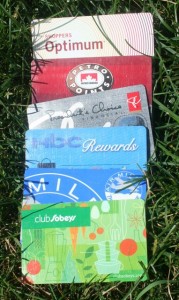 I love reward points. I collect PC (President's Choice) points, Shopper's Drug Mart Optimum Points and Airmiles. Recently even Sobey's started offering points and I got one of their cards too!
Shopper's Drug Mart makes very little off of me, so much so that I've begun to question the ethics of points. Just last Saturday, on double point redemption day I cashed in 40,000 Optimum points for $100 worth of free stuff. My trick? I read the flyers, only buy what's on sale at a lower price then I could get it anywhere else, buy what's on my list and only shop there on double point days. Then I cash in my points on double point redemption days.
Just this morning I picked up a brand new 'pay as you go' PC Mobile LG Rumour cell phone. They were offering $10 off in groceries when purchasing a new phone. My old 2004 model had a dying battery and I'd been looking at them for a while. I 'paid' for the phone with PC points and picked up a large can of coffee and some OJ for all for 'free'! It didn't cost me a thing. I use a PC Mastercard for all of my monthly purchases and pay it off every month. Our expenses aren't huge but it adds up quickly over time.
I also have a free subscription to MoneySense magazine and to Chatalaine which I received by redeeming Airmiles. Airmiles has all sorts of things to redeem with points including cameras, ipods, movies, gaming systems, passes to museums and more. I didn't find the HBC (Hudson's Bay / Zellers) points very lucrative but found that I could automatically transfer HBC points to Airmiles.
I pay for my purchases with my PC Mastercard but show my Airmiles card wherever it's accepted. I also shop through Airmiles stores. With a student in the house we are regularly purchasing pricey textbooks through amazon or chapters. If I shop through Airmiles store, it's the same price but I get extra points.
Lately I've started to wonder, if I've been saving thousands of dollars over time by using reward points, who is paying for what I'm getting? Someone must be! My guess is it's the guy who pays full price for the can of $4.99 shaving cream, the same brand which is available in the grocery store for $2.75 and at Walmart for $1.99. Perhaps it's the company itself that takes a risk that I'd buy more when they offer points on products.
Is it ethical to use points to my advantage knowing that in some cases a company is losing money on me? I've never paid a late fee on my Mastercard and never paid a cent of interest. I don't have any balance protection insurance or identity theft insurance. They don't charge a yearly fee. Yet I've managed to redeem over $1629 in free groceries and other items including a new cell phone just through my PC Points alone.
Studies have been done that show that people are motivated to spend more when points are offered. It's why companies offer them. Yet if I'm careful to buy only what's on sale and only what's on my list; if I play by my rules instead of theirs and save money in the process, is it still ethical? I'm not breaking any rules but I do wonder who is subsidizing my new cell phone, my thousands of dollars in free groceries, my hundreds of dollars of savings at Shopper's and my future ipod touch thanks to Airmiles.
Editors Note: In my opinion, if you like to travel, the highest yield (no fee) rewards credit card in Canada is the MBNA SPG Mastercard.
Kathryn works in public relations and training for a non profit. In her off hours, she volunteers as a financial coach helping ordinary Canadians with the basics of money management. Her passions include personal finance and adult education. Kathryn, along with her husband and two children live in Ontario.