The Secret Language of Money – Book Review and Giveaway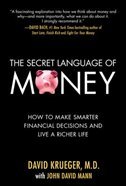 It has been a while since my last book review (in June) as my reading hobby has been on the back burner lately as my free time has been scarce.  Today's review is about a book that focuses on money psychology and how it affects our lives.
The book is called "The Secret Language of Money" written by David Krueger and John David Mann.  As money psychology has been an interest of mine for the past little while (see what's important about money to you), I found this book to be  a great read.  It's not a typically personal finance book about numbers and retirement, but it does some digging into the root of our money decision making.
We'll be giving away a couple copies of this book, scroll down to the end of the post to see how enter.  Even if you don't win a copy, I suggest that you pick up a copy at your local library when it's available, it's well worth the read.
About the Authors:
According to the book:
David Krueger, M.D., formerly practiced and taught psychiatry and psychoanalysis for more than 25 years.  he is currently CEO of MentorPath, an executive coaching practice serving corporate executives and healing professionals.  he serves as mentor coach and dean of curriculum for the Coach Training Alliance.

John David Mann has been writing about business, leadership and the laws of success for more than 20 years. He is coauthor of the Wall Street Journal bestseller The Go-Giver and the award winning A Deadly Misunderstanding and author of The Zen of MLM.
About the Book
The Secret Language of Money is about finding your "money story" to determine what's holding you back.  Once that is determined (via various  questions and fill in the blanks), the author goes through the process of changing your money story to one which is in alignment with what you really want from life.
The Secret Language of Money is a guided tour to the subconscious meanings we give money, the conflicted ways our brain deals with money, the reasons we tend to make the same money mistakes over and over – and most importantly, how you can change all that.
The book is separated into 3 sections:
Your Money Story – The 5 or so chapters in this section goes through various questions to ask yourself via various fill in the blanks.  This includes a chapter on what your existing money personality is.
Plot Twists – In this section, the author goes through various examples of people and their money situations.  A story that stands out is the architect with a 7 figure net worth who kept setting higher and higher money goals, but could never get enough.  Of course every story has a lesson and how it applies to you.
Writing a New Money Story – The last part of the book has a few chapters on more "fill in the blanks" to write your new money story.  Answering questions like, "how much is enough?", "What are your passions?".  In addition, it has a work sheet on how to set realistic goals.
Final Thoughts
As I mentioned above, if you have a personal finance book collection, this book would be a great addition.  At the very least, request it from your library to add to their collection.
The Secret Language of Money is all about challenging our existing (and stubborn) money beliefs, and what we can do to make long term changes for the better.
Want a Free Copy?
McGraw-Hill was generous in offering Million Dollar Journey readers the chance to win 2 copies of the book.  The details are below:
Simply leave a comment and you'll automatically be entered in the draw for a free copy.
All email subscribers will receive an additional entry (we respect your privacy).
Please only 1 comment entry / person (please enter a valid email address).
Only those with a North American mailing address may enter (publisher rules, sorry).
Contest will end Sat 5pm EST Oct 10, 2009 and the winner announced shortly after!
I've Completed My Million Dollar Journey. Let Me Guide You Through Yours!
Sign up below to get a copy of our free eBook: Can I Retire Yet?