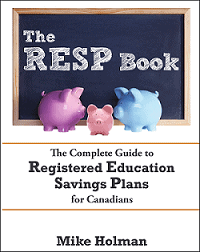 For parents, there is probably one expense in particular that can send them into panic mode…and that is  post secondary education.  With all the media covering how expensive college/university is becoming and how it's outpacing inflation by a large margin, it's no wonder that parents worry about how their kids will pay for school.
While some parents believe that the child should pay for 100% of post secondary education, there are parents who want to help out.  I'm in the helping out camp – I'll pay for tuition and books, but the student needs to pay for any extras.  For our family, we decided to go the RESP route to take advantage of the 20% contribution matching that the federal government offers.  That is, up to $2500 in annual contributions will be result in a grant of $500 deposited right into the account.  So that's exactly what we do, we contribute $2500 per year invested in a diversified low cost mutual fund portfolio for the RESP.
Ok, enough about me, this post is about a new book that a blogger colleague, Mike Holman of Money Smarts Blog, has written titled "The RESP Book" (Amazon link).  This book is a comprehensive guide to the RESP program in Canada and is a must read for any parent considering or even using the RESP.
About the Author:
From the back of the book:
Mike Holman has worked in the Canadian financial industry for almost two decades.  He runs the popular personal finance website MoneySmartsBlog.com which was nominated by the Globe and Mail as one of the Best Money Blogs in Canada.  MoneySmartsBlog.com has also been featured in several newspapers across the country.  A husband with two young children, Mike set up a family plan RESP for his kids.
About the Book
As previously mentioned, this book is a comprehensive guide to RESPs that spans from explaining how an RESP works, to opening an account, the to the types of investments to consider holding within the RESP.  This book reads more like a manual and is jam packed with details.  For example, when withdrawing from an RESP for a child attending post secondary schooling, did you know that you need to indicate how much of the withdrawal is from contributions (non-taxable) and how much is from accumulated income (taxable)?  This presents some interesting tax optimization strategies depending on the income of the student during the specific school year.
Perhaps one thing I would have liked to see more details on are the group/pooled RESP plans.  From my initial inspection of these heavily promoted plans, they seem quite expensive.
The topic areas covered in the book include:
Introduction to RESPs
RESP Account Rules
RESP Contribution and Grants (for lower and higher income families)
RESP Withdrawal Rules
Alberta Centennial Education Savings and Quebec RESP Grants
Canadian Residency, Part-Time Studies RESP Rules
How to Start an RESP Account and Basic Investing Information
Final Thoughts
Even though I already have an RESP started, I learned quite a bit from reading this book and I would recommend it to any parent considering or even using the RESP.
Want a Free Copy?
The author is offering Million Dollar Journey readers the chance to win a free copy of the book.  The details are below:
Follow our new Facebook page by clicking "Like" on the top of this page. (+1 entry)
Leave a comment in this post. (+1 entry)
Only one comment entry per person (valid email addresses only please – privacy policy).
Only those with a North American mailing address may enter.
Contest will end Fri 5pm EST Oct 22, 2010 and the winner, drawn randomly from all entries, contacted shortly after!
I've Completed My Million Dollar Journey. Let Me Guide You Through Yours!
Sign up below to get a copy of our free eBook: Can I Retire Yet?