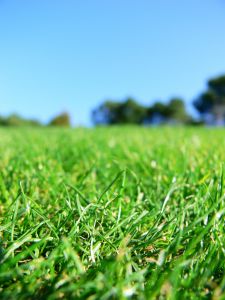 One thing I've noticed since we've built a house in suburbia is that everyone strives to have a perfect lawn.  It's quite the sight to drive through a subdivision, and all you see is perfect golf grass.  Some of these lawns are managed by professionals, but others are cared for by enthusiastic home owners.
I've never been much of a grass person, but since moving in, the grass obsession has been contagious!  I'm not to the point of trimming the lawn with scissors, but I do like having a nice lawn.  With that, I phoned around to the various professional lawn services to get quotes.  Without the lawn cutting services, most have packages that cover applications throughout the season.   These applications include aeration, spring lime, spring fertilizer, mid season fertilizer, bug/weed spray, fall lime and fertilizer.  The package prices ranged from $160 per season for the bare bones, up to $400/season for all of the services listed above.
Being the spend conscious person that I am, $400/season for someone to feed my lawn a periodically seemed like a lot of money, so I decided to figure out how to get a nice lawn on my own.  The easiest way to figure out the golf green puzzle is to ask existing home owners.  From my research, most home owners simply:
Dethatch (optional aeration) as soon as the snow melts
Followed by lime
Fertilize (with high nitrogen) after the first mow
Fertilize again 6-8 weeks after (high nitrogen)
Fertilize again in the fall (high potassium)
Lime before snowfall.
I left out the anti-weed chemical application as most weeds can be kept at bay by keeping the grass fairly long.  That is, use the highest blade setting on the lawn mower.
How much does this cost?  Here are some of the costs of the materials from the local hardware store (like Home Depot).  Note that the materials are for a standard 50×100 city lot (in NL).
Lime:  $5.99 per bag x 4 (2 applications, 2 bags per application) = $24
Fertilizer: $16 per application/bag (3 applications) = $48
Aeration: I own a 2 prong aeration tool, and only used in compacted soil areas: $20
Spreader: $35
Total: $127 first year, $72 per season after.
So for $72 per season after the first year, it's quite a difference from the $300-400/season quote from the local lawn companies.  The $72 does not count for my time, but I must say that spreading lime and fertilizer does not take much time at all.  In fact, mowing the grass takes longer.  The one big value I can see the pros adding is if the lawn has an insect problem.  In that case, I would simply hire them for the pesticide application(s).
For those lawn enthusiasts out there, do you have any tips on maintaining a nice, cost effective, lawn year after year ?
I've Completed My Million Dollar Journey. Let Me Guide You Through Yours!
Sign up below to get a copy of our free eBook: Can I Retire Yet?