Teaching Kids about Money – Oprah Again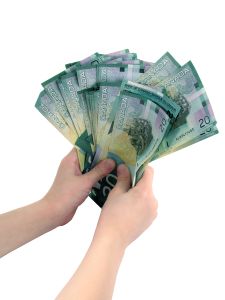 While TV channel surfing one recent evening, I came by another episode of Oprah that had Suze Orman as a guest.  As you may remember, I've written about Oprah and money before where Suze spoke to Oprah about the grotesque amounts of debt that most North Americans are holding today.
Why did Oprah catch my attention this time again?  No, not because of her new hair style, but because the topic was about money and kids.  In particular, it appears that this teen generation has a bigger sense of entitlement than previous ones.  Why is that?  Suze explains that with the booming real estate/stock markets (economy) in recent years when kids were 8 – 10 years old, parents were free spending as times were good.  Now as those spoiled children are teenagers, they feel that money is no object and whatever they "want" they should have regardless of the cost.
How can we reverse this trend?  What can we do to teach children/teenagers about the value of money?  Here are some suggestions that I learned from the show.
Kid Money Lessons:
Kids follow what you do not what you say – If parents are free spending without regard to how much something costs, then children will pick up on that.  If parents are responsible with money, then it is shown that  kids will learn from that.  Suze Orman considers this to be the biggest money lesson for parents.
An allowance must be earned – Suze Orman believes that children must earn their allowance through doing chores around the house.  Specifically, she recommends to pay the child by the minute based on minimum wage which works out to be around $0.10 – $0.15/minute of work.  If the work is done well, then give the child a raise.
Should a teenager have a credit card? – This would depend on if the teenager has shown that he/she is responsible with money.  It is suggested that as a requirement for getting a credit card that the teenager must pay the credit card balance in full 2 weeks before it's due.

Don't reward kids with money – Getting good grades etc. should not be rewarded with money, it should be rewarded with quality time with the parents.  Only work should be compensated with money.
Teach kids to separate needs and wants – Kids want everything!  The best thing to do is to teach kids how to prioritize their needs and their wants.
For those of you who have kids, what are you doing to teach your children about money?  I know that a lot of you have very young children (like me), have you thought about money lessons for your kids?