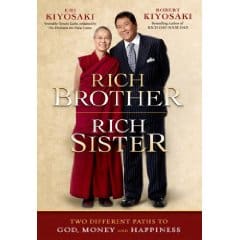 Robert Kiyosaki is at it again with another book titled Rich Brother Rich Sister – Two Different Paths to God, Money and Happiness.  Did you know that Mr. Kiyosaki's book "Rich Dad Poor Dad" has been on the New York Best Sellers list for the past 7 years?  I'm one of the many who have read Rich Dad Poor Dad and although it doesn't explain a lot about "how" to get rich, it does have a lot of value in explaining how rich people think.
About the Authors
Rich Brother Rich Sister is written by two people, Robert Kiyosaki and his sister Emi Kiyosaki.  Most of us know who Robert Kiyosaki is.  He is the author of international best seller of the Rich Dad Poor Dad series of books along with being a real estate investor.  However, who is Emi Kiyosaki?  Emi took an entirely different path than Robert.  While Mr. Kiyosaki took the path of financial greatness, Emi followed a spiritual path and was ordained (by the Dalai Lama) as a Buddhist nun.
What is Rich Brother Rich Sister about?
This book is a little different than Robert Kiyosaki's other books where Rich Brother Rich Sister is more of a biography and personal development guide than a "financial book".  It contains many life lessons that I think that we can all learn from.
It starts off with what Robert and Emi Kiyosaki were like as children and how they grew up during World War II.  The story evolves into how they both went on their own separate paths and the struggles that they went through to get to where they are today.  Each chapter contains perspectives from both Robert and his sister.
What I found refreshing was that both authors humbly admit their faults and what they have learned from them.  For example, with Robert, he admitted to having a dark side along with being discharged from the U.S Army.  Emi, she went through many struggles in life (both financial and health) which mainly stem from her trying to find her path in life.
For those of you who have already read "Rich Dad Poor Dad" or the "Cash Flow Quadrant", this book helps put depth into what Robert Kiyosaki preaches and why he believes so strongly in what he does.  If you're anything like me, you've questioned if you're doing what you're supposed to be doing.  This book helps answer that question in describing how two siblings found their path to a fulfilling life and their lessons on how they both got there.
Want a Free Copy?
Simply leave a comment and you'll automatically be entered in the draw for a free copy.
Please only 1 comment entry / person (please enter a valid email address).
Only those with a North American mailing address may enter (publisher rules, sorry).
Contest will end Thursday 5pm EST Jan 22, 2009 and the winner announced shortly afterward!
I've Completed My Million Dollar Journey. Let Me Guide You Through Yours!
Sign up below to get a copy of our free eBook: Can I Retire Yet?