This is another book review from, our favorite millionaire, QCash.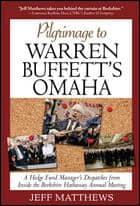 "Pilgrimage to Warren Buffett's Omaha: A Hedge Fund Manager's Dispatches from Inside the Berkshire Hathaway Annual Meeting" by Jeff Matthews is a history lesson of Berkshire Hathaway, Warren Buffett and Charlie Munger.  Matthews uses the 2007 and 2008 annual general meeting, and more importantly, the question and answer period as a backdrop for an analysis of Berkshire Hathaway and Buffett.
About the Author
Jeff Matthews is, as the title indicates, a hedge fund manager and the author of "Jeff Matthews Is Not Making This Up", his distinctive financial blog.
The Book
For those who don't know, Buffett and Munger, for about five hours annually, answer unscripted and unvetted questions in the Qwest Arena in front of 27,000 or more shareholders and their guests. There are no lawyers, no PR people, and no subject off limits.
As Matthews makes clear, the majority of these questions resolve around the WWWD (What Would Warren Do?) type and very few discuss the actual day to day running or performance of the business.
Matthews was there as a guest in 2007 and as a shareholder in 2008.
He outlines the "Buffett cult-like" mentality among Berkshire Hathaway shareholders and discusses many of the 76 different businesses owned by BH (I did not know they owned Ginsu knives).
What I Enjoyed
I enjoyed the pacing and organization of the book.  It is not your typical financial advice book, but provides lots information regarding Buffett's insights and thought-processes.
Matthews uses the questions asked as a guide through the history of Berkshire Hathaway.  He gives an account of the answers and then a brief outline of some examples from the past and present supporting or disputing the answers given.  As well, he includes an analysis from Warren Buffett's infamous Chairman's letter.
I liked that the book covers the two most recent meetings which then the author intertwines the answers and forecasts given in 2007 with the results of 2008.  These results are then brought in context of the current fiscal situation.
I also enjoyed the fact that Matthews poses legitimate questions about the ongoing operations and management of the Berkshire Hathaway holdings.  Specifically, he compares some of the businesses with similar businesses and asks why they are not enjoying the same sort of success.  Berkshire Hathaway has been a phenomenal success as a whole, but individual businesses have not fared as well.
What I Didn't Like
Matthews seems to question the "progressive" views of Buffett and asks why there are so few minorities among the shareholders.  At one point he mentions he sees only 13 African Americans among the 31,000 people attending.  I am not sure exactly what point Matthews is trying to make except to suggest perhaps that African Americans are not buying Berkshire Hathaway stock, or that they don't attend the meeting in Omaha.
I personally don't believe this is a problem with just Berkshire Hathaway and would probably make a good social studies paper, but I don't believe there are any restrictions on minorities purchasing Berkshire Hathaway stock.  Regardless, Matthews doesn't suggest what might be done?  Hold a lottery for minorities and hand out shares? That would run counter to everything Buffett believes in.
Final Thoughts
The book is an excellent read, well researched and thoroughly enjoyable for those who want to take a peak inside the Berkshire Hathaway annual general meeting without getting bogged down with all the technical details.
As a side note, it turns out my father in law has been an A share holder since 1994 and has never attended a meeting. I think we may take a father-in-law/son-in-law bonding trip to Omaha this year based solely on this book.
Want a Free Copy?
Simply leave a comment and you'll automatically be entered in the draw for a free copy.
Please only 1 comment entry / person (please enter a valid email address).
Only those with a North American mailing address may enter (publisher rules, sorry).
Contest will end Friday 5pm EST Feb 27, 2009 and the winner announced shortly afterward!
I've Completed My Million Dollar Journey. Let Me Guide You Through Yours!
Sign up below to get a copy of our free eBook: Can I Retire Yet?