I've asked QCash, the young and retired millionaire, to write a book review on No Hype – The Straight Goods on Investing Your Money.  Here is a great summary that he came back with.  Be sure to check out the giveaway at the end of the review!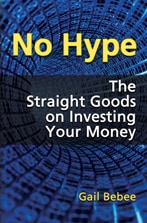 Thanks to Million Dollar Journey for giving me the opportunity to publish my first book review. Let me begin by saying that I enjoy reading books about finances at all different levels, from the beginner to the technical investor. I hope that every time I read a new book, I at least find something new or improve my knowledge even slightly.
Now on to the book: No Hype – The Straight Goods on Investing Your Money by Gail Bebee.
The book is described as a primer for those who are wish to invest beyond the standard bank offered mutual funds and GICs we all seem to start with and need some guidance on the range of investing. The author calls this book "the book I couldn't find when I began to seriously focus on investing."
It is different from a beginners guide and it has to be taken in the context of someone is invested but knows they want to invest differently but is not sure why or how.
About the Author
According to the book:
Gail Bebee, B.Sc., M.Eng., is an independent investor. She has mastered the finer points of investing through completion of the Canadian Securities Course with honours, hands-on investing experience, membership in the Tycoons Investment Club and extensive reading.
About the Book
I think that the fact that the book defines itself as a primer for those who "want to get serious" about investing differentiates it from "a beginners guide." However, Gail is certainly willing to start from the very beginning, talking about the power of compounding and the rule of 72 all the way up to technical analysis of stocks.
I personally found the way she presented the information in 26 bite-sized, yet comprehensive chapters organized in 7 sections useful and an intuitive progression.
While she touched on real estate as an investment vehicle, it was lumped in with real estate, commodities and collectibles. I liked her comment not to confuse your home with an investment in real estate, but her total real estate advice was to stick with REITs. Personally, I feel real estate could have been a chapter in and of itself.
Pros/Cons
I liked her title of chapter 17 – "Alternative Investments – Investments or Gambling" where she warns readers away from flavours of the month and to stick with fundamentals. I have been an advocate of that for many of my less savvy investor friends for years.
The only fault I would have with this book is that for someone offering "no hype", she is not afraid to provide her own personal opinion on the suitability or appeal of certain investments, but given her experience I would be prepared to take most of her advice. With that said, she is not an advocate of income trusts for reasons she spells out in her book and I would personally disagree with her about certain types of trusts, but that is probably a personal risk tolerance thing.
The Bottom Line
No Hype lives up to its billing as a the Straight Goods on Investing Your Money. While I don't believe it is for the absolute beginner (there are better books out there to get people started in investing The Wealthy Barber, Smart Couples Finish Rich, etc.), I would recommend this to anyone who is thinking about taking control of your own portfolio or someone who needs a primer on an investment asset class they are not currently utilizing.
And one last thing: I did learn a few new things, especially regarding split share corporations I didn't know before.
Want a Free Copy?
Simply leave a comment and you'll automatically be entered in the draw for a free copy.
Please only 1 comment entry / person (please enter a valid email address).
Only those with a North American mailing address may enter (publisher rules, sorry).
Contest will end Friday 5pm EST Jan 30, 2009 and the winner announced shortly afterward!
I've Completed My Million Dollar Journey. Let Me Guide You Through Yours!
Sign up below to get a copy of our free eBook: Can I Retire Yet?