My Top 5 Financial Goals for 2017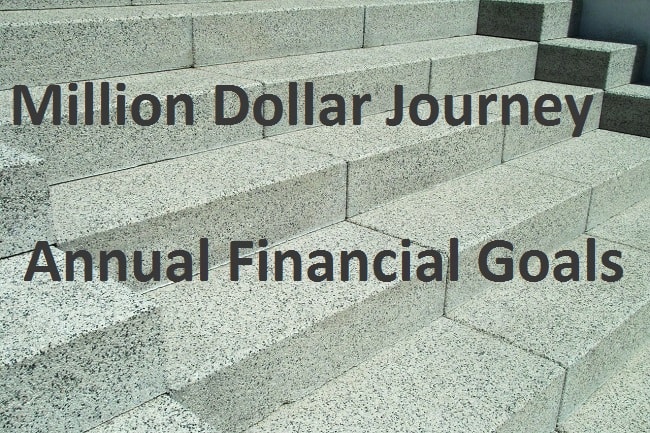 It's early in the new year which means that it's time to focus on goals for 2017.  It has been a while since I've posted annual financial goals, but my financial freedom goal has re-ignited my motivation.
It's no surprise that I'm a fan of setting goals, a big one being the million dollar net worth goal that I set back in 2006 and achieved in 2014.  I believe that setting these goals provided direction and motivation over the years that resulted in hitting major our financial milestones.  Since hitting that net worth goal, my focus has shifted from net worth growth to a goal of building enough passive income to cover our recurring expenses.  In the last financial freedom update, I reported that we currently generate close to $24k/year in investment dividends, my main focus for this year is growing my dividend income stream.
So how do I go about setting goals?  I typically follow the SMART goal format, here's a little more about SMART goals in an article that I wrote in the past:
 One strategy that has been written a lot about a lot in the blog world is using the SMART goal strategy. SMART is an acronym for:

S: Specific
M: Measurable
A: Attainable/Actionable
R: Realistic/Relevant
T: Time Based

The SMART goal system is similar to my philosophy of making baby steps towards a larger goal where it creates a systematic method of achieving even the largest of goals.
Having summarized the system that I use, here are my financial (and related) goals for 2017.
1.  Maximize Investment Contributions
This goal is something I have every year to push me to get those contributions deposited.  For this year, I'm looking to maximize both TFSA's ($11k), the RESPs ($5k), and our RRSP's (varies).  Our RRSP contribution amount is relatively small since I work with government which means I contribute to a defined benefit pension (which reduces my RRSP contribution room).  I'm happy to report that we have already maxed out both TFSAs and RESPs – both of which were completed earlier this month.
2. Grow our Passive Income
In order to reach $60,000 in passive income in  milestone in 4 years time, I need to remain aggressive in saving and deploying capital.  By the end of this year, my goal is to reach $35,000 in dividend income from the current amount of approximately $25,000.  This will be a 40% increase year over year which is very aggressive but necessary to reach my long term goal.
3. Simplify our Portfolio
One goal I had in the past was to simply our portfolios with some ETFs.  We have since achieved this with Mrs. FT's RRSP where it is now 100% indexed (along with the family RESP).  This year, I hope to simplify our dividend portfolios by trimming positions that have cut or reduced their dividends.  I plan to hold only the best names in our dividend portfolios.
4. Read More Books
Although I have a fairly extensive finance related book collection, sit-down time with a good book has decreased significantly over the years.  I could use the excuse of having two young children who have more activities that I would like to admit, but in reality, reading (besides online articles) has fallen off the priority list.  For this year, I'd like to finish at least 6 new finance related (or other) books, and maybe grow a few brain neurons in the process.
5. Give More
From the beginning of MDJ we've made supporting local charities a priority.  We make an automatic monthly donation to a local children's hospital and monthly donation to a child in Guatemala through the Compassion Canada charity.  Our charitable donations have been flat (and even decreased a little) over the last few years, mostly because our incomes have been volatile, but I'd like to continue the trend of growing our charitable contributions.  For 2017, I plan to donate at least $2,500 to registered charities.
With the SMART philosophy in mind, what are your financial goals for 2017?