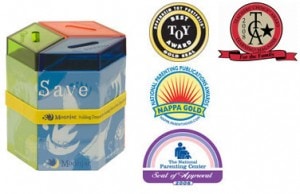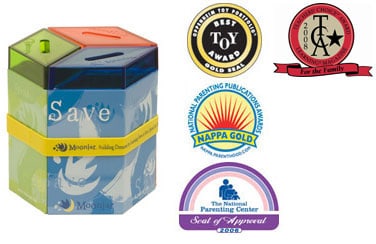 Yesterday I did a product review of a piggy bank like device, called the MoonJar, that helps teach children how to handle money.  More specifically, the Moonjar allows children to separate and store their money into 3 compartments; spending, savings, and sharing.  I think that this product is great for kids as both an educational and financial tool.
As a thank you for doing a review of the product, The Moonjar company has generously offered to giveaway the Moonjar to 2 lucky readers!
How to enter:
What are your thoughts on how to teach a child about money?  Or, how were you taught about money as a child – were you given an allowance?  Your answer/comment is considered an entry.
The Rules:
2 entries will be drawn at random from qualified comments.
Please only 1 comment entry / person (please enter a valid email address).
Moonjar will ship anywhere in North America for free.
Deadline:
Giveaway will end on 5pm EST Friday Dec 5, 2008 and names will be drawn shortly afterward.  Just in time for Christmas!
Good luck!