With Christmas just around the corner, it's a great time for another freebie.  Brent, from Moonjar Canada, is on a mission to get the word out to financial enthusiasts and has offered MDJ readers another chance to win the Moonjar Family package.
Moonjar "Family" Package
Last year, we did a giveaway of the Moonjar which created quite the buzz.  What is The Moonjar? It's a new age piggy bank that can help teach children about money by separating spending, saving, and sharing money. With the popularity of the previous Moonjar giveaway, the Canadian Moonjar distributor has again offered the Moonjar Family Package to Million Dollar Journey readers (~$100 value).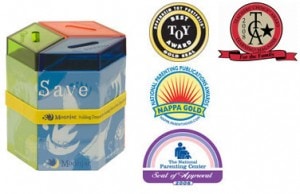 What's included in the Moonjar Family Package?
Classic Moonjar (x2) – As seen in the picture above.  The different sections represents a purpose for the money saved – saving, spending, sharing. You can read more about it in my Moonjar Review.
Conversation to Go Money game – Put the curious conversation about money on the table with these 100 open-ended questions. Share your dreams, lend your thoughts. An experience for the whole family.
Noom & Raj Start a Business (Hardcover) – Meet Noom and Raj (that's Moon and Jar backwards!). They want to start a business – a lemonade stand. Follow them through this fun adventure where they learn all about money words – Saving, Spending and Sharing with their Moonjar.
How to Enter the Giveaway:
In this giveaway, you can increase your chances of winning by obtaining multiple entries.
Tell me about how you learned about money as a child in the comments. (+1 Entry)
Follow me on twitter. (+1 Entry)
Tweet about this contest adding @frugaltrader. (+1 Entry)
The Rules
Lets go over some of the rules.  All contestant entries will be shoved into an electronic hat and drawn at random.
Only 1 comment entry / person (please enter a valid email address).
Only twitter followers on the date of draw are eligible.
Only those with a North American mailing address may enter.
Contest will end Sat 5pm EST Nov 28, 2010 and the winner announced shortly after!
Where to Buy?
If you would like to purchase this product, here are the stores: