Maple Review Ratings
Convenience

Ease of use

Online Help + Clear Instructions

Availability Across Canada

Cost

Variety of Treatment Options

1,000+ Google & Facebook Reviews
Maple Review Summary:
An overall excellent value. I've always wondered why I had to drive in and put up with hospital waiting rooms for the ear infection that I get every year or two! Now I can simply login, see a doctor within 5 minutes, get my prescription – and I'm off.
Well worth the $50 – and a big percentage of that is covered by my BlueCross plan. I can't wait to see how this virtual doctor and online prescription trend continues to grow in the years to come.
Pros
Very convenient and easy to use
Amazing reviews everywhere
Available from anywhere and doesn't waste your time
Fantastic customer service
Possibly already included in your health insurance plans
Cons
Reasonable price but not cheap
Limited amount of treatments and prescriptions
I hate hospital rooms!
My anxiety increases with every cough and sniffle, plus I hate the fact that I always have to show up 15 minutes early – only to wait an hour in order to get in.
So when I sat down to write our Maple review (also known as "Get Maple"), I was hoping that it wouldn't disappoint – and it didn't! The only small flies in the ointment are the relatively small (but growing) list of prescriptions.
Needless to say that during this worldwide pandemic, the value of Maple's telehealth abilities has skyrocketed.
How Does Maple and Online Prescriptions Work?
The basic idea behind Get Maple is that you shouldn't have to go to the hospital for relatively "minor stuff" such as:
Sick Notes

Bladder Infections/UTIs

Cold & Flu Diagnosis

Eye Infections (including pink eye)

Erectile Dysfunction (online Viagra and Cialis prescriptions)

Birth Control Prescriptions

Sexual Health Issues

Skin Treatments

Digestive Issues

Reoccuring Ear Infections

Bites and Stings Diagnosis

Strep Throat

Shingles

Mental Health

Chronic Back and Muscle Pain

Diabetes Consulting

+ Much More (being added to weekly)
Instead, simply sign on to Maple, and you can connect with a doctor in a matter of minutes – from the comfort of your own home!
There's no time limit on your doctor visits and they can email you an online prescription that is 100% legal and will be filled by your preferred pharmacy
Does Maple Use Real Canadian Doctors?
Yes!
Maple uses licensed, trained doctors from across Canada. Here's a list.
Full transparency – there are several things that doctors can't do through virtual health. In addition to the obvious stuff like triple-bypass heart surgery, Maple doctors (despite the fact that they are fully certified) cannot:
Prescribe narcotics such as Percocet and OxyContin

Prescribe Benzodiazepine medication such as Lorazepam (Ativan)

Prescribe ADHD medications such as Ritalin and Adderall

Provide 8-day or more sick notes (up to seven days you're good)

Help with an immediate emergency
It's also worth noting that you won't see the same doctor every time you login to Maple – they are supplied on a rotational basis. Personally, when I get my annual ear infection, I don't care who prescribes me the antibiotics – just that they give me that magical pharmacist ticket.
Finding an online doctor in Canada has never been easier! You can talk on the phone or via secured video conferencing on their custom-made platform.
How Much Does Maple Cost?
Maple is not part of the Canadian healthcare system and is not "free" like a doctor's visit would be. (That is "free" if you don't value your time, gas money, parking, and prescription charges.)
You choose one of three ways to pay for your Maple experience (all are quite affordable, in my opinion):
1) Simple pay-per-visit
2) An annual membership (which entitles you to 30 personal or 50 family annual consultations)
3) Discount Credit Packages.
Personally, I love the value of the family plan!
For fifty bucks per month you NEVER have to go to a hospital for your kids' ear aches, getting a sick note, or a wide variety of other everyday maladies. It's $30 per month for an individual membership plan.
The pay-per-visit model charges you:
$49 for a daytime consultation on a weekday

$79 for a daytime consultation on a weekend/holiday

$99 for a night time visit (midnight-6AM)
The discount credit packages use those pay-per-visit rates, but give you a little bonus for buying credit up front. So you get 5% off if you buy a $100 credit, 10% off if you buy a $200 credit, and 15% off if you buy a $500 credit. These credits never expire.
Does My Blue Cross, Extended Insurance, or Corporate Health Spending Account Cover Get Maple Virtual Medicine?
Maybe.
I was shocked to find out that telehealth services like Maple were covered by many of Canada's extended health plans.
What you want to do is search through your plan – or ask your HR person – about anything related to "virtual healthcare" or "telehealth" or "telemedicine".
More and more Corporate Health Spending Accounts are allowing Get Maple to be used, and Blue Cross recently released this update in regards to their Connect Care program.
Maple vs Telehealth Ontario and Provincial Healthcare
I don't want to be too critical of Telehealth Ontario. Afterall, it's trying to do a good thing.
But… how do I put this kindly…
You can tell that Telehealth Ontario is designed and operated by the government. It's not nearly as user friendly as Get Maple and oftentime just results in you being told to visit your nearest hospital or clinic (after waiting for an hour or more).
It's important to note that Telehealth Ontario is designed to connect you with a Registered Nurse for educational purposes – NOT to provide online prescriptions or diagnoses. Basically, they're there to answer questions, Get Maple is there to provide real solutions.
While various government health departments are trying virtual health initiatives, they are all stretched so thin these days, I wish they'd just embrace Get Maple to the same degree Prince Edward Island has. PEI has begun a pilot where they use the Get Maple platform to provide online prescriptions to rural patients who don't have immediate access to a doctor. As someone who has lived rurally much of his life, I love this idea!
Of course, it's worth reiterating that Get Maple is a private company and isn't free-at-point-of-delivery like your provincial health care is.
Should My Business Use Maple for My Employees?
When I came across this FAQ on Maple's site, it really opened my eyes.
Think about how many sick days people take off from your company – just so that they can get their child's ear looked at, or go see a doctor for something relatively minor like a bladder infection.
Then think about how many employees slog to work in a medicated fog despite their sickness due to the pain-in-butt factor of getting a sick note, etc.
Providing Maple benefits to the folks who work for you will solve these problems!
It came as no surprise to me that they highlighted this quote on their promotional materials:
"The monthly cost is more than offset by the ability to allow our team to quickly get the medical support they need without taking a day off work. It is a fantastic service."

-Bridgepoint Financial
This is a no-brainer benefit that your employees will love and that can help set your compensation package apart from competitors.
Getting an Online Viagra or Cialis Prescription
Look folks… no one wants to talk about this stuff. Despite the fact that it's a basic medical condition that boils down to blood vessels – it's still weird to walk into a doctor's office and chat about it. (Plus – have I mentioned how much I hate hospital waiting rooms – and that was before Covid-19.)
With Maple you can login, record your symptoms, type in any questions, and a few minutes later you have your prescription ready for your local or online pharmacist.
Quick Anecdote: Viagra ruined this song for me when I was a young adult…I prefer Ellen's take on the Viagra and Cialis commercial genre.
Maple Online Reviews and News
I took the platform for a spin when I sat down to write this review of Maple, and it worked flawlessly. The tech behind this website and app is really solid. That said, I'm only one data point, so I took a look around the web at what others had to say about Maple: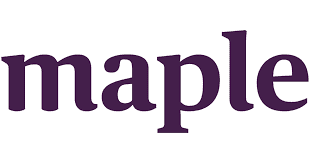 Facebook Rating: 4.5/5 stars
Apple Store: 4.9/5 stars
Google Store: 4.5/5 stars
And the services have been reviewed super positively by the Globe and Mail, National Post, and several TV news programs. I searched through many of them and couldn't find a single review that wasn't very positive – despite the fact people have to pay a small amount for their healthcare.
Maple Review: Final Verdict
Maple is a long overdue product for the Canadian market. We are a massive country with an equally large reliance on transportation, and a constantly-overburdened health care system. Anything we can do to make the experience of getting a prescription or diagnosis for basic problems a much smoother process is a no-brainer in my opinion!
With a couple years worth of proven track record under their belts, the Maple reviews are consistently excellent and I believe that the recent pandemic has only highlighted why this product will be sought after going forward.