Free at 45 – Book Review and Giveaway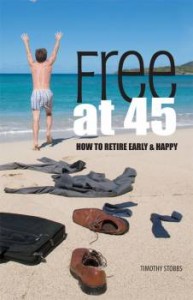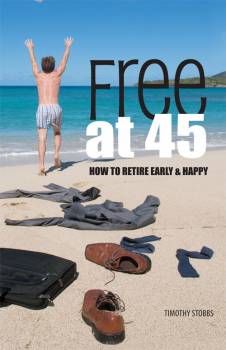 Timothy Stobbs, the author of the book Free at 45 – How to Retire Early and Happy (link), may be better known to you as the blogger behind Canadian Dream – Free at 45.  Tim recently completed his book project and contacted me to help spread the word with a review.  I must admit that I'm always impressed by bloggers who have time for a full time job, a full time blog, kids AND a book.  Personally, I have no idea how I would find time to write a book with my current obligations, so before I start the review I'd like to extend a congratulations to Tim!
As I've been following Tim's journey since he started his blog (around the same time as MDJ) I must admit that I was eager to dig into his latest creation.  The book, as the title suggests, gives advice on the steps required to achieve early retirement, but more importantly, how to do so happily.  You might expect that a personal finance blogger would write a book on early retirement completely based on numbers, how much to save etc, but this book includes refreshing perspective of the psychological aspects of retirement.
About the Author
In addition to the previously mentioned details about the author, here is what the book says:
Tim Stobbs is a personal finance writer who has written for the Toronto Star and the popular blog "Canadian Dream: Free at 45".  Tim's straightforward approach to happiness and finances has resulted in interviews with The National Post, The Globe & Mail and CBC Radio's "The Current".  He lives in Regina, SK.
About the Book
The book overall is a great resource for those considering retirement, whether it's early or not.  Tim's beliefs about personal finance and retirement align with much of my own, which is perhaps why I found the book to be such an easy read.  What topics are covered?  Out of the numerous chapters, it appears that the book has three main themes:
1. Retirement Psychology
Why do you want to retire?
Finding Happiness
Where's the Money Going Now?
Are we Happy Now?
Changing the View of Your Job and Working After Retirement
Learning the Art of Leisure
2. The Money
Finding the Money
Compound Savings
Free Money
Inflation
RRSPs, TFSAs and Taxable Accounts
3. Moving Forward
Living and Dying
Pulling the Numbers Together
Safety is a Very Expensive Illusion
The Backup Plan
When to Pull the Plug
The Day after Tomorrow
Going to Extremes
Want a Free Copy?
The author is offering Million Dollar Journey readers the chance to win a free copy of the book.  The details are below:
Tell me about your retirement plans (age, nest egg amount etc) by clicking here. (+1 entry)
Follow me on twitter (+1 entry)
Only one comment entry per person (valid email addresses only please – privacy policy).
Contest will end Sat 5pm EST April 23, 2011 and the winner, drawn randomly, will be contacted shortly after!
I've Completed My Million Dollar Journey. Let Me Guide You Through Yours!
Sign up below to get a copy of our free eBook: Can I Retire Yet?