Financial Goals Progress – Books I'm Reading
One of the perks of being a personal finance blogger is that I receive more books in my mailbox that I have time to read.  However, as one of my financial goals for 2017 was to read (and learn) a little more, I've made the intention to sit down with a good book as often as I can.
Although I have a fairly extensive finance related book collection, sit-down time with a good book has decreased significantly over the years.  I could use the excuse of having two young children who have more activities that I would like to admit, but in reality, reading (besides online articles) has fallen off the priority list.  For this year, I'd like to finish at least 6 new finance related (or other) books, and maybe grow a few brain neurons in the process.
Over the past few months, I've been fortunate in receiving three top quality books.  Two from experienced writers, and one that is fairly new to the scene.  Here are some brief details about the books and my opinion on them.
1. Millionaire Teacher – Second Edition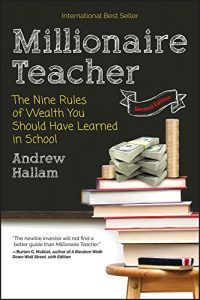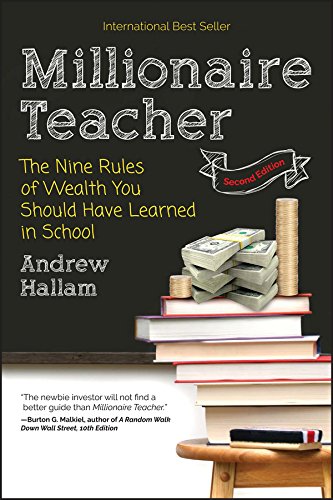 This book is written by Andrew Hallam who has built a million dollar portfolio on a middle-class income before the age of 40.  How did he do it?  Did he use any fancy trading schemes?  Not even close!  He built his portfolio and net worth the old fashioned way – through maintaining a simple lifestyle and investing the proceeds in a diversified indexed portfolio.
Millionaire Teacher shows you how to achieve financial independence through smart investing — without being a financial wizard. Author Andrew Hallam was a high school English teacher. He became a debt-free millionaire by following a few simple rules. In this book, he teaches you the financial fundamentals you need to follow in his tracks. You can spend just an hour per year on your investments, never think about the stock market's direction — and still beat most professional investors. It's not about get-rich-quick schemes or trendy investment products peddled by an ever-widening, self-serving industry; it's about your money and your future. This new second edition features updated discussion on passive investing, studies on dollar cost averaging versus lump sum investing, and a detailed segment on RoboAdvisors for Americans, Canadians, Australians, Singaporeans and British investors.
The book goes through his nine rules of wealth:
Spend like you want to grow rich;
Use the greatest investment ally you have;
Small fees pack big punches (so important);
Conquer the Enemy in the mirror;
Build mountains of money with a responsible portfolio;
Sample a "round-the-world" ticket to indexing;
No, you don't' need to invest on your own;
Peek inside a pilferer's playbook; and,
Avoid seduction.
This book has a powerful message about indexing – it's easy, it beats active mutual funds, and it can seriously build wealth if you stick to the plan over the long term.  I enjoy Andrew Hallam's writing style in that his book is super easy to read for both the novice and the experienced.
2. Victory Lap Retirement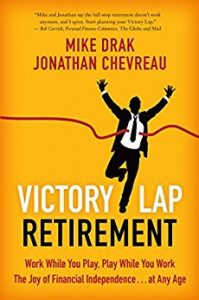 This is another book by popular financial columnist and author Jonathan Chevreau and co-authored by Mike Drak.
This book is a little different than the traditional personal finance book where this book is focused on retirement from a more qualitative perspective rather than quantitative.  More specifically, how to achieve a happy retirement with longer retirements than ever.
The old idea of full-stop retirement—going from 100 per cent work mode to 100 per cent leisure mode—is now neither sustainable nor desirable. Besides, many studies have shown that those who stay engaged, challenged, and stimulated stay healthier and live longer.

The key is to work because you want to and not because you have to. Victory Lap Retirement shows you how to create the post-employment lifestyle that's right for you—a unique blend of work and play that allows you to live life to the fullest, on your terms, while you are young enough to enjoy it.
The book covers the following topics:
Rethinking retirement;
Welcome to the corporate jungle;
Findependence: the cornerstone of victory lap retirement;
The seven eternal truths of financial independence;
Victory lap retirement;
Create a life from which you don't have to retire;
Goal setting and the pursuit of happiness: are you aligned?;
Time as a resource: everyday matters;
Health is wealth;
Spiritual health; and,
The final chapter: how would you like yours to read?
This is a thought-provoking book, especially for those that are within reach of retirement.  As I'm more of a quantitative guy, this book was refreshing and covered a lot of important topics that I believe in.  That is, you need to have purpose in your life, right now, and perhaps even more so in retirement.
3. Burn Your Mortgage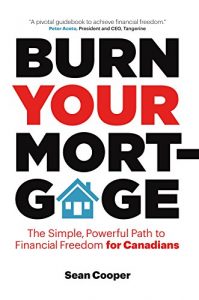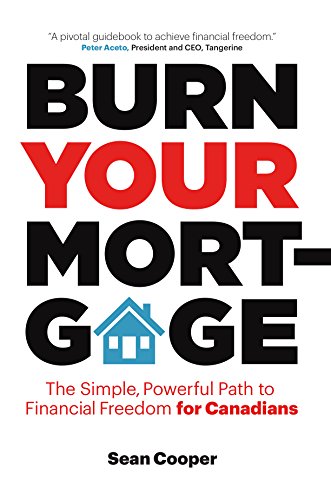 This is a book written by the controversial Sean Cooper.  Many years ago, Sean started his personal finance columnist career here on MDJ and has since grown into a columnist at larger publications.  If you've been following MDJ for a while, you would have read about how Sean paid off his mortgage in a few years through extreme frugality.  His methods aren't always popular, but they surely worked for him.
Burn Your Mortgage combines inspiring anecdotes with realistic and jargon-free financial tips and resources for achieving financial freedom no matter your financial situation. This easy-to-follow guide will help you pay off your mortgage at your own pace and show you how to live well while doing it.
The book covers the following topics:
Goal setting;
Budgeting and tracking your spending;
Credit cards and banking;
Getting the biggest bang for your buck;
Food, home entertainment, and phones;
Getting from point a to point b for less;
Coming up with your down payment;
Home buying basics;
House rich, cash rich;
The ins and outs of mortgages;
Making the most of your mortgage payments;
Closing costs and disbursements;
Protecting your castle; and,
Turning your home into an income source.
I found the book to be very easy to read and full of very practical and realistic advice on both home buying and saving money in general.  Congratulations on the book Sean!
You can find all of these books at Chapters and Amazon, but if you are buying, make sure to open an account with Great Canadian Rebates first to get an additional cash back discount.
I've Completed My Million Dollar Journey. Let Me Guide You Through Yours!
Sign up below to get a copy of our free eBook: Can I Retire Yet?