Contest Winners and Happy Holidays!
It's the post that we have been eagerly waiting for…  the giveaway winners!
I'm pleased to say that there was a huge turn out for this giveaway with over 2000 entries between comments, email subscribers, GreatCanadianRebate members and link backs.  Many thanks to our sponsors (see below) for making this giveaway interesting.
Without further delay, here are the winners:
5th Prize: Personal Finance Book: Killing Sacred Cows
As I mentioned in the giveaway post, Killing Sacred Cows was very popular among readers with the largest number of contest entries for any book review that I've written about.  I personally enjoyed this book and still find myself flipping through it on occasion.
After drawing random entries, a free copy of this book goes to…   coolwhip715!
4th Prize: The Moonjar – The Innovative Piggybank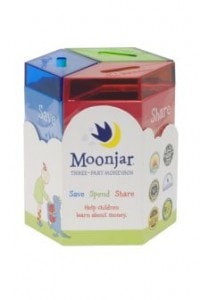 This is a great tool to help teach kids about saving, spending and charity.  As a matter of fact, I have my moonjar sitting in the baby's room just waiting to be used. :)
The owner of Moonjar Canada has generously offered a free Moonjar for this giveaway which goes to… Joshua Collings!
3rd Prize: Stock Trading INO TV Premium Annual Membership
I have mentioned INO Stock Trading TV a few times on this blog.  They offer educational online videos that teach you stock trading strategies and secrets.  As some of you know already, they provide a free version of their service with 4 videos from their collection.  Their full INO TV Premium membership provides hundreds of videos from super star traders.
The winner of the free annual INO TV membership is..   BigDawgPerkins.

2nd Prize: $100 Shopping Gift Card
Great Canadian Rebates has generously offered a $100 gift card for Million Dollar Journey Readers.  For those of you who don't know about Great Canadian Rebates, it's a free portal for online shopping that will allow you to receive cash back on your online purchases.  If you use this portal in conjunction with a cash back credit card, you can end up with a significant discount on your purchases.  Check out my Great Canadian Rebates review to learn more about them. Note that they are currently offering 6% cash back on Chapters.ca purchases.
So what exactly are they offering as a prize?  They are giving away a $100 gift card for one of the stores: Amazon, Sears, Chapters, Canadian Tire and The Shopping Channel.
The winner of the gift card is…  JayChowFan!
Grand Prize: Canon PowerShot SD1100 IS Digital Camera
Derek, the entrepreneur behind Price Canada, has once again generously offered to sponsor a great prize.  What is Price Canada?  It's a web portal that will do all the comparison shopping for you!  Simply type in the item that you are shopping for, and their search engine will come up with various stores offering the product that you are looking for with their current pricing.
Here are the specs of the Canon PowerShot SD1100 IS Digital Elph:
8 Megapixel resolution and high-quality 3x Optical Zoom lens
Optical Image Stablization
Features DIGIC III Image Processor for sharper images and improved functionality
Clear, high-resolution 2.5" LCD for easy on-camera viewing
Print/Share Button for easy direct printing and downloading, plus ID Photo Print and Movie Print options
Enhanced Face Detection Technology automatically sets focus, exposure, flash and white balance for greater shooting freedom
$200 Value
Who's the winner of this pocket sized camera?   Vilkri!
Congrats to all the winners and I hope that you all enjoy the rest of the holidays.  As I mentioned earlier, I will be taking the next couple days off but there will be a great post ready for Monday.
Merry Christmas and Happy Holidays!