Celebrating 3 Years of Million Dollar Journey: Day 2
As I mentioned yesterday, this anniversary giveaway is bigger than ever.  So big, in fact, that I had to separate the prizes into 2 separate posts.
Lets continue with the giveaway madness!
Computer LCD Monitor (22″)
When I contacted Questrade to see if they were interested in sponsoring a prize, they were very generous in their response.  They wanted to giveaway something that would improve trading, so what's better than increasing LCD screen real estate.
What is Questrade?  They are among Canada's lowest cost discount brokerages. They offer $4.95 commissions per trade for up to 495 shares and $0.01/share after that up to a maximum commission of $9.95/trade.   Not only do they offer low prices, they have a wide variety of account offerings.  RRSP, USD RRSP, TFSA, Non-Registered, and RESP (among others).  All of this with no annual fee or minimum balance.
If you are interested in opening an account with Questrade, make sure to use my coupon code for a $50 trading credit.
So what's the prize?  The lucky winner will receive a brand new 22″ LCD Monitor courtesy of Questrade.  This may be used to replace your existing monitor, or perhaps as part of a dual monitor setup if your video card supports it.
Moonjar "Family" Package
Last year, I did a review and giveaway of the Moonjar.  The Moonjar is a new age piggy bank that can help teach children about money by separating spending, saving, and sharing money. With the popularity of the previous Moonjar giveaway, the Canadian Moonjar distributor has offered the Moonjar Family Package to Million Dollar Journey readers.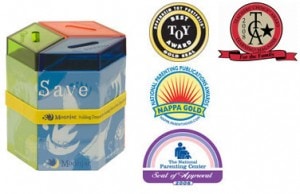 What's included in the Moonjar Family Package?
Standard Moonjar (x2) – You can read more about it in my Moonjar Review.
Conversation to Go Money game – Put the curious conversation about money on the table with these 100 open-ended questions. Share your dreams, lend your thoughts. An experience for the whole family.
Noom & Raj Start a Business (Hardcover) – Meet Noom and Raj (that's Moon and Jar backwards!). They want to start a business – a lemonade stand. Follow them through this fun adventure where they learn all about money words – Saving, Spending and Sharing with their Moonjar.
The Leader Lesson Plan – This 45-minute lesson plan gives teachers, parents or community members the tools to teach kids about money and Moonjar. Fun and educational, this tool makes money management accessible and entertaining for everyone.
In addition to the generous gift, Moonjar Canada is offering Million Dollar Journey readers an exclusive discount for a limited time.  You can save 15% up to Dec. 24, 2009 using code "SHARE15" on www.moonjar.ca.
How to Enter:
In this giveaway, you can increase your chances of winning by obtaining multiple entries.
Tell me about your best personal finance or investing tip in the comments (doesn't have to be original). (+1 Entry)
Follow me on twitter. (+1 Entry)
The Rules
Lets go over some of the rules.  All contestant entries will be shoved into an electronic hat and drawn at random.  Since there are 2 prizes available, the odds of winning are relatively high.
Only 1 comment entry / person (please enter a valid email address).
Only twitter followers on the date of draw are eligible.
To be fair to all contestants, each winner can only win once.
Only those with a North American mailing address may enter.
Contest will end Sat 5pm EST Dec 19, 2009 and the winners announced shortly after!
If you haven't already, make sure to enter yesterdays PlayStation 3 giveaway!
Good luck!