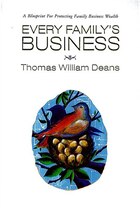 Dr. Thomas William Deans contacted me about a new book that he has written on family business succession called Every Family's Business: A Blueprint for Protecting Family Business Wealth.
I must admit, when I first heard about the book, I wasn't very excited about reading it as the topic isn't very "sexy". However, this all changed once I dove in.
Here is some food for thought, did you know that only 1/3rd of ALL family business survives to the next generation? On top of that, only 10% of the 1/3rd make it to the third generation? Could family business succession be that poorly handled? That's what this book has to offer. It discusses the main issues with family business succession and the plan to take to ensure that the transfer of wealth is achievable.
Who is Thomas William Deans?
According to the back of the book:
Thomas William Dean, PhD, is a sought after speaker on family business and succession planning. He is president of a large multinational family business for almost a decade; two generations of his family have founded, operated and sold their private and publicly traded companies for a combined value exceeding $100 million. This start-and-sell approach, guided by the annual review of a series of questions, has profoundly shaped his unique view of family business.
What is the Book About?
The book flows like The Wealthy Barber (my fav pf book) where the author brings his concepts to life through a story between everyday people. In this case, the story is between 2 successful businessmen both of which have sold their businesses for a substantial amount of money. That's where the similarities end however. After their businesses sold, one of them (William) maintained a healthy family relationship while the other family turned completely dysfunctional.
Apparently, it's very common for family business succession issues to cause a rift in family relationships, especially is there isn't a plan in place from day one. That's where this book comes in. The story explains what can happen without a proper plan from start to finish and steps you along the way on how to master family business succession planning.
More specifically, there are the 12 questions that should be reviewed every year between the parent (owner) and the children (potential owners). These 12 questions are what William used every year with his father which resulted in a lucrative business sale along with everyone being content with the deal. His plan has made it through 2 generations and has passed over $100 million in wealth through the family.
Conclusions
If your family owns a business, whether the owner is you or your parents, this book is a MUST READ. It will explain all the questions that must be answered to avoid going down the wrong path with your parents/children/siblings.
Even if you don't own a business, the book has entertainment value where it is filled with humour and wit. Not only that, you'll pick up some of the issues that big business owners have to contend with. Who knows, it could be you one day.
Book Giveaway:
Dr. Deans is very generous with giving away his book. Stay tuned for tomorrows post where Every Family's Business will be given away to 5 lucky MDJ readers.
I've Completed My Million Dollar Journey. Let Me Guide You Through Yours!
Sign up below to get a copy of our free eBook: Can I Retire Yet?