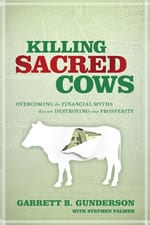 "Killing Sacred Cows" is certainly a catchy title.  At first glance, you might think that this book has some sort of religious theme, but it's not that type of book.  Killing Sacred Cows is about money myths that perpetuate, and the reasons why they are myths.  The thing that stood out most about this book is that it goes against common financial wisdom.  Think living frugally or maximizing a 401k (or RRSP) is a means to wealth?  The author certainly doesn't.
About the Author:
According to the back of the book:
Garrett Gunderson is an entrepreneur who became a multi millionaire by the age of twenty-six.  He is the owner of 5 companies, winner of the SBA Young Entrepreneur award, and one of his businesses is on both the Inc. 5000 list and the Utah 100 list of the fastest growing companies.  Garrett coaches elite business owners in the financial services industry and has created programs that empower people to achieve wealth.
What is this book about?
As I mentioned above, this book is about debunking money myths.  In particular, each chapter is separated by common money beliefs that can be holding us back.  To be completely honest, a lot of the so called "myths" that the author writes about are strong beliefs that I currently have about money.
The myths covered are:
Myth 1: The Finite Pie
Myth 2: You're in it for the Long Haul
Myth 3: It's All About the Numbers
Myth 4: Financial Security
Myth 5: Money is Power
Myth 6: High Risks = High Returns
Myth 7: Self-Insurance
Myth 8: Avoid Debt Like the Plague
Myth 9: A Penny Saved is a Penny Earned
What Did I Learn?
I've always been the type to worry about the numbers in wealth accumulation.  According to Mr. Gunderson, however, money in itself has no value, it's people who have value.  Money is simply the result of "adding value" to the world.  How do you "add value", you ask?  Through finding what's called your soul purpose.
Finding your soul purpose is discovering what brings you the most joy and creates the most value for others.  It's what enables us to develop to our full potential.   Ask yourself, if you had all the money you ever needed, what would you do everyday to be productive? Also, in what areas do you have superior skill and have extreme passion?
These questions regarding "soul purpose" really get me thinking.  Am I working to my full potential with my current career?  Do I wake up in the morning to go to work simply for the paycheck?
Final Thoughts
Even though there are a couple sections in the book that I don't agree with (like the section on self-insurance), overall, I recommend this book.  It gives fresh perspective on how wealth and money works from someone who has made millions at a very young age.
Want a Free Copy?
Simply leave a comment and you'll automatically be entered in the draw for a free copy.
Please only 1 comment entry / person (please enter a valid email address).
Only those with a North American mailing address may enter (publisher rules, sorry).
Contest will end Friday 5pm EST Nov 21, 2008 and the winner announced shortly afterward!
I've Completed My Million Dollar Journey. Let Me Guide You Through Yours!
Sign up below to get a copy of our free eBook: Can I Retire Yet?