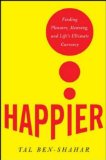 Today's book review is a bit different than the typical book about finance, but just as relevant in my eyes.  A New York Times best seller, Happier – Learning the Secrets to Daily Joy and Lasting Fulfillment, is written by Tal Ben-Shahar who happens to be a Harvard Professor on Positive Psychology – and teaches Harvard's most popular course.
About the Author:
According to the book:
Tal Ben-Shahar, Ph.D., is one of Harvard University's most popular lecturers. He has been profiled on NPR and featured on CNN, CBS, in the New York Times and the Boston Globe.  His classes attract 20% of all Harvard graduates.  Ben-Shahar graduated from Harvard with a degree in philosophy and psychology.  For the last ten years, he has been teaching personal and organizational excellence, leadership, ethics, and self-esteem.
About the Book
Happier is about finding meaning and fulfillment in life, something which I have written about before.  They teach that when you learn how to live for the present and future at the same time, it brings true enjoyment and life fulfillment.
The book is separated into 3 sections:
What is Happiness? – That is the question that a lot of us have.  Ben-Shahar goes through the debate and gives us his definition of happiness.  He explains happiness as the ultimate currency (not money) and how important it is to have self-concordant goals.
Happiness Applied – Here the author applies his theories on happiness in education, the workplace, and in relationships.
Meditations on Happiness – Various meditations and exercises that you can do to help you find what brings you happiness and fulfillment.
Final Thoughts
In my opinion, this was a great book for those of you looking for a little more out of life.  I especially enjoyed the section on setting goals along with the various exercises to enhance happiness.
Want a Free Copy?
McGraw-Hill was generous in offering Million Dollar Journey readers the chance to win 2 copies of the book.  The details are below:
Simply leave a comment and you'll automatically be entered in the draw for a free copy.
All email subscribers will receive an additional entry (privacy).
Please only 1 comment entry / person (please enter a valid email address).
Only those with a North American mailing address may enter (publisher rules, sorry).
Contest will end Friday 5pm EST July 3, 2009 and the winner announced shortly after!
I've Completed My Million Dollar Journey. Let Me Guide You Through Yours!
Sign up below to get a copy of our free eBook: Can I Retire Yet?