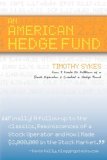 Timothy Sykes and his self made publishing company, BullShip Press, has kindly sent me a preliminary version of his new book "An American Hedge Fund". For those of you who don't know the name Timothy Sykes, you may recognize him from the various TV appearances on CNBC – WallStreet Warriors.
An American Hedge Fund is a story of how Tim Sykes received $12,000 in gift money at the age of 18, started trading the stock market aggressively, and ended up with a stock portfolio valued at over $1.65 million before the age of 22. How did he do this? He basically became obsessed with studying stock market patterns during the dot com days. With some luck, skill and determination, he became a millionaire through trading highly volatile tech stocks. After building a healthy net worth, his story evolves into the successes and failures of starting his own hedge fund.
What is the book about?
With enough determination and a bit of luck, it is possible to make a living/fortune from trading stocks. The book takes you from Timothy's first trade to the very trade where his portfolio value reached over $1 million. The story then evolves to his journey in starting a hedge fund.
For those of you thinking about starting a hedge fund, it is very challenging getting traction for startups with a smaller capital base. At least it is in the US.
What I liked?
I really enjoyed the story behind the book. It really shows the day to day thoughts of the young trader. The book takes you on the emotional highs and lows through winning and losing in the markets.
I appreciated was that the story included some of Timothy's trading flaws.
Along with that, I enjoyed some of the disclosure he has given on the hedge fund industry which is typically hush-hush.
What I didn't like?
Although the point of the book wasn't to show "how" to trade, to me though, some detailed strategies would have made this book better.
Who should read this?
Anyone who enjoys reading stock market success/failure stories. This book can be inspirational to those who are just starting out or experienced traders a like.
Final Thoughts:
I recommend this book for it's entertainment value. It was truly fascinating to read about how the young teenager turned his $12,000 into over $1.65 million in 3 short years.
If you're interested in purchasing "An American Hedge Fund", you can find it on Amazon for around $20CAD.
Stay tuned for tomorrows post where I have interviewed the super trader Timothy Sykes himself.
I've Completed My Million Dollar Journey. Let Me Guide You Through Yours!
Sign up below to get a copy of our free eBook: Can I Retire Yet?